Stakeholders
DSM works with stakeholders that operate within our value chain, such as customers, employees and suppliers, as well as stakeholders outside our value chain including investors, governments and civil society. We have regular open discussions about topics that are relevant to our operations and our impact on society. These conversations shape how we execute our strategy, including risk management, materiality and new business opportunities. The needs and values of our stakeholders must be balanced with our own objectives.
Customers
Our customers are key stakeholders. They drive our business. We work extensively with customers to strengthen our commercial and strategic relationships. For information on DSM's business and customers, see Review of business.
Employees
DSM's employees represent 100 nationalities, working at more than 200 sites and offices in 46 countries worldwide. We aim to provide a healthy, diverse and safe working environment for all our employees, including contractors. For information on how DSM engages employees, see People.
Suppliers
DSM's supply chain consists of more than 34,000 suppliers. Suppliers are important partners in achieving our sustainability goals, and we work closely with them through our Supplier Sustainability Program.
Investors
DSM actively communicates with investors and with the analysts advising them. We provide quality information about developments at DSM, ensuring that relevant information is equally and simultaneously provided and accessible to all interested parties.
Scientific research institutions
DSM openly collaborates with renowned universities and science institutes such as the European Knowledge and Innovation Communities, the University of Ulster in Coleraine (United Kingdom), and MIT in Boston (Massachusetts, USA). We provide funding and also share knowledge, research and facilities.
NGOs
DSM engages with NGOs and other organizations to work toward solutions for the world's societal challenges.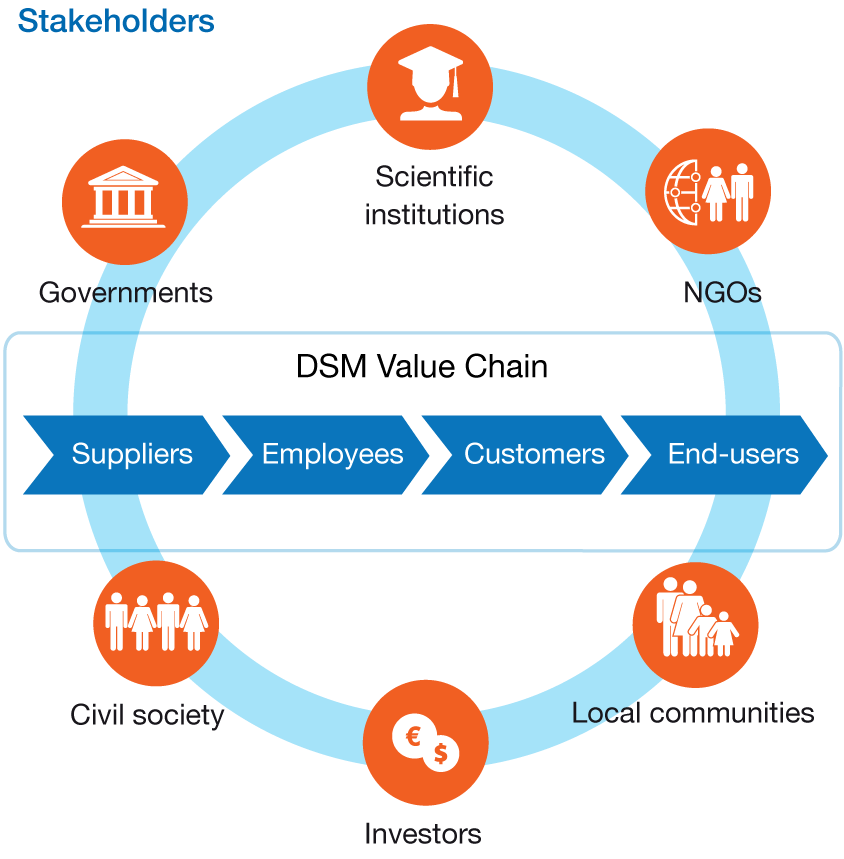 Local communities
It is important that DSM fosters a strong relationship with the communities where we operate. We engage and inform our local stakeholders through open days, news bulletins, social media and other initiatives.
Governments
Engaging with governments is increasingly important, especially considering DSM's commitment to the Paris Agreement and the SDGs. We engage with governments directly as well as through coalitions and trade associations. As stated in our Code of Business Conduct, we do not make political donations.
Civil society
In addition to the engagements we have with society through NGOs, local communities and other initiatives, DSM also engages in philanthropic events and sponsorship activities. See Philanthropy and sponsorships.
For more information on how DSM engages with each of these stakeholders, see Stakeholder Engagement.
Materiality
Materiality is a way for companies to identify and analyze the topics that could have significant social, environmental, financial or reputational impact on their business, and which are important to the company's stakeholders. These topics are called material topics. DSM regularly reviews the material topics that could impact us. We chart these in a materiality matrix, which is refreshed annually.
Our refresh in 2017 included a big data study that analyzed the public disclosures of thousands of relevant stakeholders. This study was supplemented with desk research as well as interviews with key stakeholders. The 2017 topics and matrix were further refined during an internal workshop with DSM employees from various disciplines and later fine-tuned through interviews with the Executive Committee and discussions with the Sustainability Leadership Team. The matrix was compared with the Corporate Risk Assessment procedure to make sure that all relevant subjects were addressed from a materiality and/or risk perspective. Finally, it was approved by the Managing Board.
Changes in 2017
The layout of the materiality matrix was improved in 2017 to increase clarity. The new matrix is consistent with 2016, however, it does not correspond one on one. The matrix has six areas that represent the range of societal interest in each topic and potential business impact.
As a result of the review process, some topics have been adjusted:
'Product Stewardship' was identified as a new topic.
'Taxation' and 'Transparency & reporting' were moved under the umbrella of 'Responsible business practices'.
'Advocacy & reputation' was renamed 'Advocacy & stakeholder engagement'.
The subtopic of overweight/obesity is now included in 'Health & wellness' rather than 'Malnutrition & nutrition security'.
'Malnutrition & nutrition security' focuses on the insufficient intake of (micro)nutrients and access to food that is calorically and nutritionally sufficient.
For more information on DSM's positions on relevant societal issues, see the company website.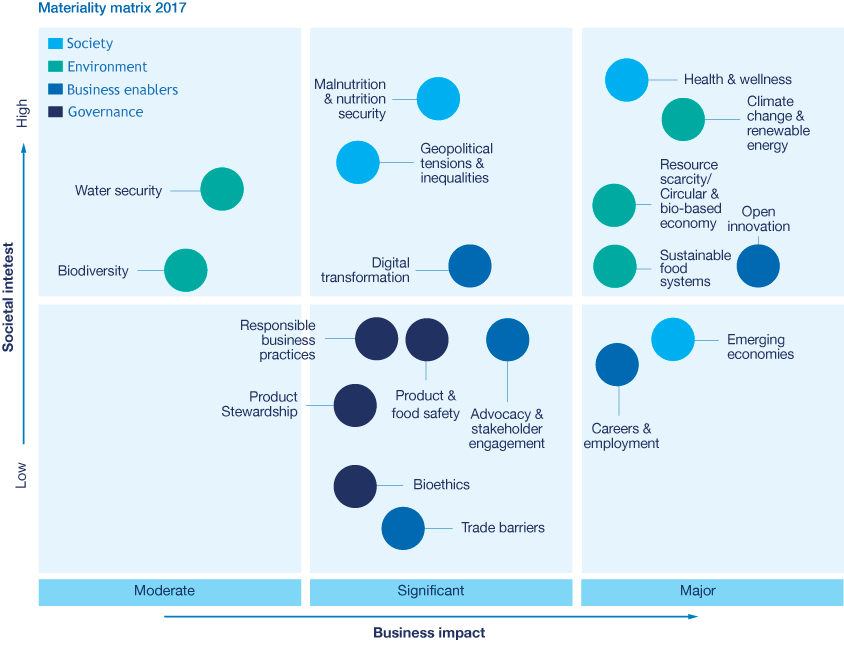 For more information on Materiality, see Management approach for material topics.
Collaborative platforms and networks
DSM collaborates with like-minded peers through platforms and networks that align with our sustainable growth areas: nutrition, climate and energy, and circular and bio-based economy. Through these collaborations, we develop new social and environmental measurement and performance standards, help shape the business community's contributions to the Sustainable Development Goals (SDGs) and act as advocates on material topics such as 'Climate change & renewable energy', 'Malnutrition & nutrition security' and 'Resource scarcity / Circular & bio-based economy'. In this section, we describe some of the most significant initiatives.
World Economic Forum (WEF)
DSM is a strategic partner of WEF and we attended their meetings throughout 2017, including the Annual Meeting in Davos. We further strengthened our presence at regional meetings, including in Africa and Latin America as well as Asia, to highlight key partnerships and initiatives concerning nutrition and climate change. We participated in many projects and initiatives of WEF, including the Compact for Responsible and Responsive Leadership, the New Vision for Agriculture and the Responsible Battery Alliance.
Our CEO Feike Sijbesma co-chaired the inaugural Sustainable Development Impact Summit in New York in September. This summit provided a new platform for strengthening public-private engagement to advance creative solutions and deliver on the ambitions of the 2030 Agenda for Sustainable Development. He also co-chaired the Consumer Governors and the CEO Climate Alliance (formerly WEF CEO Climate Leaders).
World Business Council for Sustainable Development (WBCSD)
DSM is a member of WBCSD and participates in a number of its working groups and coalitions. DSM is one of the founding members of Food Reform for Sustainability and Health (FReSH), a coalition between WBCSD and EAT, a foundation focused on food systems. With 40 companies, FReSH aims to transform global food systems so that all people can have healthy diets from food that is produced responsibly and with respect for the planet. DSM is a member of the Program Board and co-leads a number of workstreams, applying our science and business insights to help shape the direction of this coalition.
As a member of the WBCSD working group called Reporting Matters, DSM contributed to the development and launch of The Reporting Exchange platform. This platform provides a one stop shop for non-financial mandatory and voluntary reporting provisions from around the world and will be community managed. At launch, more than 1,600 provisions were already listed.
Within the Low Carbon Technology Partnerships initiative (LCTPi) — a multi-stakeholder platform led by the WBCSD that presents the opportunities of large-scale development and deployment of low-carbon technologies — we were in the Leadership Group of the global campaign 'below50'. The campaign unites companies that produce, use and/or invest in fuels that are at least 50% less carbon-intensive than fossil fuels. The aim is to promote the best sustainable fuels that can achieve significant carbon reductions and to scale up their development and use.
Toward the end of 2017, DSM joined the WBCSD's new circular economy program, Factor10, as a founding member. This new program will kick-off in 2018. As co-chair of the program, we will focus on circular metrics, as well as developing circular blueprints for the built environment, automotive and bio-economy sectors. The term built environment refers to human-made surroundings.
Accounting for Sustainability (A4S)
Our CFO Geraldine Matchett continued her active role as Co-Chair of the A4S CFO Leadership Network. This network brings together leading CFOs to help embed the management of environmental and social issues into business processes and strategy, particularly through the finance function. She is a signatory to the A4S CFO statement of support for the Taskforce for Climate-related Financial Disclosures recommendations.
DSM contributed in particular to the A4S Culture project, which aims to create a shift in the culture of the finance profession in organizations that already have a strong focus on sustainability. This includes showing finance professionals why and how they can play a part in delivering sustainability initiatives by motivating, empowering and inspiring them to make the changes required.
Carbon Pricing Leadership Coalition (CPLC) convened by the World Bank
In April, our CEO Feike Sijbesma's role as Co-Chair of the High Level Assembly of the CPLC was extended for a second year. The CPLC's long-term objective is for carbon pricing to be applied throughout the global economy. In addition to facilitating leadership dialogues, the CPLC is also mobilizing business support to put an internal price on carbon. DSM applies an internal carbon price of €50 per ton CO2eq when reviewing large investments. In January, Mr. Sijbesma was appointed, together with Kofi Annan and Christiana Figueres (former Executive Secretary of UNFCCC, the UN's climate organization), a 'Climate Leader' by the World Bank Group.
At various high-level events throughout the year, such as New York Climate Week and the UN Climate Conference COP23, Mr. Sijbesma shared DSM's experience with carbon pricing. He called on other businesses to implement an internal carbon price and advocated for embedding a price on carbon in global financial systems. He reinforced this message at the One Planet Summit in Paris organized by President Macron in December, where Mr. Sijbesma joined heads of government and leaders in public and private finance, and was invited to address the summit.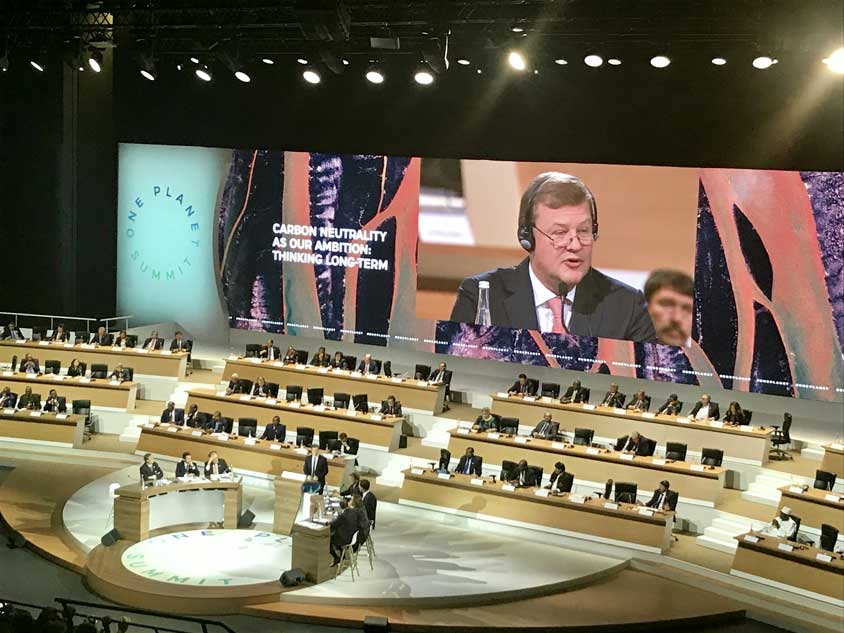 Ellen MacArthur Foundation
We continued our engagement with the Foundation and CE100. CE100 is the Foundation's global platform that brings together companies, emerging innovators, universities and cities to accelerate the transition toward a circular economy. In 2017, we collaborated on a CE100 project with Essity, IKEA and Tetra Pak to promote the role of renewable materials in a circular economy. We also offered targeted employees an online circular economy training through the CE100 and University of Bradford School of Management (UK).
Circle Economy
We renewed our membership with Circle Economy, a social enterprise that emphasizes practical and scalable solutions in the transition, and joined their Built Environment program to work with construction partners in the value chain.
RE100
Our engagement with RE100, the world's leading campaign to scale corporate sourcing of renewable power, continued throughout 2017. We participated in the learning opportunities, conferences and advocacy opportunities offered to DSM in the EU, US and increasingly in China. As part of our RE100 commitment, we shared our insights through webinars, presentations and other engagements on our long-term commitment with fellow RE100 members AkzoNobel, Google and Philips to jointly source power from wind energy projects in the Netherlands. More information on renewable energy can be found in Planet.
We Mean Business
We Mean Business activates hundreds of companies and investors to commit to low-carbon initiatives. In 2017, we collaborated on the International Business Declaration that was launched at the One Planet Summit and continued to work together on the Carbon Pricing Corridors project, led by CDP, CPLC and We Mean Business. This project aims to enable large market players to define the carbon prices needed for industry to meet the Paris Agreement. We also worked on a number of advocacy and communications activities around 'below50' and renewable energy.
Dutch Sustainable Growth Coalition (DSGC)
DSM continues to engage with DSGC. Together we have a clear shared roadmap for engaging with the SDGs and working on the scale up of innovations under development. The DSGC also acted collectively and responsibly to share its views on climate policy with the incoming Dutch government.
Catalyst
Catalyst, Inc. is a non-profit organization that promotes inclusive workplaces for women. DSM sponsors Catalyst through the role of our CEO Feike Sijbesma on the Board of Directors and our CFO Geraldine Matchett on the European Advisory Board. ​In 2017, Mr. Sijbesma was recognized as a Catalyst CEO Champion for Change for his efforts to support positive change in the areas of gender balance, diversity and inclusion. DSM supported Catalyst's global communications campaign launched on International Women's Day. The campaign raised awareness and promoted progress on issues related to women in the workplace. In November, the Catalyst Europe Advisory Board visited DSM to discuss advancing women in business.
UN World Food Programme (WFP)
In place since 2007, the DSM-WFP partnership 'Improving Nutrition, Improving Lives' aims to improve the nutritional value of the food that WFP distributes through product innovations such as fortified rice and a product aimed at people living with HIV/AIDS. Together, DSM and WFP make a difference to millions of people.
In 2016, WFP reached 31.1 million beneficiaries with food that was improved by the DSM-WFP partnership. Additionally, DSM and WFP collaborate on training and development initiatives and on employee fundraising campaigns.
UNICEF
The DSM-UNICEF partnership has been in place since 2013. In 2017, DSM signed an agreement with UNICEF and the humanitarian nutrition think tank Sight and Life to deliver better nutrition to about 400,000 children, starting with the micronutrient powder pilot in Nigeria, including Bauchi in the North East and Kebbi in the North West. The partners will also advocate on the global level for microsupplement intervention in other places where people suffer from malnourishment. The partnership continues its capacity support of the African Nutrition Leadership program.
World Vision
DSM signed an agreement in January 2017 with World Vision International and Sight and Life for 'Joining forces for last mile nutrition'. The parties have worked on improving the raw material quality and access in Rwanda for Africa Improved Foods and has also initiated project EGGciting, focusing on eggs as an important nutrition source.
At DSM, we leverage our scientific excellence, technical expertise and large customer base to facilitate the development and supply of innovative nutrition, formulation and fortification.
Partners in Food Solutions
Partners in Food Solutions is a multi-sector partnership between the companies DSM, General Mills, Cargill, The Hershey Company, Bühler and Ardent Mills, working in partnership with USAID, TechnoServe and Root Capital to serve more than 600 small and growing food companies throughout Africa.
Partners in Food Solutions realized additional growth in West Africa. DSM volunteers from Latin America, Europe and India continued to dedicate their technical and business expertise to improving the performance of food processors and millers in Africa.
Scaling Up Nutrition
The SUN Business Network (SBN) represents the private sector in the Scaling Up Nutrition (SUN) Movement. The Network recruits and supports companies who pledge to contribute to the improvement of global nutrition. DSM's CEO Feike Sijbesma is a member of the Lead Group of the SUN Movement and Co-Chair of the Advisory Group of the Network. DSM's VP of Nutrition in Emerging Markets and Public Private Partnerships, Fokko Wientjes, is on the executive board of the SUN Business Network.
Via the network, as well as the WFP partnership, DSM supported a number of SBN projects in Zambia, Zimbabwe and Malawi. DSM advocates for business to take a leading role on this important issue.

For information about other nutrition initiatives and partnerships, such as Africa Improved Foods, Nutrition Improvement Program, and Sight and Life, see Nutrition and Philanthropy and sponsorships.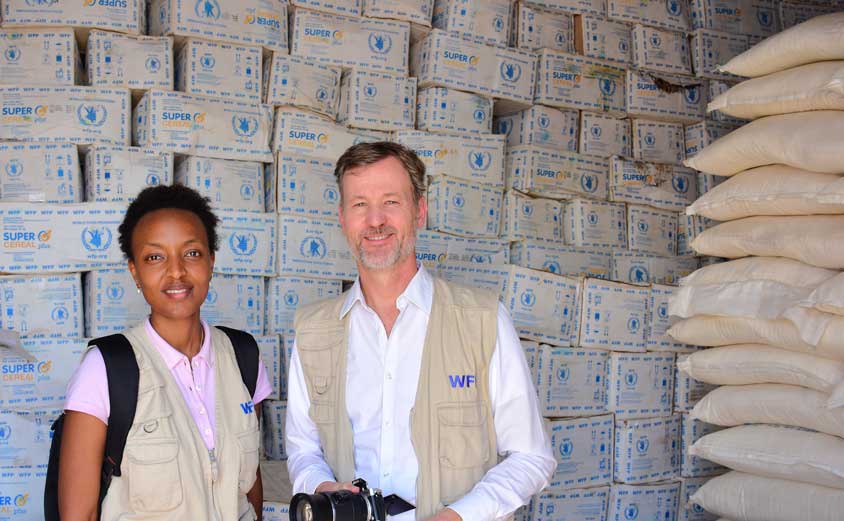 External recognition
We are proud when our efforts are recognized by others. Below is a selection of some awards and recognition that DSM received from NGOs and trade organizations, customers, suppliers and academia in 2017. A full list of our recognitions can be found on the company website.