Sustainability statements
This report has been prepared in accordance with the GRI Standards: Comprehensive option. The GRI content index is provided on the company website.
DSM aligns with the recommendations of the International Integrated Reporting Council (IIRC) Framework where possible.
Stakeholder Engagement
In the following pages, we present some examples of how we engage with external stakeholders, including the partners in our value chain. For an overview of all our stakeholders, please see Stakeholders. For information on how we engage with our employees, see Workforce engagement in 'People'.
Customers
Customers are the driving force behind our business. They are our most important partners for realizing both our strategic growth ambitions and our vision to improve the lives of people today and for generations to come. For more information on our businesses and our relationships with customers, see Review of business.
Providing value to customers
Although our bright science-driven solutions are not always immediately visible to consumers, they are of strategic importance to our customers and recognized as such. Our solutions enable our customers to differentiate and solve consumer needs. Our unique products and innovations not only ensure a strong loyalty from our customers, they are also driving our growth.
To bring value to our customers, we not only focus on the products we bring today; we also deepen our understanding of the total ecosystem in which our customers operate to anticipate future consumer needs. Through our consumer and customer insights, we aim to become a stronger strategic partner for our customers and to increase their loyalty. It is through this customer-centric approach that we become a more valued strategic partner.
For example, through this approach we have become a valued strategic partner of carpet company Mohawk. Together Mohawk and DSM-Niaga won the Surface Innovation Award at the Floor Surfaces Trade Show in Las Vegas (Nevada, USA), where Mohawk launched the first fully recyclable carpet based on our technology. By supporting development and commercialization of 100% recyclable carpet, DSM-Niaga helped Mohawk address society's need for more responsible consumption and production based on the principles of the circular economy.
Customer loyalty
Net Promotor Score (NPS) is our key metric to measure customer loyalty. Our ever-increasing awareness around customer loyalty has ensured that all our business groups have in place a robust NPS cycle which provides valuable insight. In 2017, our NPS score reached 39 (2016: 38).
Our business groups create improvement programs to increase customer loyalty based on their feedback. DSM Feedlot Tour is a strong example of a program to address this. It is a circuit of annual technical meetings occurring during the dry season in Brazil. At these gatherings, DSM shares knowledge and training on the latest technology in animal nutrition worldwide. These Feedlot Tours are organized together with our customers, and we actively demonstrate the impact of our solutions, from the dietary ingredients and additives to the zootechnical and economic results. Partners like the economic research center, CEPEA, at ESALQ (Luiz de Queiroz College of Agriculture, University of São Paulo, Brazil) support us.
A key driver to increase customer loyalty is the ease of doing business with DSM. This requires a genuinely customer-centric approach. In many business groups, we are deepening our understanding of customer journeys and customer touchpoints. These outcomes are used to improve our online and offline customer interactions and will result in easier and stronger interaction. The 24/7 EngineerConnect program developed by DSM Engineering Plastics was created to make it easier to do business with DSM. Engineers in the automotive industry strive for faster time-to-market and first-time-right products and solutions. They want to understand in an early stage of development what the available possibilities and solutions might be. 24/7 EngineerConnect is a digital platform that gives our customers' engineers access to the latest innovations, concepts, materials and technology. Through artificial intelligence and our extensive knowledge, they can connect with the right expert at the right time and collaborate on new design projects at the earliest stage.
Personal interaction with our customers is important and our bright minds and skilled professionals support our customers to match their needs with the solutions we offer. Therefore, we put continuous effort in educating and training our commercial crew. In 2017, many Marketing & Sales (M&S) colleagues from all business groups were certified on the key principles in M&S. Through an actionable and inspirational blended learning program, co-developed with Vlerick Business School (Gent, Belgium), M&S professionals learn the essentials of customer-centricity. This allows us to better understand the needs of our customers and their consumers, and ensure DSM keeps developing relevant solutions.
Brand value
The combination of a true customer understanding and a smooth customer interaction defines the success of our customer-centric approach. Our strong brand reflects this and articulates what DSM stands for: 'Bright Science. Brighter Living.' These values drive our customer relationships and form the basis of our growth.
We consider our brand an important business asset and we aspire to be a company with a reputation for providing innovative and sustainable solutions that fulfill the needs of our market segments and society. DSM's brand value as assessed by Brand Finance has grown considerably over the last five years and for 2017 was valued at €807 million. The increase versus prior year was primarily attributable to strong revenues and forecasts, based on improving financial results.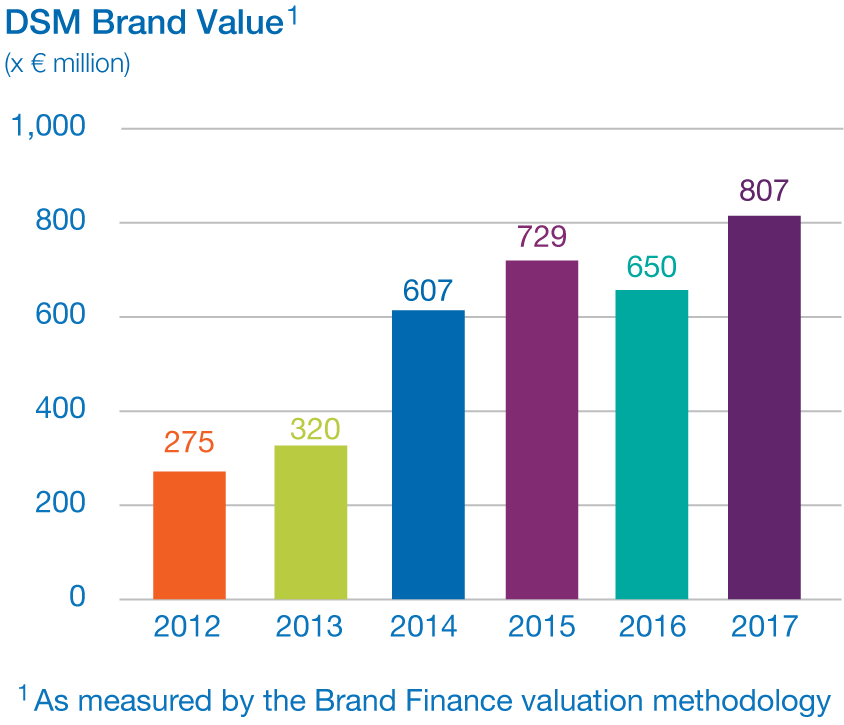 Suppliers
We engage with approximately 34,000 suppliers through our Supplier Sustainability Program (SSP) to strengthen our supply chain, reduce risk, lower cost and create value for society and our company. Annual supplier sustainability plans and sustainability roadmaps are used to gain insights. The Supplier Sustainability Plan 2017 addressed a number of relevant topics for the materiality matrix: 'Resource scarcity / Circular & bio-based economy', 'Responsible business practices' and 'Climate change & renewable energy'.
DSM Supplier Sustainability Program
Supplier Sustainability Program strategy
Compliance and Solutions are the two main elements of DSM's SSP. Insights gathered in the compliance program enabled us to very clearly define how we choose to do business with our suppliers. We have invited suppliers to contribute to our competitiveness in areas of sustainability, innovation, business growth, security of supply, new business models and strategic alliances. This occurs via our 'better business' projects and other initiatives.
Our assessment of the maturity level of our SSP was conducted in 2016 and addressed four dimensions: Strategy/Plan; Supply Risk & Opportunity; People, Infrastructure & Measurements; and Processes. Those insights were used to develop our sourcing strategy and position to meet the ambition level for 2020.
Internal skills and capabilities
Internal capability-building regarding supplier sustainability continued in 2017. We have shifted the focus from delivering training toward providing hands-on support and promoting peer learning. The peer learnings offer practical experience and knowledge-sharing on integrating sustainability into the daily work of sourcing professionals. The Strategic Sourcing Methodology Award and Best Supplier Innovation Award highlight sustainability as a key topic in selecting the winners.
Collaboration
We work with external partners to enhance collaboration in the supply chain such as the Roundtable for Sustainable Palm Oil (RSPO) and Together for Sustainability (TfS).
Our exposure to palm oil is very limited. DSM Nutritional Products is a member of RSPO due to the potential risks to the environment, human rights issues and labor practices in the palm oil supply chain. DSM Food Specialties has improved the sustainability of their sourcing of palm-derived glycerin. For more information, see 'Better business' in this chapter.
We have 'Friends of the Sea' certification for over 96% of our fish oil purchases. This helps ensure that the fisheries involved in providing fish oil for the production of our omega-3 product range are sustainable.
Compliance
Our approach to compliance is defined in our Supplier Code of Conduct (SCoC). Through assessments and audits, we check that suppliers act in compliance with external and internal norms and values. Where a risk or breach occurs, DSM works with suppliers to define and execute an improvement plan. If non-compliance still persists, DSM may choose to terminate the relationship with the supplier. In 2017, 96% of DSM's spend was covered by the SCoC.
We focus on approximately 1,000 critical suppliers, defined as those that provide critical components, are located in potentially high-risk countries, supply a high volume of products or services, are non-substitutable, or have the potential to create shared value in areas of innovation and sustainability.
Since 2015, we have been actively collaborating with TfS. Founded in 2011, TfS now has 20 members and aims to develop and implement a global audit program to assess and improve sustainability practices within the chemical industry's supply chain. TfS works with EcoVadis, a recognized provider of CSR ratings, to implement the program. The EcoVadis methodology is aligned with international standards and supervised by a scientific committee. This collaboration gives DSM access to assessments and audits which are executed by other TfS members and shared on the TfS platform. It enabled DSM to screen approximately 4,700 suppliers in 2017, resulting in 1.2% being identified as 'suppliers at risk'. In line with internal follow-up guidelines, these will be further investigated by means of an on-site audit of their facilities so as to ensure that improvement plans will be made. DSM was able to screen 10% of new suppliers with regard to their environmental performance, impact on society, human rights and labor practices. The average EcoVadis sustainability performance score of DSM's supply base was 54 in 2017, the same as in 2016. The average of the supplier performance level indicates that our suppliers are engaged with sustainability.
The collective (potential) supply base of the TfS members has been rated by 8,962 EcoVadis assessments and 1,187 TfS audits. In total, 1,794 sustainability assessments were shared among TfS members and 441 new TfS audit reports were received by the initiative.
Better business
While compliance remains the cornerstone for achieving a sustainable supply base, procurement activities will increasingly focus on so-called 'better business'.
As part of our drive to foster better business through our supplier solution projects, DSM's Sourcing organization engages in proactive dialogue with suppliers in order to move the business agenda forward on topics such as climate change, food and nutrition security, health, and the circular economy. In this context, DSM Sourcing pursues initiatives to create joint value, awareness and engagement using similar drivers to those in our Brighter Living Solutions methodology.
We continued to engage in joint initiatives with suppliers that led to environmental benefits in the value chain. These included in packaging (e.g. the switch to fully recyclable fiber drum solutions) and logistics (e.g. the collaboration platform 'Biceps' in marine transport) resulting in significant reductions in CO2 emissions. Via the CO2 Emission Reduction Initiative, the physical distribution team investigates suppliers' footprints in road transportation, marine, packaging and, as of 2016, also air transportation to explore opportunities for improvement. This is a continuation of the Green Tender Initiative that began in 2012 with the aim of achieving a 20% reduction per unit of measurement in emissions associated with logistics and packaging. Since 2012, over 47% of the attainable global spend on physical distribution has been covered by the Green Tender Initiative. The cumulative CO2 emission reduction compared to 2010 reached 18% per unit of measurement at the end of 2016, the latest reporting period.
In Emmen (Netherlands), a project was executed to improve Hands on tool time (Hott). This project started by identifying where time is lost in the work permit process. Based on the outcome of this, together with the local maintenance department, a new work-permit process and tool were implemented. This project resulted in a 40% reduction in preparation time for work permits, an 80% reduction in permit mistakes and reduced waiting times by one third.
DSM Food Specialties' purchasing team continued to work on replacing palm-derived glycerin with glycerin from more sustainable sources. Working closely with their suppliers, DSM succeeded in switching to a number of more sustainable products in 2017. In Asia, we switched to a palm-derived glycerin with RSPO mass balance certification, replacing a non-sustainable version. Meanwhile, operations in the US successfully switched altogether from palm-derived glycerin to glycerin derived from rapeseed (also called canola).
Investors
DSM actively maintains contact with current and potential shareholders of DSM and with analysts who advise shareholders. DSM provides quality information to investors and analysts about developments at DSM, ensuring that relevant information is equally and simultaneously provided and accessible to all interested parties.
Relevant information is made available through annual and quarterly reports, press releases, presentations to investors and the company website. In addition, DSM organizes analyst conferences, regular road shows for investors and conference calls. Any explanations and discussions are based on information that is already in the public domain. DSM engaged with our investors and their representatives on topics such as the SDGs, climate change, sustainability in supply chain management, natural and social capital, and responsible taxation.
In June, we hosted an Environmental, Social and Governance (ESG) seminar for investors at the Brightlands Chemelot Campus in Sittard-Geleen (Netherlands), providing insights into DSM's ESG performance and our ambitious targets and initiatives.
In September, an Investor Day was hosted in the Netherlands, with a visit to DSM's new biotechnology center in Delft and a conference in The Hague (Netherlands) in which DSM gave an overview of the status of the implementation and progress of Strategy 2018. Special attention was given to the growth profile and aspirations of the Nutrition and Materials businesses.
Scientific Research Institutions
DSM provides funding and shares knowledge, research and facilities with renowned research institutions.
DSM is one of the founding partners of EIT FOOD, which is one of the six European Knowledge and Innovation Communities (KICs) of the European Institute of Innovation and Technology (EIT). The aim of EIT FOOD is to transform the food ecosystem. By connecting consumers with businesses, start-ups, researchers and students from around Europe, EIT FOOD supports innovative and economically sustainable initiatives which improve health, access to quality food, and our environment.
DSM Nutritional Products has broadened its successful collaboration with the Biomedical Sciences Research Institute at the University of Ulster, Coleraine (United Kingdom). This collaboration focuses on understanding the role of vitamin B2 in hypertension in genetically predisposed subjects. The results so far indicate that optimizing this vitamin's level in the subjects shows promise for managing their high blood pressure.
We are a founding member of the world-class nanotechnology center at MIT in Boston (Massachusetts, USA). Called 'MIT.nano', the center will provide nano research facilities to MIT researchers and students, as well as to industrial partners like us. Nanotechnology drives advances across many of our areas of interest, like solar energy and energy storage. We expect that the facility will be ready to move into as of June 2018.
NGOs
DSM works with NGOs and civil society to work towards solutions for the world's societal challenges.
DSM sent a delegation of 23 young professionals, representing all business groups and all regions, to the One Young World Summit in Bogotá (Colombia). This global platform brings together the brightest young leaders from companies, NGOs and academia, empowering them to formulate and share innovative solutions to the world's most pressing issues such as malnutrition and climate change. On their return, the delegates champion local sustainability initiatives, including coordinating our local Earth Day activities.
The Vocational Educational Center ('Centro Educacional Assistencial Profissionalizante', CEAP) contributes to educational development in Brazil. Over 6,000 teenagers have already benefitted from educational and vocational programs. DSM's partnership with CEAP aims to make a positive contribution to these teenagers' lives through more prepared and qualified trainings.
In China, we continue to engage with a number of NGOs such as World Wildlife Fund, World Vision China and the Climate Group on topics such as climate change, renewable energy and nutrition improvement. We also started engaging with the China National Institution of Standardization on green product design and life cycle assessment.
In Japan, we hosted the DSM Environmental Forum with guests from local universities, the UN Environment Programme - Finance Initiative, and industry representatives. The event was open to the public and included a screening of the National Geographic documentary 'Before the Flood' in Tokyo.
Local communities
DSM engages in the communities in which we operate on topics that are locally relevant.
In North America, we worked with the Seafood Nutrition Partnership to develop a community education and awareness platform on the benefits of eating seafood, and on the role of omega-3 in healthy diets.
We engaged in several events, together with the US Chamber of Commerce Foundation on food security and the circular economy, and the Diversity Council to highlight issues relating to gender, race, age and handicap inclusion and diversity.
In Brazil, we ran several projects to reach out to schools and communities. These projects provided opportunities for local students to learn about the job market, educate teachers on and provide training materials about topics like environment, health and work, and to educate communities on the consumption of natural resources and electricity.
Governments
Our engagements with governments are increasingly important considering our commitment to supporting the Paris Agreement and the Sustainable Development Goals.
We are actively involved in the EU's Horizon2020 Framework Programme and are participating in a variety of projects ranging from bio-based feedstock for polymers, process control, product safety and various Marie Curie training networks.
In China, our CEO Feike Sijbesma engaged with government officials, thought leaders and business leaders on topics including the Chinese economy, climate change, carbon trading and pricing, and renewable energy.
Management approach for material topics
In the following tables, we elaborate on the material topics defined in the materiality matrix (see Materiality Changes in 2017) and describe how we manage these topics.
Society
Environment
Business Enablers
Governance
Philanthropy and sponsorships
We are recognized for our efforts in our sustainable growth areas of nutrition, climate and energy, and circular and bio-based economy. On top of this, we also engage in philanthropic and sponsorship activities. In 2017, we donated more than €5.7 million to a range of initiatives. As outlined in our Code of Business Conduct, we do not make political donations. The full text of the Code can be found on the company website.
Asia-Pacific
The Bright Experience event in China was launched together with the World Food Programme to raise awareness and funds to help solve the issue of child hunger and malnutrition. DSM China has been part of the event since it was first introduced in 2007. With this year's theme 'Solve Hunger, Bright Experience', the event attracted DSM employees and their families, as well as partners, from 15 sites in 14 cities including Shanghai and Beijing.
Now in its second year, POSHAN, the CSR program in the state of Maharashtra (India) has reached in total 2.3 million women to communicate the importance of good nutrition for mothers of child-bearing age. DSM is the partner in this program supporting the offline distribution of content. In Pune (India), our program promoted preventative health care education and vocational skills for children, women and the elderly.
Europe
In the Netherlands, we focus on sponsorships in knowledge and education, innovation, arts and culture and sports. We are engaged in long-term partnerships, such as the Nemo Science Museum in Amsterdam; Artis Microbia (Amsterdam), the world's first museum of microbes; the Bonnefanten Museum in Maastricht; and Natuurmonumenten, a Dutch association that manages and protects natural resources in the Netherlands.
In Switzerland, we donated clothes, toiletries, toys and other items as part of the winter charity collection of the Sovereign Order of Malta Switzerland for people in need on the Slovakian border, and Dyneema® gloves to 'IG der Tauchclubs beider Basel', a diving community that cleans the Rhine river in the Basel area. In addition, we sponsored a number of sports clubs in the vicinity of our locations.
Latin America
In Latin America, in-kind sponsorship included campaigns in Brazil donating winter clothing and personal hygiene items to local institutions in the vicinity of our Brazilian sites, the donation of MixMe™ sachets to Hai Africa, a Brazilian charity, that were sent to Nairobi (Kenya), and Project 'New Dreams' providing food baskets to vulnerable families in São Paulo (Brazil).
The Young Professional Project in Mairinque (Brazil) focuses on public school students and gives them insight into the operation of the factory. During the project, students discuss the importance of technical and higher education, how to choose a job/career, the reality of the labor market, the various lines of action, opportunities for professional growth and the activities carried out in the Mairinque factory. So far, more than 5,250 students have participated in this project.
North America
DSM contributed to the Union County College Foundation Close the Gap initiative to provide scholarships to help African American students complete their degrees, thus closing the 'Achievement Gap' in graduation rates between this group and the general student population. The initiative has realized a tripling in graduation rates since the engagement began.
We continued to work with the Global Health Corps to underwrite the cost of two Fellows to 1,000 Days to enable advocacy and engagement in early childhood nutrition issues in the US and around the world.
Sight and Life
The Sight and Life Foundation is a humanitarian nutrition think tank delivering innovative solutions to eliminate all forms of malnutrition in children and women of childbearing age and improve the lives of the world's most vulnerable populations. Through continued support of the Sight and Life Foundation, DSM furthers the advancement of research, implementation science, innovations, and leadership capacity development in nutrition.
The Sight and Life Foundation engaged in a public-private partnership in Ghana, known as Affordable Nutritious Foods for Women (ANF4W), working to establish a market-based solution to improve the nutritional status of women of reproductive age with fortified food products. This included the successful launch of the Obaasima quality seal identifying fortified products. In Nigeria, DSM announced a new partnership with UNICEF and Sight and Life to deliver better nutrition to at-risk children and mothers and advocate on a global scale for micronutrient supplementation. In addition, Sight and Life continues forces with PATH, a non-profit organization charged with global health innovation, and Johns Hopkins Bloomberg School of Public Health on systematic reviews of underlying causes of stunting.
Leadership is important to bring about change, therefore Sight and Life recognized two inspiring women, Shilpa Bhatte and Ellen Piwoz, with the Sight and Life Leadership Award at the SUN Global Gathering in Ivory Coast. With the right mix of funding, knowledge, technology, and enabling policy, Sight and Life advocates with its partners the global fight against all forms of malnutrition and micronutrient deficiencies.