People
Workforce

21,054at year end 2017,
excluding affiliates

Engagement

75%Employee engagement index
up 4% from 2016

Safety

0.36Frequency Index of
Recordable Injuries
up from 0.33 in 2016
Gender ratio

27/7327% female / 73% male
stable versus 2016

Female executives

17%+2% up from 2016

DSM aspires to a high-performance culture that supports the delivery of our targets and aspirations. We seek to attract and retain original thinkers and doers who can further our company's capabilities while actively developing their own credentials and careers. Above all, we aspire to be an injury- and incident-free organization.
In 2017, DSM's Executive Committee welcomed Judith Wiese. Mrs. Wiese officially replaced Peter Vrijsen, EVP DSM Group People & Organization (P&O) as of January 2018. She has held a number of leadership positions in various regions of the world and within different sectors, focusing on P&O, talent management and organizational development.
Our People Strategy 2018 supports the company's overall strategy by focusing on three pillars: 1) agile employees, 2) skilled employees, and 3) accountable employees. These three pillars reinforce the most relevant material topics for our people:
Health & wellness
Careers & employment
Responsible business practices
For more information about our People performance, see Sustainability statements − People. See also How DSM creates value for its stakeholders and Stakeholders.
Health & wellness
Aspiration

2017

2016

Occupational safety

- Frequency Index REC

0.25
in 2020

0.36

0.33

- Frequency Index LWC

0.16

0.14

Process safety

- PSI Rate

0.15
in 2020

0.19

0.28

Occupational health cases

14

6
Occupational and process safety
Employee health includes safety at work. We strive to be an incident- and injury-free company. At the end of the day, people should leave work exactly as they came, if not better. So it is with deep regret that we report a fatal accident that occurred at our DSM Resins & Functional Materials site in Augusta (Georgia, USA).
Both occupational and process safety are extremely important to us. Occupational safety is the safety of people (employees and contractors). Process safety is the safe operation of facilities. We set targets, define actions and monitor safety performance as described in the DSM Responsible Care Plan 2016-2020. We report our occupational and process safety performance with frequency indexes. For a full description of these indexes, see Explanation of some concepts and ratios.
Occupational safety
In 2017, the Frequency Index of all DSM Recordable Injuries increased from 0.33 to 0.36, bringing us further away from our 2020 target of 0.25. The Frequency Index of Lost Workday Cases for DSM employees was 0.16 in 2017 versus 0.14 in 2016.
The Frequency Index of Recordable Injuries among contractors improved from 0.56 in 2016 to 0.46 in 2017. This can be attributed in part to the enhanced effectiveness of our company's Life Saving Rules, especially those related to work permits.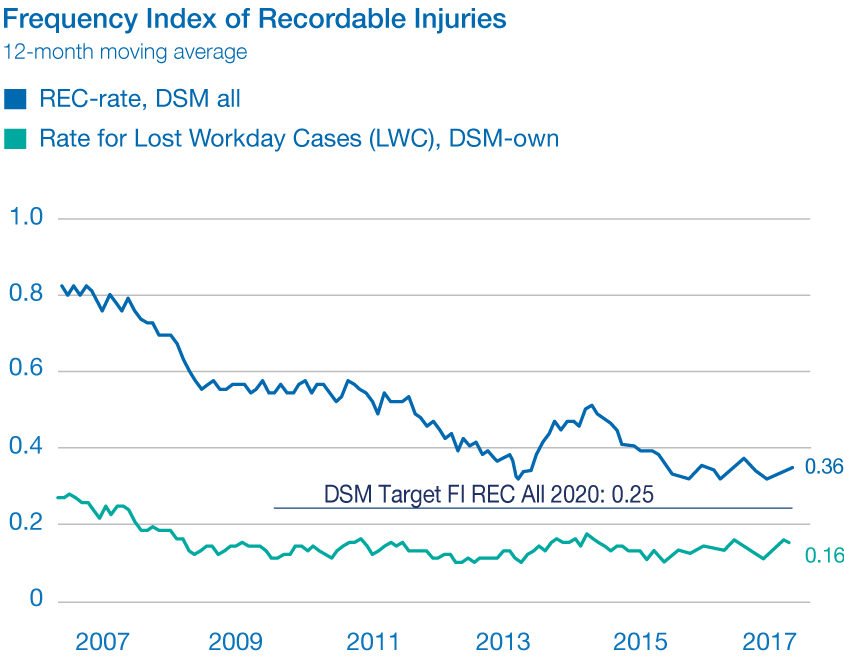 Despite the improvements in contractor safety, overall safety performance in 2017 was a concern. Several incidents early in the year triggered us to host a safety workshop in June. Thirty-five executives from across DSM gathered to reflect and build momentum for better safety awareness and performance. As a result, a new program called Living Safety 'I care, We care' was rolled out globally to emphasize the importance of:
visible leadership by all employees;
safety knowledge and skills; and
increased communication about safety.
DSM designed a new onboarding course for executives to further emphasize safety as a company value and, in addition, our leadership teams are participating in a series of workshops called How to Live Safety. DSM is also developing a more standardized approach for certain high-risk activities.
Tragically, and despite these initiatives, there was a fatal accident at our DSM Resins & Functional Materials site in Augusta (Georgia, USA) in September 2017. One contractor was fatally injured, another was severely injured and a third suffered less severe injuries in the same incident. The root causes have been thoroughly investigated and the lessons learned are being implemented. We are committed to the safety of all workers and will continue to pay close attention to contractor safety. DSM is supporting the affected families.
Process safety
Process safety incidents are rare but can have a major impact on people and the environment. Since 2015, process safety has been measured by DSM according to the International Council of Chemical Associations (ICCA) standards, with a target for 2020 of 0.15.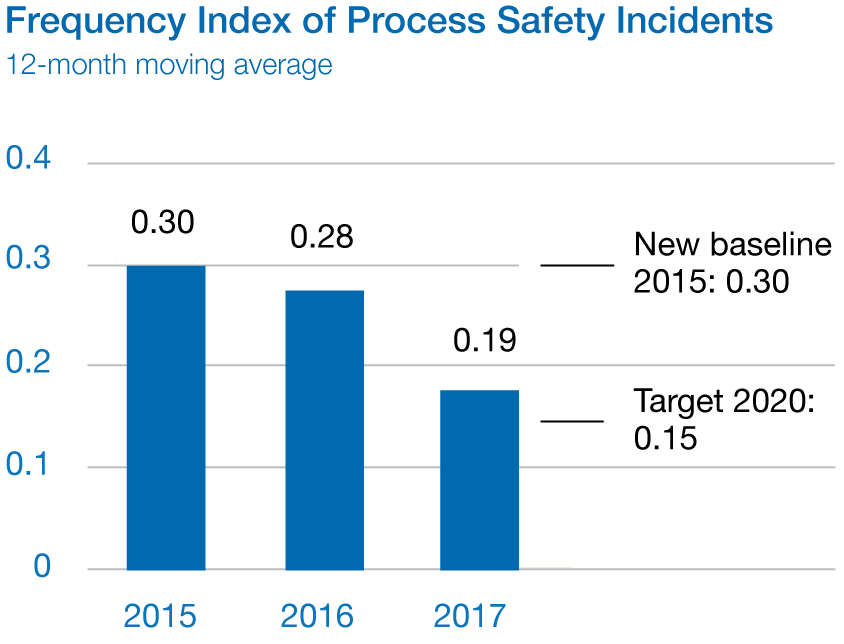 The Process Safety Incident rate improved from 0.28 in 2016 to 0.19 in 2017. Most incidents were related to the unintentional release of substances from plants or storage facilities and were remediated without further consequence. There was a small number of other incidents, which are described in the chapter What still went wrong in 2017.
DSM's safety planning focuses most on incidents and situations that pose the highest risk and the steps we can take to avoid them. Our 12 Life Saving Rules reflect those risks and serve as a standard for safe day-to-day operations. They are included in the internal auditing system, which is applied at all levels of the organization — corporate, business groups and sites.
Employee health
Like all people, DSM employees deserve good working conditions. We use an Occupational Health Module based on three pillars: prevention, primary care and promotion.
Our approach to the prevention of safety and health issues is through employee training on industrial hygiene, including physical hazards and exposure. Primary care includes our emergency preparedness, first aid and our site-based medical professionals. Promotion of good health is addressed through our approach to health and fitness, as well as our Safety, Health and Environment policies.
DSM is encouraging a culture of health with our Vitality@DSM program. Vitality@DSM is a voluntary program that helps employees track and assess their physical, social and mental well-being. More than 1,000 people participated in 2017. Sixty-seven percent of the participants reported low lifestyle-related risks. Others indicated moderate to high risks, mostly because of stress and lack of exercise. Participants received customized advice to help improve their overall well-being, support early intervention before disease and maintain employability. In 2017, compared to 2016, the productivity gains attributable to the program reached approximately €120,000 according to the group report.
DSM FIT | Worklife Center was created from the integration of the Occupational Health Center, the Employability Center and the Mobility Center to improve the vitality and employability of people during their careers at DSM. This addresses two concerns: our responsibility for our employees and fostering a vital workforce that is best able to support our company goals. We believe in "brighter you, brighter us".
In addition, DSM continued our Global Corporate Challenge, a team-based approach to better health. In 2017, 360 employee teams participated, up from 83 teams in 2016. Seventy-seven percent of the 2,520 participants achieved the recommended daily levels for physical effort of 10,000 steps per day. Based on this success, DSM will roll out an even more comprehensive health promotion program in 2018.
Local wellness initiatives are on the rise. For example, DSM Nutritional Products in Dalry (United Kingdom) received an award from the Chemical Industries Association for their commitment to health leadership.
Occupational health cases
Even with these programs, sometimes work negatively impacts employees. In 2017, there were 14 occupational health cases reported with a clear link to physical working conditions. Two cases were related to sensitization to certain chemical/biological substances and two were related to hearing loss due to noise in the workplace. The remaining cases were mainly related to ergonomics at the workplace. At the DSM Jiangshan (China) site, which we acquired in 2015, 14 people have indications of hearing loss. We discovered this in December 2017 as part of the site's integration program, during which improved medical checks are performed. This issue is still under investigation and therefore not yet included in the reported figure.
Another area of concern is stress. High stress levels, whether from work or private life, can negatively impact personal health, well-being and employability. Stress sometimes goes unacknowledged by the affected person or the company and therefore it may not be fully captured in our occupational health reporting.
Privacy concerns or cultural factors may influence employees' willingness to report and discuss personal health issues, so some occupational health cases may go unreported. DSM continues to raise awareness about stress and other occupational health risks and encourages transparency.
Careers & employment
Aspiration

2017

2016

Employee Engagement

75%
by 2020

75%

71%

Inclusion & Diversity

- Female executives

25%
by 2020

17%

15%

- Under-represented nationalities

60%
by 2020

56%

53%

- Inclusion Index1

71%

70%

Learning and Development

- Training hours per employee2

19

25
Workforce engagement
An engaged workforce is essential for DSM. The DSM Employee Engagement Survey, run annually since 2007, helps us understand how employees feel at work and where we need to improve. The goal is to ensure that people are proud to work at DSM and that they can excel. The survey measures four attributes: commitment, pride, advocacy and satisfaction.
Since 2015, we alternate every other year between the comprehensive version and what we call a 'pulse' survey — a shorter version that still collects essential information about safety, engagement, inclusion and other key themes. The two-year cycle gives teams more time to make meaningful change.
The 2017 survey, which was a 'pulse' survey, was sent to all employees and was available in 21 languages. It had an 82% response rate. The Engagement Index jumped 4% to a score of 75%. With the solid results in 2017, we have already reached our target of 75% by 2020.
The results showed encouraging movement in key areas. Employees confirmed their trust in our strategy, with 82% agreeing with the sentiment "I believe DSM has a promising future" versus 78% in 2016.
The company has also improved people management, according to the results. For example, 64% of employees agreed "My manager has invested time and effort in my growth and development", up from 59% in 2016 after a drop from 63% in 2015. We were encouraged to see that respondents feel inspired by our managers and that employees perceive that more time and effort was spent on development in 2017. These elements, among others, are key for the personal growth and satisfaction of all employees. Still, there is room for further improvement and we will continue to develop our people managers.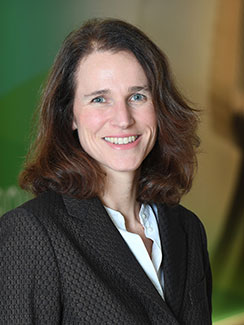 Our people make all the difference. Providing space to learn, grow and make a meaningful contribution is key to our people's engagement and DSM's success.
Judith Wiese, DSM Executive Committee
While we see an increase in questions relating to development, we see that the satisfaction on career opportunities is slightly decreasing. Going forward, we need to make sure our employees feel that the effort that is put into their development results in better career moves, especially for our early career talent.
We are very proud to see the increase in engagement. It shows us our employees' optimism and recognition that we are on the right path, both in terms of business as well as people practices.
Inclusion & Diversity
DSM's Inclusion & Diversity activity focuses on two main topics:
Increasing representation of women and under-represented nationalities at executive level and throughout our management pipeline in order to fuel innovation and growth in every country where we operate
Creating an inclusive work environment where each employee contributes 100%
We aim to have 25% female executives and for at least 60% of our executives to come from under-represented nationalities by 2020. We achieved our short-term target of an improvement in each by 2% in 2017 thanks to a renewed focus and commitment of all businesses and functions. The percentage of executive women in 2017 reached 17%, while the number of under-represented nationalities at executive level reached 56%, just a few points away from our long-term aim.
In 2017, new targets were also added to increase the diversity of the DSM pipeline below executive level. These targets focus both on gender and nationality mix, and were defined in the Inclusion & Diversity aspirations of our major business groups and functions. Both measures saw a positive trend across all of our businesses and functions, with representation growing an average of 2% and 3% respectively versus 2016.
In line with the Dutch Corporate Governance Code, the Supervisory Board drafted a diversity policy for the Executive Committee, Managing Board and Supervisory Board. This policy aims for a 30% gender balance and, for the Executive Committee and Supervisory Board, no more than 50% of members from one nationality. For more detail see Corporate governance and risk management.
With the mid-year appointment of Judith Wiese in 2017, our Executive Committee's gender and nationality diversity is 29% and 57% respectively. Our Managing Board, consisting of one female and two male members, is fully aligned with the 30% prescribed by Dutch legislation in terms of gender balance. Our Supervisory Board is also well balanced, in terms of both gender and nationalities, and is in line with Dutch legislation in this regard. More than one third of the members are women. Furthermore, in the Supervisory Board of DSM Nederland B.V., a subsidiary of Royal DSM, one of the three members is female.
Gender balance will continue to require attention and our Executive Committee has devoted considerable energy to this topic in order to stimulate change. Our CEO Feike Sijbesma signed a commitment as one of the Catalyst CEO Champions For Change, signaling the company's active support for gender equality. In 2017, we ran several external outreach campaigns, such as 'It's the balance that makes us stronger', which celebrated the company's achievements on gender diversity. Centered around social media, it features unscripted, personal video profiles of DSM's senior women leaders and directs viewers to a LinkedIn hub that offers a place for women all over the world to connect. In addition, we are building a strong, diverse internal talent pipeline to drive our future growth aspirations.
Inclusion has been a central focus area in 2017. Several steps were taken to begin meaningful conversations and raise awareness around this topic such as training for all executives, a broad online communication and awareness campaign for more than 2,000 people managers, and the participation of about 20 female and male employees in the Women's International Networking Conference in Oslo (Norway). In addition, employees shared stories about what inclusion means to each of them in our internal, employee-led 'I for Inclusion' digital campaign.
DSM's inclusion efforts are monitored on a yearly basis via the Employee Engagement Inclusion Index, which improved over the past year, moving from 70% in 2016 to 71% in 2017. This consistent improvement suggests that progress is being made in creating and maintaining inclusive environments across the company.
Going forward, DSM will also continue to address the geographical distribution of executives and other key functions keeping a keen eye on nationality balance, as this remains an essential aspect to foster at this stage.
Learning and development at DSM
Learning and development grows our employees and leaders, which in turn facilitates our company's growth.
Our employees are curious people and we encourage a culture of continuous learning through a 70:20:10 approach:
70% learning through experiences, like guided on-the-job assignments
20% through other people, like peer learning opportunities and mentoring
10% more formal learning through classroom training and digital learning
With this approach, people learn from experience, feedback, reflection, experiments and mistakes in addition to training courses. On average, the DSM employees who are registered in our training portal had 19 hours of developmental training in 2017.
DSM works in close cooperation with leading international business schools and global learning content providers such as Duke Corporate Education, Ashridge Executive Education, Vlerick Business School, and CrossKnowledge, to design and deliver high-quality learning activities for employees around the world.
We are making it easier to access learning opportunities through a more user-friendly platform. A new global Learning Management System that is part of DSM's integrated Talent Suite system is replacing legacy systems. This way, employees have a one-stop shop for all company learning activities, including development and mandatory training. Processes for approval, registration, cancellation, evaluation and reporting on learning and development are now simpler and consistent worldwide.
Additionally, in April 2017, DSM extended access to our online platform, called Bright Learning, to all employees. A new smartphone app improved the user experience. Now people can learn anytime, anywhere. This platform will be integrated with the new Learning Management System. Preparations and testing are underway.
Bright Mentoring
Bright Mentoring is a DSM program that connects people across the organization to encourage mentorship and learning through others. Benefits include:
more cross-business networking;
a better connection and understanding of the company strategy and different businesses;
accelerated employee development and exposure; and
mutual learning for mentor and mentee.
There are about 300 employees in mentoring relationships across DSM.
Developing leadership and people management
Developing our leaders and people managers is a priority. Launched in 2012, the DSM Leadership Model specifies the behavior we expect from our leaders and people managers. The model provides a common vision and language on leadership at DSM, which is now fully embedded in our key processes to hire, develop, evaluate and manage talent across the organization.
We recognize that throughout their careers, leaders go through several transitions. Our leadership programs support development through each transition: leading self, leading others, and leading leaders. In 2017, most of the design and development work took place, as did the first pilot sessions. We expect these programs to fully roll out in 2018.
In addition, we continued People Manager 2018, the monthly virtual campaign that highlights relevant topics for people managers specific to that time of year. In 2017, we enhanced this program with 32 in-person 'Meet, Share and Learn' sessions at key locations around the world. These three-hour trainings on challenging topics allow people managers to connect face to face with peers and role models, exchange experiences, learn and grow. With these sessions, we offered training to more than 420 people managers in goal-setting, talent and performance reviews, and development conversations.
To support Strategy 2018, DSM collaborated with Duke Corporate Education to create the DSM Lead & Grow program for our top 300 executives. Piloted in 2016 and rolled out in 2017, the program encourages our leadership to think and act differently, fully understand macro-economic trends, use creative and dilemma solving techniques to address roadblocks, and engage and develop our best talent.
Developing and managing our talent
Talent acquisition
In 2017, DSM continued to strengthen the Global Talent Acquisition organization, including some external hires in our own regional recruitment teams, and global functional expertise groups working around the world. Standardized processes and systems were implemented and a focus on emerging technologies has dramatically reduced DSM's reliance on external agencies. Our regional recruitment teams have closed more than 1,000 recruitments while reducing time to hire and focusing on quality hiring in line with our desire for diversity, inclusion and learning agility. Further social media outreach allowed us to become more proactive through dedicated campaigns, such as the campaign that featured some of our senior female leaders and helped build awareness of gender balance at DSM.
Talent management
In 2017, the new talent management approach implemented in 2016 was further leveraged and we were able to see positive progress in the key areas of identifying and developing future talent, strengthening succession for leadership positions, and upgrading our overall talent pipeline.
Identifying and developing future talent
One of the 2016 action points was to identify a broader pool of emerging leaders — early career talent who could be stretched into faster career development. Thanks to a modified approach, in 2017 we were able to define a deeper, more diverse pool of talents, almost doubled in size, and better representing our businesses, geographies and job levels. Within our senior talent group, we were glad to see retention rates above 80%, as well as very good career movements, including some cross-business shifts, which are key to helping us develop broader senior leaders. Going forward, we will continue to focus on career development, an area where we have not yet seen the acceleration we expect despite our progress, and where our Engagement Survey results still show frustration among the wider employee group.
Strengthening succession for leadership positions
Overall succession strength for our business and functional leadership teams has improved. A fewer number of positions show significant gaps. However, focus on this topic will continue throughout 2018, particularly considering the growth objectives we have for our businesses going forward. Regarding the DSM Leadership team, clear efforts were made to accelerate the development of the talent identified for these positions. All of them went through an executive development assessment and more than two-thirds of the identified employees took a developmental role in 2017.
Upgrading our overall talent pipeline
Overall actions were taken to continuously upgrade our talent pipeline, through a good inflow of new hires and internal promotions, bringing increased breadth and diversity, as well as careful management of underperformers. In 2018, we intend to initiate specific intake programs at junior and senior levels to accelerate our progress in this area.
Accountability for performance
Accountability for performance plays an important role in achieving DSM's Strategy 2018. Over 13,000 employees have access to the digital evaluation tool for performance reviews. All other employees participate in performance evaluations on paper or with other local systems. Our approach to target-setting focuses on 'Fewer, Bigger, Better Goals' that are measurable, relevant and challenging. In 2017, the development plan was added to the performance review to link achievements, experiences and key learnings to future development activities.
Total rewards
DSM continued with the Total Rewards Strategy in 2017. This strategy supports business objectives with monetary and non-monetary rewards and is the reference for compensation and benefits plans across the organization. It is designed to:
Pay for performance that supports business objectives;
Help attract, engage and retain the right employees and reinforce desired behavior;
Ensure consistency and fairness in our reward programs across employee segments and geographies; and
Optimize and sustain DSM's investments in talent.
We took steps in 2017 to align and standardize salary structures on a global scale based upon the Total Rewards Strategy. This included rolling out a more streamlined approach to benchmarking. DSM now has a better understanding of competing employers and we can set target pay levels that drive performance across all areas and geographies. We also implemented a new global technology platform for a unified approach to salary adjustments. Together, these steps have given us a more consistent external-facing approach for better competitiveness and strengthened internal equity (comparable pay for comparable job levels).
New organizational and operating model
DSM continued to implement the new organizational and operating model as part of Strategy 2018. This focuses on creating a more agile and cost-effective organization. It allows DSM's businesses to focus on growth and leverages the support functions on a global level. The program has delivered the targeted benefits contributing to the total cost savings of about €195 million (the high end of the targeted range) and a reduction of approximately 950 FTEs in staff and support functions (both against the baseline of 2014). About 55% of these were in the Netherlands. See also Strategy 2018.
Good progress was made in implementing the new operating models for the various support functions, enabling them to deliver better service at lower cost. The Finance, IT and Purchasing shared services were integrated in the new DSM shared services organization with a global service center in India and a satellite in China. People & Organization followed at the end of 2017.
Additional efforts were made in internal communication concerning organizational change and company culture. More than 60 two-day workshops were organized for the employees in all support functions. These were aimed at creating a better understanding of the new operating model and encouraging the mindset and behavior necessary to make the new organizational set-up a success and to support DSM's ambitions.
DSM provides fair severance compensation and supports redundant employees in their search for new employment. We apply a clear, objective and transparent process in determining which positions and employees are, regrettably, impacted. We align with employee representation bodies where applicable and we actively engage with works councils.
ONE DSM Culture Agenda
The ONE DSM Culture Agenda aims to support the company's strategic objectives and to equip employees to respond to the needs of an ever-changing world.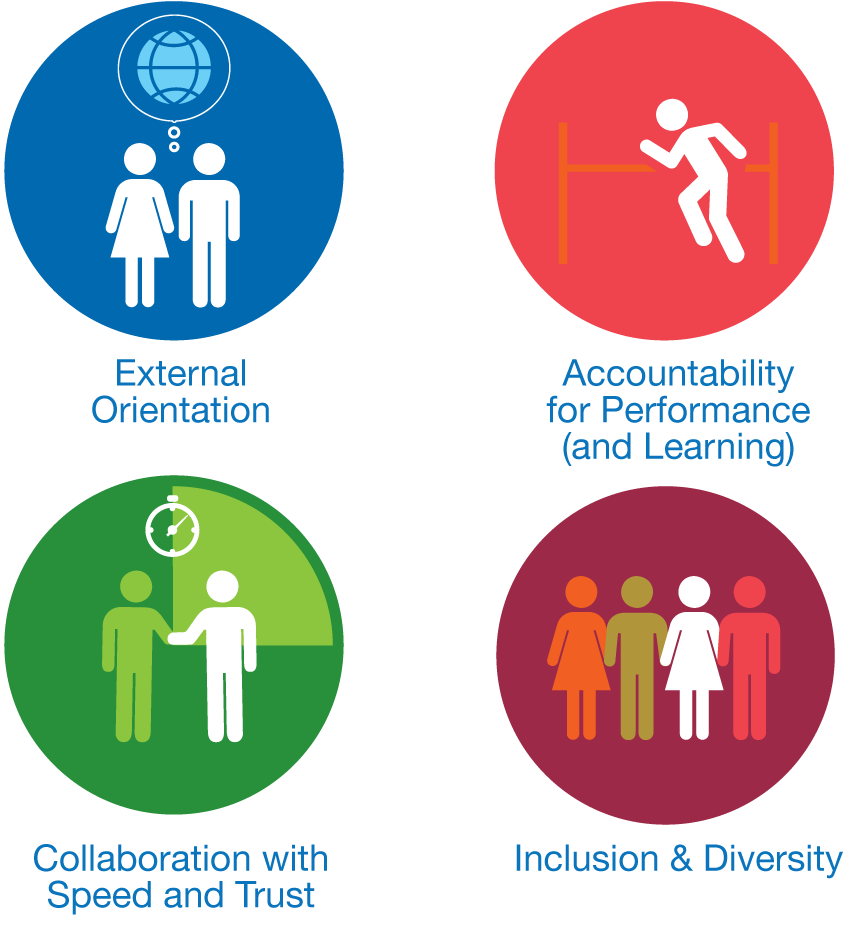 In 2017, we evaluated the current state of our culture agenda through interviews with more than 50 leaders and 100 talents across the world to get a better understanding on where emphasis is required.
In the area of 'External Orientation', we have intensified our focus on customer requirements and best practices in the markets. We collect insights across business groups and use these to become more customer-facing. Regarding 'Collaboration with Speed', changes to our target operating model improved our capability to leverage across business groups. The areas of 'Accountability for Performance' and 'Inclusion & Diversity' are discussed elsewhere in this chapter. The Managing Board supports and drives these values through leading by example.
Continuous improvement in operations
One of the ways in which we drive organizational performance is by fostering a culture of continuous improvement across manufacturing sites and supply chain environments. This mindset is driven by the DSM Integral Continuous Improvement (DICI) journey, which is currently running in approximately 65% of DSM's Manufacturing and Supply Chain organizations. The premix locations and some recent acquisitions are currently excluded from the DICI scope.
We focus on empowering our people so they can make the many small improvements that can have a significant impact on operations and on our employee engagement. This journey is being executed together as ONE DSM, which enables us to share and learn across sites and businesses much faster than before.
In Pune (India), the DICI journey has played a role in establishing a self-propelling continuous improvement culture. We empower shop floor operators to set standards, identify deviations and initiate their own problem solving. By working with local leadership, who coach and facilitate this process, we have achieved increased output and a significant step up in Safety, Health and Environment results.
The local team in Lalden (Switzerland) observed that changeover time was causing considerable performance issues. To address this, the team defined a new standard way of working and agreed on an ambitious target of 40% time reduction for changeovers. Times were measured and published. The target was achieved within a few changeover cycles. This improvement required no investment and resulted in an increase in production volume. This delivered an annual cost benefit of CHF 600,000.
Responsible business practices
International Labour Standards
DSM applies the International Labour Standards of the ILO. DSM respects the role of works councils and collective bargaining, and works with these groups in the countries and regions in which they are present. We develop social and severance programs in the event of significant reorganizations, such as in our current reorganization (see 'New organizational and operating model' in this chapter). DSM promotes employee empowerment and human rights protection and maintains dialogues with employees and representative bodies to enable this.
Human rights
With our mission to "create brighter lives for people today and generations to come", DSM believes that respecting human rights is fundamental to delivering a more sustainable society. The basic rights and freedoms to which all people are entitled should be understood, respected and promoted by companies as a cornerstone of being a socially responsible business.
DSM has a longstanding commitment to international declarations and instruments to safeguard them. These include:
the UN Universal Declaration of Human Rights;
the UN Guiding Principles on Business and Human Rights (the Ruggie Framework);
the ILO International Labour Standards; and
the OECD Guidelines for Multinational Enterprises.
We have been a signatory to the UN Global Compact since 2007.
DSM's commitment to human rights is defined in our position paper on the company website. The discussions around the development of our Human Rights Policy help embed the responsibility to respect human rights into the programs, policies and daily operations of all business functions and regions. DSM's global whistleblower policy (DSM Alert) is in place so employees and external stakeholders can report any perceived violations of human rights as well as violations of laws and regulations. DSM has mapped the potential human rights impacts of the company's business activities through a global risk assessment. This assessment has shown that the categories of human rights most relevant and applicable to DSM are employees' working conditions, our supply chain and compensation. We conduct regular reviews of our rewards framework to make sure it meets the standards of our Total Rewards Strategy.
Beyond our own operations, potential labor and human rights impacts are handled through our Supplier Sustainability Program (SSP). We screen suppliers for potential human rights issues through sustainability assessments and audits. Read more about our SSP and how we manage potential human rights impacts within our DSM Supplier Sustainability Program .