Planet
Greenhouse gas

26%Greenhouse-gas efficiency
improvement, cumulative
versus 2008 (on track)

Electricity

21%Purchased electricity
from renewable sources
up from 8% in 2016

Innovation sales

21%Innovation sales as % of
total sales.
Target of ~20% achieved
Energy efficiency

3%Energy efficiency
improvement, cumulative
versus 2015. Ambition of
more than 10% in 2025

Water consumption

23Water consumption
up from 22 in 2016
(in million m3)

Sustainability is our core value. It is what makes us different from other companies and drives our business. We lead by example, so we look for opportunities to improve our environmental footprint and the footprint of our supply chain. We also work closely with customers to deliver goods and services that are better for people and/or the planet. Our portfolio of Brighter Living Solutions — products with benefit to society and/or the environment compared to mainstream solutions — now accounts for 62% of our net sales.
Our operating network spans more than 100 commercial production facilities in over 40 countries. The DSM Responsible Care Plan 2016-2020, an essential part of our company strategy, describes our environmental targets and what actions we are taking. Our approach supports the Sustainable Development Goals, especially SDG 7 (Affordable and Clean Energy), SDG 12 (Responsible Consumption and Production) and SDG 13 (Climate Action). These align well with several topics from our materiality matrix, see Materiality Changes in 2017:
Climate change & renewable energy
Resource scarcity / Circular & bio-based economy
Water security
Biodiversity
Product Stewardship
For more detailed information about our Planet performance, see Sustainability statements − Planet. See also How DSM creates value for its stakeholders and Stakeholder Engagement.
Climate change & renewable energy
Aspiration

2017

2016

Greenhouse gas (GHG)

GHG efficiency improvement
cumulative versus 2008

40-45%
in 2025

26%

23%

GHG emissions scope
1 + 2 market-based
(million tons)

1.5

1.4

GHG emissions scope
1 + 2 location-based
(million tons)

1.6

1.5

Energy

Primary energy use (PJ)

23.6

22.6

Energy efficiency improvement
cumulative versus 2015

> 10%
in 2025

3%

2%

% Purchased electricity from renewable sources

50%
in 2025

21%

8%
DSM is committed to addressing climate change by reducing the impact of our operations and our supply chain, enabling our customers to reduce their impact with solutions for a low-carbon economy, and advocating climate action.
We reduce our own greenhouse-gas (GHG) emissions by:
sourcing more electricity from renewable sources; and
improving the energy efficiency of our existing operations.
To encourage investments in low-carbon or carbon-free technologies we use an internal carbon price of €50/t CO2eq in the valuations of large investment projects.
DSM's climate change strategy received an A-rating from CDP in 2017 for the second year in a row. Still, we continue to search for improvements. We have reviewed our GHG emissions within the context of the Paris Agreement. Based on this review, we are defining new plans so that DSM continues to be a leader on the topic of climate change.
Scope 1 + 2 GHG emissions
Driven by our business growth, the scope 1 + 2 market-based GHG emissions increased from 1.4 to 1.5 million tons of CO2eq in 2017. For definitions, see Explanation of some concepts and ratios.
DSM's GHG efficiency improved further from 23% in 2016 to 26% in 2017 versus our 2008 baseline. Most of the efficiency improvement results are due to a greater use of electricity from renewable sources as well as the success of our energy efficiency program. Changes in GHG calculation methodologies can positively or negatively influence the reported performance. In 2017, part of the improvement can be explained by better insights into how to determine certain contributions to our GHG emissions.
Scope 3 GHG emissions
DSM's scope 3 emissions amounted to about 21 million tons of CO2eq in 2017, which is around 1 million tons higher than 2016. This figure is based on calculations using global emission factors, estimates, extrapolations and assumptions.
The main scope 3 categories are purchased goods and services and end-of-life-treatment of sold products. For both categories the calculated emissions went up in line with the higher production volumes and associated spend. The investments category increased due to an exchange rate impact. At DSM, we try to sustainably reduce our carbon footprint across the value chain, for example, through the DSM Supplier Sustainability Program.
We also develop products for the circular and bio-based economy to further reduce scope 3 emissions. See Suppliers and Resource scarcity / Circular & bio-based economy elsewhere in this chapter.
Avoided emissions
Most of the benefits of our Brighter Living Solutions with environmental benefits happen in the application or use phase. That means they contribute to avoided emissions downstream in the value chain.
For example, mooring ropes made with Dyneema® are approximately 80% lighter than traditional steel cables. They are also stronger and last longer. Their lighter weight makes mooring faster, leading to significant fuel and GHG emission savings over the seven-year lifetime of a rope. Roughly 4,900t CO2eq are avoided when using a 100m-long mooring rope made with Dyneema®.
Our solutions for brewing beer reduce the energy required during the production process, saving money and reducing GHG emissions. Brewers Clarex® is a stabilization technology that eliminates the cold stabilization process, and our Brewers Compass® removes the need for consistently high-quality malt, replacing it with unmalted alternatives. In 2017, these two products contributed estimated avoided emissions of approximately 82,000t CO2eq.
Energy transition
DSM's energy efficiency improvement is on track, increasing to 3% in 2017 versus our baseline 2015. The annual improvement was 0.6%, lower than our aspiration of 1% improvement per year. Our DSM Nutritional Products site in Jiangshan (China) impacted the overall result due to a product portfolio shift toward more energy intensive products and lower efficiency of the powerplant. Exceptionally, we ran the site through the hot summer period at high production capacity to build up stock for a planned turnaround in 2018, which led to an increased use of energy.
In 2017, we continued our energy efficiency program to help reduce emissions and energy costs. The program has a dedicated annual investment budget to support those projects that have a longer payback period than typical business projects. In 2017, there were about 30 energy efficiency projects. Typical projects were LED lighting, steam trap improvements and better motor efficiency. These should deliver approximately 90TJ energy savings and 6,200t CO2eq reduction per year. A more ambitious energy efficiency program was developed and approved for 2018.
Renewable energy
DSM is a member of the Climate Group's RE100 — leading companies that have committed to sourcing 100% of their electricity from renewable sources at the earliest possible opportunity. Our commitment is to source 50% of our electricity from renewable sources by 2025 and 100% at the earliest possible opportunity.
We are making excellent progress against our intermediate target. Purchased electricity from renewable sources increased from 8% in 2016 to 21% in 2017. Much of this progress is the result of DSM Nutritional Products' Swiss manufacturing sites, which source approximately 50% electricity from renewable sources as of 2017, and two new Power Purchase Agreements to participate in two wind parks, one in the US and one in the Netherlands. When fully constructed, the participation in the US will deliver an estimated 125 GWh of wind power to DSM. The Windpark Bouwdokken together with the earlier contracted Windpark Krammer will, once fully operational, deliver approximately 105 GWh. Additionally, we signed a contract which will bring the share of purchased electricity from renewable sources for the Netherlands to 100% in 2018.
We also look for opportunities to replace fossil fuels used in our own processes. The biomass plant at our DSM Nutritional Products site in Sisseln (Switzerland), which is currently under construction, is the first major success in this area so far. The project was initiated to avoid further investment in the life time extension of DNP's natural gas-fired cogeneration plant dating from the 1960s-1970s. To address this, a partnership has been developed with ENGIE and EWZ that will build, own, operate and maintain the biomass cogeneration plant.
Other emissions to air
| | | | |
| --- | --- | --- | --- |
| | Aspiration | 2017 | 2016 |
| Air emissions efficiency improvement versus 2015 | 40% by 2020 | 41% | 25% |
| Air emissions (x 1,000 tons) | | | |
| - VOC | | 6.6 | 8.9 |
| - NOx | | 0.7 | 0.8 |
| - SO2 | | 0.28 | 0.33 |
Our continuous improvements, especially at our manufacturing sites, helped to enhance our air emission efficiency by 21% in 2017 compared to 2016 and by 41% versus our baseline of 2015. Especially for our sites in China, reducing air emissions is a key topic. As a result, they delivered most of the reported improvement. Although we achieved the target set forth in our Responsible Care Plan 2015-2020, we initiated several new projects to move to closed systems that prevent emissions, and to install off-gas treatment systems in 2018 to further reduce VOC emissions.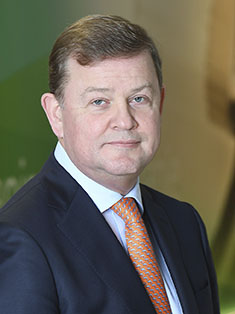 Climate change is both a challenge and an incredible business opportunity. It's time to seize that opportunity — to create a new low-carbon economy and leave our children and grandchildren a healthy planet.
Feike Sijbesma, CEO/Chairman Managing Board
Resource scarcity / Circular & bio-based economy
With the rapid growth of the world's population, the total demand for resources is expected to reach 130 billion tons by 2050 according to Accenture. That is more than 400% over-use of the earth's total capacity. At DSM, we are committed to securing the future availability of natural resources and unlocking more value from the limited resources we have.
The circular economy is one that is "restorative and regenerative by design, and aims to keep products, components, and materials at their highest utility and value at all times" (Ellen MacArthur Foundation) through the large-scale recovery and re-use of materials.
Aspiration

2017

2016

Renewable raw materials

Renewable raw materials

15.4%

16.5%

Waste

Waste recycled

80-90%
in 2020

84%

83%

Non-hazardous waste (kt)

- Recovered

104

113

- Incineration1

12

11

- Landfill

20

18

Hazardous waste (kt)

- Recovered

40

33

- Incineration1

23

22

- Landfill

3

1
The bio-based economy is one that obtains its raw materials from nature (biomass) to produce materials, chemicals, energy and fuel.
For DSM, these concepts are mutually reinforcing and provide opportunities for increased productivity, improved sustainability and innovation. We adopt a multi-faceted value chain approach, and try to embed these concepts into our sourcing, operations, innovation and portfolio, and to advance 'closed-loop' solutions via partnerships.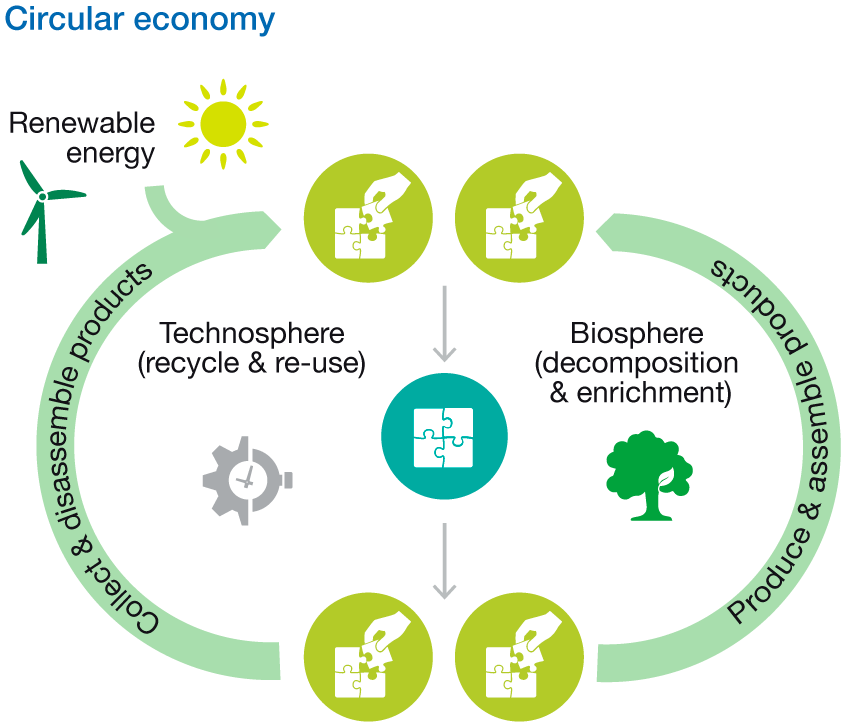 We focus on exploring ways to:
reduce the use of critical resources;
replace scarce, hazardous, and potentially harmful resources;
extend the lifetime of products;
enable recycling and redesign with smart materials; and
recover waste streams.
Renewable raw materials
Sustainable resources are essential to securing resource availability into the future and reducing GHGs by putting carbon back 'in the loop'. The renewable raw materials we use include waste from the agricultural industry, yeasts and enzymes, carbohydrates, and natural oils and acids. In 2017, the share of spend on renewable raw materials decreased to 15.4% versus 16.5% in 2016. This was despite an overall increase in the absolute amount. For more on sustainable biomass, see our position paper on the company website.
One of our applications for renewable raw materials is Decovery®, our novel plant-based resin technology platform for high-performance paints, coatings and inks. This platform uses a variety of renewable building blocks such as sugars, starches, natural oils and materials from trees and agricultural waste that do not compete with the food chain to produce high-performance resins, typically comprising 30-50% bio-based content. Sigma Air Pure, a bio-based wall paint based on Decovery®, also enhances the indoor air climate by reducing up to 70% of the formaldehyde in indoor air.
Waste
One aspect of enabling the circular economy involves reducing and recovering waste. DSM recycles as much as possible. Landfilling is our last resort.
Our definition of waste recycled is the percentage of total waste related to normal operations that is recycled or, if this is not possible, incinerated off site with heat recovery. In 2017, 84% of DSM's waste was recycled, which is 1% up compared to 2016. Maintaining the recycling performance was a challenge given the fact that we lost a large waste stream recovery outlet from DSM Nutritional Products' Dalry site (United Kingdom) for use in land restoration. The loss was compensated by various new recycling opportunities that have been successfully implemented.
For example, at DSM Nutritional Products in Mairinque (Brazil) we found an excellent opportunity to recover material. Extensive analysis proved that a certain waste stream, which until now had been landfilled, contains ideal nutrients for organic compost which can be used as plant fertilizer. We expect this to reduce our landfill by an estimated 900 tons per year.
Water security
Managing our water utilization in a sustainable way is an important part of DSM's daily operations. We have supported the UN CEO Water Mandate since 2011. In 2017, we received an A-rating from CDP for our water governance and management strategy.
Aspiration

2017

2016

Sustainable water management

- Water risk assessments completed

90%
in 2020

100%

67%

- Water risk assessment mitigating actions

in
progress

- Water consumption
(million m3)

23

22

- Water use (million m3)

114

104

Emissions to water

- COD (kt)

2.5

2.4
We believe that water risks are local by nature, so we focus on local water risk assessments and thorough follow-up. In 2017, we updated our water risk assessment methodology to the latest standards. We incorporated the screening for water stress using 'WRI Aqueduct' and 'WWF-DEG Water Risk Filter' to determine which DSM sites are in areas of water stress and carried out the new updated water risk assessment at all relevant sites. The main identified water risks are related to water quality, changing local regulations and limitations in local infrastructure. The risk exposure to water scarcity has been found as very limited in the regions where we operate. Mitigation actions are currently being defined and will be followed up in the coming period 2018-2020.
"Water security continues to be a concern for the world's growing population, with many areas already under stress of scarcity or pollution, or areas that suffer damage from natural disasters. We treat water security as a material topic with a management approach that focuses on water at the local level. Via this report, we report our progress on water security toward the UN Global Compact CEO Water Mandate."
Feike Sijbesma, CEO/Chairman Managing Board
To strengthen our water management in the coming years, a new corporate water management standard was defined in line with the Alliance for Water Stewardship standard and the UN Global Compact CEO Water Mandate. This will be rolled out at our sites in water-stressed areas and other selected facilities.
Compared to 2016, water consumption increased to 23 million m3. The increase was driven by higher production volumes at various manufacturing sites.
DSM's water pollution reduction programs aim to reduce total water pollution, mainly through reductions in Chemical Oxygen Demand (COD). Total COD increased slightly from 2.4kt in 2016 to 2.5kt in 2017. Waste water treatment improvement projects executed at the DSM Nutritional Products sites in Grenzach (Germany) and Sisseln (Switzerland) successfully lowered their COD emissions. However, various manufacturing sites reported higher COD emissions due to higher production volumes that offset the achieved improvements.
Biodiversity
| | | |
| --- | --- | --- |
| | 2017 | 2016 |
| Sites near high biodiversity | 61% | 60% |
We identify and monitor protected areas near our sites and our impact on them. Sixty-one percent of our sites have been identified as being located in, or adjacent to, areas of high biodiversity value. In all cases, the relevant production sites operate within applicable limits as defined by local authorities. See also Stakeholder Engagement and DSM's position paper on Biodiversity on the company website.
Product Stewardship
An important pillar within our sustainability and SHE strategy is Product Stewardship. This is defined as the responsibility to control and minimize all possible safety risks and adverse effects on human or animal health and on the environment that could be caused by (the substances present in) our products throughout the value chain.
DSM's Global Product Stewardship Network continues to develop our position regarding Substances of (Very) High Concern. We strive to phase out these compounds from our portfolio. This excludes substances that are defined as 'essential to life' (in small quantities) and therefore cannot yet be substituted. We also recognize that certain ingredients are required for functionalities for which no feasible alternatives are currently available. In all cases, we ensure that scientific and risk-based controls are in place.
Our coating resin NeoPac™ PU-580 is an example of how DSM addresses Product Stewardship. The quality of air in a freshly painted room is affected by components that are emitted from paints. DSM Resins & Functional Materials developed a breakthrough technology to replace one of the toxic substances in paints and coatings. The original substance is volatile and leads to health problems if it comes into contact with skin or the respiratory system. The market has long needed a replacement, but the search always failed due to the inadequate performance of available alternatives. Based on a novel mechanism, DSM developed a next-generation binder which meets all the requirements for labeling, volatile organic compounds, and indoor air quality without compromising on performance. This development was commercialized as NeoPac™ PU-580 early in 2017.