Strategy 2018: Driving Profitable Growth
DSM has been transformed into a truly global company that provides innovative, sustainable solutions in health, nutrition and materials. After a period of significant portfolio changes, in late 2015 DSM launched Strategy 2018: Driving Profitable Growth focused on capturing the full potential of the business portfolio that has been created and translating this into improved financial results. In the period 2016-2018, our aim is to step up our financial performance while pursuing our ambitions in the area of sustainability and expanding our positive impact on the world around us.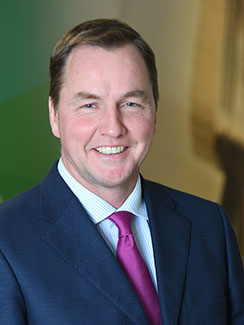 Sustainability is what our business is all about. This is what we do. The world is looking for sustainable solutions and that is why we are growing.
Philip Eykerman, DSM Executive Committee
Strategic targets & progress 2017
Building on these trends, and combined with disciplined focus on performance, we established and implemented our three-year strategic plan for the period 2016-2018 called Strategy 2018: Driving Profitable Growth with two headline financial targets: high single-digit percentage annual Adjusted EBITDA growth and high double-digit basis point annual ROCE growth.
Financial targets 2016-2018
DSM delivered excellent financial results in 2017. Adjusted EBITDA grew by 15% to €1,445 million, far ahead of the high single-digit growth target we originally set with Strategy 2018. Overall Adjusted EBITDA margin (Adjusted operating profit before depreciation and amortization as a percentage of net sales) was 16.7%, an increase of 80 basis points versus the 15.9% of 2016. In the first two years of Strategy 2018, we have increased our Adjusted EBITDA by €370 million or 34%.
Return on Capital Employed (ROCE) was also well ahead of target, up 190 basis points to 12.3% in 2017 versus 10.4% in 2016. Since we kicked off our successful Strategy 2018, ROCE is up 470 basis points versus the end of 2015.
Financial targets 2016-2018

Realization

2017

2016

High single-digit percentage annual adjusted EBITDA growth

15%

17%

High double-digit bps annual ROCE growth

190 bps

280 bps
Sustainability aspirations 2020
Sustainability is our core value. We continue to further embed sustainability across all of our business activities, both in recognition of our responsibility to reduce our environmental footprint and to help our supply chain, customers and partners do the same. We especially focus on the areas of nutrition, climate and energy, and the circular and bio-based economy.
| Sustainability aspirations 2020 | Realization 2017 |
| --- | --- |
| | |
| Dow Jones Sustainability World Index | |
| Top ranking (RobecoSAM Gold Class) | Gold class |
| Brighter Living Solutions | |
| 65% ECO+/People+ (running business) | 62% |
| GHG Efficiency Improvement | |
| 40-45% (2008-2025) | 26% |
| Energy efficiency improvement | |
| >10% (2015-2020) | 3% |
| Purchased electricity from renewables | |
| 50% by 2025 | 21% |
| Employee Engagement Index | |
| Toward 75% favorable | 75% |
| Safety | |
| 0.25 Frequency Index of Recordable Injuries | 0.36 |
| Diversity | |
| 25% Female executives | 17% |
| 60% Executives from under-represented nationalities | 56% |
How DSM creates value
DSM's strategy is aimed at driving profitable growth through science-based, sustainable solutions based on the defining megatrends of our time. By using its unique competences in health, nutrition and materials, DSM is fostering economic prosperity, environmental progress and social advances to create value for all stakeholders simultaneously.
Value Creation Model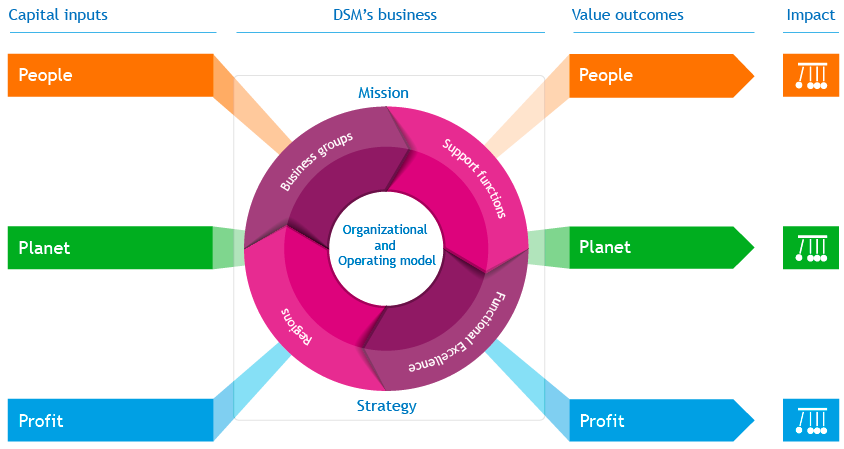 Human capital
DSM employs skilled and talented people from diverse backgrounds. DSM strives to provide employees with a safe and inspiring workplace as well as with the tools and training they need to be effective and to develop their abilities. DSM rewards employees with competitive benefit packages.
Societal & relationship capital
DSM engages with various stakeholders to ensure close alignment between the company's aims and societal needs. DSM generates value for stakeholders outside its direct value chains of employees, suppliers, customers and end-users; these include employees' families, governments, local communities and civil society.
Natural capital
DSM recognizes that the world is an interconnected system of resources. For DSM this represents a responsibility and a business opportunity. DSM aims to reduce the environmental impact of its supply chain, operations and products and services, while developing innovative solutions that deliver sustainability benefits to customers and beyond.
Financial capital
Providers of capital – shareholders and bondholders, banks and the financial markets – supply funds that DSM uses in its business to create value, driving growth and delivering sustainable returns.
Intellectual capital
DSM manufactures and distributes high-quality products and services safely, efficiently and responsibly and strives to develop valuable, collaborative and long-term relationships with customers and suppliers. DSM pursues open innovation, connecting and collaborating with partners and investing in start-ups.
Manufactured capital
DSM has unique competences in life sciences and materials sciences and connects these to deliver innovative solutions that nourish, protect and improve performance.