Materials
| | | |
| --- | --- | --- |
| x € million | 2018 | 2017 |
| | | |
| Net sales: | | |
| DSM Engineering Plastics | 1,516 | 1,448 |
| DSM Dyneema | 344 | 332 |
| DSM Resins & Functional Materials | 1,053 | 1,045 |
| | | |
| Total | 2,913 | 2,825 |
| | | |
| Organic sales growth (in %) | 5 | 13 |
| Adjusted EBITDA | 512 | 488 |
| Adjusted operating profit | 383 | 361 |
| Capital expenditure | 132 | 124 |
| Capital employed at 31 December | 1,878 | 1,786 |
| ROCE (in %) | 20.6 | 20.0 |
| Adjusted EBITDA margin (in %) | 17.6 | 17.3 |
| R&D expenditure | 122 | 130 |
| | | |
| Workforce at 31 December (headcount) | 4,643 | 4,635 |
Business
DSM's Materials cluster comprises DSM Engineering Plastics, DSM Dyneema and DSM Resins & Functional Materials. DSM is a global player in specialty plastics for the electrical components and electronics, automotive, flexible food packaging and consumer goods industries. Our portfolio also includes Dyneema®, the world's strongest fiber™, for protective solutions and commercial marine applications, as well as resins for use in paints, industrial applications and optical fiber coatings, Niaga® technology for circular design, and advanced materials for additive manufacturing/3D printing applications.
Materials cluster performance
In 2018, Materials reported 5% organic sales growth, driven by an increase of 2% in volumes and 3% in prices, mainly reflecting commercial pricing initiatives aimed at offsetting higher input costs.
The Adjusted EBITDA was up 5%, driven by good volume growth and our continuing shift toward a specialty portfolio, and despite a negative foreign exchange effect. This 'silent transformation' was also reflected in the 2018 Adjusted EBITDA margin of 17.6%, versus 17.3% in 2017.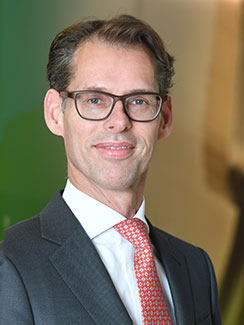 We are future-proofing our Materials business by focusing on higher-growth and higher-margin applications in Sustainable Living.
Dimitri de Vreeze, DSM Managing Board
Trends
The main growth drivers of our Materials cluster are sustainability and changing societal needs.
The worldwide demand for more sustainable solutions is redefining how these systems will operate in the future. Advanced materials with ever higher performance levels will be required across a wide range of applications.
For example, the future of transportation will require more complex and higher-performing materials for emerging autonomous, lightweight and more energy-efficient automotive designs. Materials are also playing a role in renewable energy generation and storage, 3D printing, more sustainable packaging and advanced healthcare applications.
One example is the use of plastics in cars. In the 1950s, plastics accounted for 1% of a car's weight. Today, they represent nearly 12% of a car's weight. That percentage is expected to grow to 15% by 2030, as designers and engineers find an increasing number of applications in which metal can be replaced by plastics.
At the same time, consumers are increasingly seeking 'smart' connected and customized products and services that call for new types of performance materials. For example, 3D printing is disrupting the business value chain as its capabilities evolve beyond prototyping to embrace mass production. This new technology is finding transformational applications in many fields. The demands placed on healthcare systems are steadily rising. Medical and technological advances, spiraling complexity and the accelerating integration of electronics combined create new performance requirements for materials to be used both inside and outside the body.
In more and more industries, circular economy topics such as recycling and the use of bio-based materials are receiving increasing attention. For example, in Europe alone, the carpet industry generates 1.6 million tons of carpet waste annually, of which 60% ends up as landfill, 37% is incinerated and only 3% is recycled. Across the value chain, consumer sentiment and regulatory pressure are driving a shift toward materials designed for a circular economy — materials that are bio-based, reusable, recyclable and bio-degradable.
Additionally, people everywhere are increasingly aware of safety, including safe manufacturing and product safety. DSM Engineering Plastics and DSM Resins & Functional Materials offer solutions that eliminate or reduce the use of hazardous substances in plastics and paints. The safety trend also includes a greater focus on personal safety. Dyneema® reduces the weight burden on people handling heavy weight steel chains and wires. It is also ideal for applications in protective apparel for sports, outdoor recreation, law enforcement and first responders.
Sustainability & Innovation
Increasingly, our innovation projects address solutions for a more circular economy. DSM-Niaga technology, with which we are enabling fully recyclable carpets, mattresses and furniture components, is an excellent example. For more information on Niaga®, see DSM Resins & Functional Materials.
At the same time, demand for renewable energy technologies such as solar, wind and water are stimulating the development of new performance materials. Several renewable energy technologies contain Dyneema® as a key enabler, including tidal and wind energy.
As an example of customer-centric cross-sector collaboration and innovation, in 2018, DSM became a member of ARENA2036 (Active Research Environment for the Next Generation of Automobiles), the leading technology platform for mobility in Germany. ARENA2036 is the initiator of sustainable automotive engineering and automobile production for the next generation of vehicles and a platform in which both suppliers, customers and research institutes participate.
Our DSM Materials Science Center, a cross-company platform for state-of-the-art know-how, has led to a growth of our innovation capabilities in 2018. This Science Center has also improved collaboration of both our running Materials businesses and our Biomedical and Advanced Solar Emerging Business Areas (EBAs), part of the DSM Innovation Center.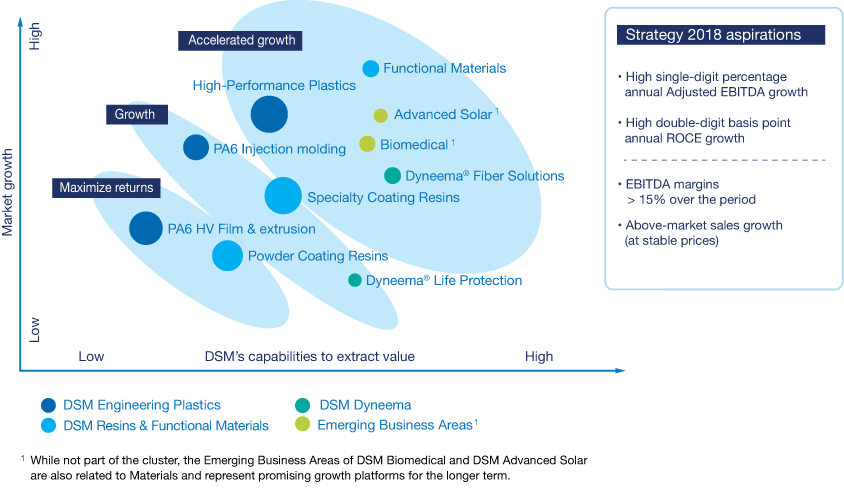 Strategy
We continued to apply a differentiated portfolio strategy to drive growth. For our portfolio of innovative, high-performance plastics, functional materials and high-performance fiber solutions, we accelerated growth. For our established portfolio of specialty resins, engineering plastic compounds, and solutions for life protection, we realized stable growth. For our more mature portfolio of PA6 film and extrusion and powder coating resins, we maximized returns by means of efficient product and process management.
Our businesses targeting accelerated growth and growth developed at above-average growth rates for their respective markets in 2018, delivering above-average profitability, see picture above.
In 2018, our new, integrated approach with one dedicated business for our additive manufacturing activities became effective, as outlined in DSM Resins & Functional Materials.
We take a balanced view of our business, and therefore as we seize opportunities, we also manage risks. For more information on how we manage risks, see Risk management.
DSM Engineering Plastics
Highlights 2018
Strong organic growth in high-performance plastics
New approaches to support the circular economy launched and well received
Joined Apple's Clean Energy Program
DSM Engineering Plastics had total sales of €1,516 million in 2018 compared to €1,448 million in 2017. DSM Engineering Plastics delivered a solid performance in 2018, with 7% organic growth. After a strong first half to the year, automotive demand in China and Europe as well as markets for mobile devices in Asia started to soften. There was also some destocking in the value chain at year-end. Business conditions in other segments remained robust.
DSM Engineering Plastics addresses the key market trends in automotive and electronics. In addition to serving the automotive and electronics sectors, we provide solutions to specialized industries that address a range of evolving consumer and societal needs. Examples of application areas are water management, power distribution, outdoor power equipment, and multilayer flexible food packaging.
The quest for new forms of mobility is a key driver for our business today. We create products that help reduce the weight of vehicles, lower the friction generated by moving vehicle parts, and support the transition from fossil fuel to electric automotive power. DSM is one of the world's largest suppliers of high-temperature polyamides, polyamide 6 and thermoplastic co-polyesters. These products find applications in the automotive industry in applications such as powertrain, auto electronics and electricals, as well as in interior and exterior design and functionality.
The other key trend shaping our business in engineering plastics is the rapidly growing demand for connectivity between products, devices and applications. We have a strong track record in the consumer electronics industry as well as the automotive industry, with our materials being used extensively in connections in mobile devices such as smart phones.
During 2018, we continued to shift our portfolio toward higher-value, specialty materials with advanced grades and improved properties.
Our engineering plastics business enjoyed strong organic growth in 2018. This was achieved by growing in under-penetrated categories and regions, as well as exploring new business models to access new market segments in 3D printing and advanced composites. Continuing the positive trajectory of 2017, market uptake was strong for ForTii® Ace, our breakthrough metal substitute high-temperature polyamide, and for EcoPaXX® PA410, the bio-based polyamide with the highest melting-point in the world.
We increased the number of differentiated grades in our various product lines, offering high performance in areas as diverse as thermal conductivity, electromagnetic interference shielding, laser direct structuring compatibility, halogen-free flame retardancy and hydrolysis resistance.
We also launched new approaches in support of the circular economy. These included the introduction of Akulon® RePurposed, a polyamide 6 made from recycled fishing nets, and an exploration of APK's Newcycling® route of multi-layer, flexible food packaging films.
We joined Apple's Clean Energy Program. This involves a commitment to transition to 100% renewable electricity in the manufacture of materials for Apple's products. Our full commitment will be met by the end of 2019.
DSM Dyneema
Highlights 2018
Very strong performance in the personal protection market
Investment to increase global Dyneema® production capacity
Successes in partnerships for renewable energy solutions
DSM Dyneema had a very strong performance throughout 2018, with 6% organic growth, driven by continued high demand in personal protection. Construction of new production lines began in the US and the Netherlands to fulfil the growing demand, especially in law enforcement.
Our Dyneema® business is driven by our customers' and end-users' need for lightweight, sustainable solutions that offer improved safety and ergonomics as well as durability. Dyneema® products typically replace traditional materials such as steel and aramid.
The world's strongest fiber™, Dyneema® is 15 times stronger than steel on a weight-for-weight basis, 40% stronger than aramid, and floats on water. This combination of extreme strength, lightness and high durability makes it suitable for a wide and expanding range of applications. Products made with Dyneema® provide an environmental and/or societal benefit compared to their mainstream counterparts.
We are the only global and backward-integrated producer of ultra high molecular weight polyethylene (UHMWPE) products. Approximately 30 million hands are protected by gloves made with Dyneema®, while more than one million people trust their lives with protection made with Dyneema®.
During 2018, we continued our strategy of expanding into existing market segments and applications by offering a range of innovative, unique and patent-protected technologies. Examples include:
Dyneema® Force Multiplier Technology for comfortable, ultra-light-weight ballistic protection
Dyneema® Diamond Technology, which offers increased cut protection and comfort for heavy-duty gloves
Dyneema® Max Technology for offshore deep-water crane ropes and synthetic chains
Besides benefiting from continuing strong uptake for Dyneema® Force Multiplier Technology / Dyneema® UD (Uni-Directional laminate), we enjoyed strong demand for Dyneema® fiber during 2018.
We have been investing in additional capacity to better serve global customer demand. New production lines are being added in the Netherlands as well as in the US, which will both be fully on stream in 2019. In addition, we are investing to expand the capacity of existing lines by incorporating the latest technologies.
The year was also characterized by successes in the field of sustainability, including partnerships for renewable energy solutions with, for example, Ampyx (wind energy), Minesto (tidal energy) and Principal Power (floating wind platform). Other applications for Dyneema® include ropes that anchor floating wind platforms to the seabed and ropes that connect a tethered aircraft to a generator on the ground to generate airborne wind energy.
We are a partner of The Ocean Cleanup, an ambitious mission to rid the world's oceans of plastic. The Ocean Cleanup launched its first barrier for testing in September 2018. We make our facilities, knowledge, and networks available to our partners in this initiative, and also supply our Dyneema® fiber, an excellent material for tough marine environments.
Applications made with Dyneema® already deliver the lowest carbon footprint for the performance specified from cradle to grave compared to other materials, and we are committed to further improve on this. Our plants in Greenville (North Carolina, USA), and Heerlen (Netherlands) already use 100% electricity from renewable sources.
DSM Resins & Functional Materials
Highlights 2018
Very good performance in functional materials business, 2% organic growth overall
New applications for Niaga® launched with partners Auping and ECOR
Sustainability efforts in developing waterborne coatings and inks recognized by partners
DSM Resins & Functional Materials reported sales of €1,053 million in 2018 compared to €1,045 million in 2017. DSM Resins & Functional Materials faced a gradual slow-down in the building and construction markets in 2018, resulting in 2% organic growth for the year. In the fourth quarter, we saw some destocking, especially in powder coating resins. Functional Materials delivered another very good year, reflecting strong demand for these high-margin materials used in data infrastructure.
We are a global leader in the development and production of waterborne, UV and powder coating resins. These products offer clear sustainability advantages over solvent-borne resins traditionally used in paints and coatings. In functional materials, we are the global leader in fiber-optic coatings. In additive manufacturing (3D printing), we offer highly efficient and effective prototyping technologies which help the industry accelerate the pace at which new products are designed and brought to market.
Our fiber optics business grew significantly compared to the previous year, driven by the continuing rapid expansion of fiber optic networks, while our packaging coatings and inks business exhibited mid single-digit growth.
Together with our customers and value chain partners, we are helping to build a more sustainable future. As legislation continues to drive down the use of harmful substances such as volatile organic compounds (VOCs), our growth comes from anticipating changing end-user preferences and offering innovative waterborne, powder and UV resins to replace solvent-borne products. In addition, we aim to reduce our carbon footprint in all our own activities, and in the raw materials we purchase. Our resins give our customers the opportunity to develop safe and low-carbon footprint alternatives to mainstream solutions. For example, we are developing circular economy alternatives to traditionally manufactured carpets and mattresses to help combat the growing global problem of landfilling with our Niaga® technology.
Niaga® carpet solutions have been extended beyond 100% polyester materials to create a fully recyclable DUO carpet. The proprietary Niaga® adhesives enable separation of raw materials into their separate material streams at the end of each useful life. Fifteen pilot projects have been installed featuring Niaga® carpet and rug solutions throughout Europe.
Niaga® design philosophy is being applied to categories beyond carpet, as showcased in two product collaborations. Together with Royal Auping, DSM-Niaga has redesigned mattresses for circularity, with the first 100 mattresses under evaluation. DSM-Niaga and ECOR have successfully produced laminated panels combining ECOR's cellulose fiber converting technology and Niaga® adhesive and lamination tools. The first laminated panels for furniture, desk and building applications were produced in the fourth quarter.
We intensified our focus on 3D printing in 2018 by establishing a dedicated business unit for Additive Manufacturing, which includes stereolithography, digital light processing, fused filament fabrication, selective laser sintering, multi-set fusion, ink jet and binder jet processes. By combining these technologies, we are better able to harness the potential of this fast-developing market.
The new Additive Manufacturing unit addresses four market segments — healthcare, transportation, sports and lifestyle, and electronics — and cultivates partnerships with major players in the value chain. In 2018, partnerships were announced with Ultimaker and Chromatic 3D Materials, among other companies. We also launched a 100% recyclable filament, which offers a unique combination of extreme flexibility and prolonged high-temperature resistance for the 3D printing of demanding industrial and end-use applications.
In January 2018, we launched a special series of resins, Skins®, introducing a new element for graphic and packaging design: touch. These resins enable a wide range of feel opportunities for food and non-food packaging irrespective of the substrate — coated or uncoated paper, board, plastics or aluminum. As such, these surfaces can be transformed into packaging that gains sensory attention and positively affects consumer behavior.
In April 2018, we joined forces with Dynaplak to create a joint venture (DSM-Amulix) in bio-based and biodegradable seed protection to develop the next generation of seed protection coatings. Currently most seeds are covered with conventional non-degradable coating systems which contribute to the growing problem of microplastics in the environment. DSM-Amulix's seed coating solutions, by contrast, are safe, high-performing, and rapidly biodegradable.
Driven by our strong sustainability focus, we developed our partnership with PPG Industries. By integrating our plant-based resin platform Decovery® with PPG's proprietary technology, we have helped to develop a paint that purifies indoor air and removes formaldehyde. In 2018, we extended the scope of our collaboration and further optimized this technology in line with customer demands.
Another key collaboration development in 2018 was our partnership with Hewlett-Packard. We were chosen to develop next-generation waterborne digital printing inks and paperboard because of our recognized sustainability agenda.
Meanwhile in China we saw the positive effects of the 'Blue Skies' policy initiative to substitute solvent-borne coatings for waterborne coatings in sea container protection. Our waterborne coating solution is unique as its corrosion resistance outperforms the current solvent-based systems and reduces VOC emissions by almost 90%. Together with our partner Sherwin Williams, we control a meaningful share of the container coating business in China.