Innovation Center
DSM Innovation Center
| | | |
| --- | --- | --- |
| x € million | 2018 | 2017 |
| | | |
| Net sales | 172 | 169 |
| | | |
| Organic sales growth (in %) | 5 | 3 |
| Adjusted EBITDA | 8 | 9 |
| Adjusted operating profit | (14) | (30) |
| Capital expenditure | 32 | 43 |
| Capital employed at 31 December | 597 | 562 |
| R&D expenditure | 67 | 75 |
| | | |
| Workforce at 31 December (headcount) | 701 | 685 |
The DSM Innovation Center has two functions. The first is to help develop new business, focusing on areas outside the current scope of the company's business groups. The Innovation Center identifies and invests in new and innovative growth options, initially through the Business Incubator and then by developing and extracting value through the Emerging Business Areas (EBAs).
The Innovation Center's second function is to accelerate the innovation power and speed of our core businesses. In this role, it supports all DSM's businesses through the Excellence in Innovation Program, DSM Venturing, and the IP & Licensing department. In addition, the Chief Technology Officer, acting through the Science & Technology Department, ensures the quality of the total R&D competence base, including monitoring and ensuring access to early-stage technologies with disruptive potential through the Corporate Research Program.
In 2018, sales were up 2%, with 5% organic sales growth largely offset by a weaker US dollar. DSM Biomedical volumes were up, driven by strong sales in the drug delivery segment in the second half of the year. DSM Advanced Solar reported slightly lower volumes resulting from a slowdown in demand for solar panels following a policy change by the Chinese government to reduce the number of subsidized solar parks to be installed. DSM Advanced Solar introduced a new generation of solar backsheets which is being well received by the market. DSM Bio-based Products & Services made good progress in 2018, improving the robustness of the production technology for second-generation bio-ethanol and introducing a new generation of enzymes for first-generation bio-ethanol.
The Adjusted EBITDA was relatively stable compared with 2017. The Adjusted EBIT in 2017 included an impairment loss on the related assets.
Our innovation community also lays the groundwork for future opportunities by identifying rising stars within the current innovation pipeline and considering how longer-term, purpose-led innovation projects could offer solutions for Nutrition & Health, Climate & Energy, and Resources & Circularity.
Creating opportunities for future earnings growth through innovation
In 2018, innovation sales across DSM amounted to 19% from sales from underlying sales, in line with our aspiration of around 20%. Furthermore, a strong and refocused innovation pipeline was created to enhance long-term growth. Examples include:
Project Clean Cow for feed additives that reduce methane emissions from cattle
Veramaris®, creating algae-based omega-3 for sustainable aquaculture
Avansya, the fermentative Stevia sweetener platform
Plant-based proteins for human nutrition
Sustainable biological solutions for crop protection in agriculture
Niaga® technology for fully recyclable carpets and mattresses
eBOOST™, the newly developed yeast for ethanol production
More efficient second generation coatings and 100% recyclable backsheets for solar panels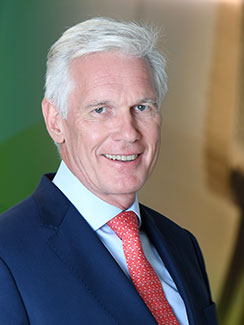 We are focused on delivering growth opportunities with innovation projects that address global challenges in Nutrition & Health, Climate & Energy, and Resources & Circularity.
Rob van Leen, DSM Executive Committee
Enabling DSM's Bright Science
The ability to deliver innovative products and solutions is essential to the success of our business and our positive impact on society. The Innovation Center plays a central role in guiding, enabling and accelerating innovation and R&D across the company.
R&D is instrumental to the realization of our innovation strategy. Most of our expenditure in this area is directed to business-focused programs that underpin our science-based, sustainable solutions.
R&D expenditure (including associated IP expenditure)
| | | |
| --- | --- | --- |
| x € million | 2018 | 2017 |
| | | |
| Nutrition | 206 | 219 |
| Materials | 122 | 130 |
| Innovation Center | 67 | 75 |
| Corporate Activities | 3 | 20 |
| | | |
| Total | 398 | 444 |
| Total as % of net sales underlying business1 | 4.5 | 5.1 |
| Staff employed in R&D activities (total DSM) | 1,880 | 1,920 |
Our toolbox of scientific competences is grouped into seven areas: analytical, biological, chemical, engineering, macromolecular, materials, and nutritional sciences. These seven areas are key to our continued success. The Science & Technology department ensures that we have the right combination of skills, capabilities and partners to deliver on our competences.
We have more than 30 laboratories spread across ten countries, and our science network comprises more than 1,800 internal scientists, including 25 professors and academic associates, distributed around the globe. These employees co-operate with more than 100 universities and external R&D institutions worldwide, both in public-private partnerships and in academic collaborations such as the Massachusetts Institute of Technology (MIT). See Innovation partnerships.
Our collaborative approach increases our scientific scope and helps us make joint scientific contributions to address significant scientific and societal challenges. We participate in more than 200 academic networks, more than 80 industry networks, and more than 40 public-private partnerships (PPPs) in the fields of Nutrition, Health and Sustainable Living.
We continue to increase our investments in the digital transformation of our R&D capabilities. This includes making our collective organizational knowledge more easily available across the entire R&D organization, using artificial intelligence, deep learning and modeling, as well as extending lab automation. These investments are accelerating our core processes and simultaneously increasing our operational efficiency.
We also continue to recognize, reward and nurture scientific talent. Through the Bright Science Awards, we team up with a number of leading scientific associations to reward excellence in PhD research in areas of particular interest to DSM. Winning a Bright Science Award gives PhD graduates not only financial recognition for their achievements, but also a platform to make a name for themselves in their chosen discipline. The program also helps participants make the vital connection between scientific achievement and commercial and industrial success — an increasingly important consideration.
At DSM, we regularly connect with our international Scientific Advisory Board. Acting under the supervision of the Chief Technology Officer, the Board provides valuable perspectives and insights, challenges and reviews our scientific work, and gives advice on trends and upcoming disruptive technologies. The Scientific Advisory Board comprises six internationally recognized experts in the fields of materials, biotechnology and nutrition, drawn from leading universities in the US and Europe.
Scientific Advisory Board
| | |
| --- | --- |
| Member | Background |
| Frank Bates (m) | Regents Professor of Chemical Engineering and Materials Science at the University of Minnesota (USA). His research involves the thermodynamics and dynamics of polymers and polymer mixtures. He has co-authored more than 450 publications and holds more than 25 patents. Nationality: American. |
| Thomas Hankemeier (m) | Professor of Analytical Biosciences at the Leiden Academic Centre for Drug Research at Leiden University. Medical Delta Professor of Translational Epidemiology at Erasmus MC, Rotterdam. Co-founder of MIMETAS, the first organ-on-a-chip company. He has co-authored more than 250 publications and holds over 10 patents. Nationality: German. |
| Craig Hawker (m) | Director of the California NanoSystems Institute, Dow Materials Institute, Facility Director of the Materials Research Lab and Heeger Professor for Interdisciplinary Science at the University of California, Santa Barbara (USA). He has co-authored over 530 scientific papers and holds more than 70 US patents. Nationality: Australian. |
| Kirk Klasing (m) | Distinguished Professor of Avian Biology in the Department of Animal Science at the University of California, Davis (USA). He is an extensively published expert on poultry nutrition and immunology, with more than 200 peer-reviewed publications, 10 books and eight awards to his name for his work in poultry nutrition. Nationality: American. |
| Wolfgang Marquardt (m) | Chairman of the Board of Forschungszentrum Jülich (Germany), Vice-President of the Helmholtz Association, and Coordinator of the Research Field Key Technologies. He also co-founded AixCAPE e.V., a technology transfer platform in the field of computer-aided process engineering, and its spin-off S-PACT GmbH. He has more than 350 ISI-listed publications. Nationality: German. |
| Chris Voigt (m) | D.I.C. Wang Professor of Advanced Biotechnology in the Department of Biological Engineering at Massachusetts Institute of Technology (USA). He is the Co-Director of the Synthetic Biology Center at MIT and the Co-Founder of the MIT-Broad Foundry. He is also Editor-in-Chief of ACS Synthetic Biology. Nationality: American. |
DSM Venturing
DSM Venturing invests in innovative companies in areas strategically relevant to our current and future businesses. Every year, DSM Venturing reviews more than 500 new candidates. In 2018, we made a record number of nine new venturing investments and generated several collaboration leads between startups and businesses at DSM. At the end of 2018, the Venturing portfolio amounted to 30 startups (2017: 25). We completed several exits, including a significant financial exit from Essential Medical.
For more information on DSM Venturing, see the company website.
IP & Licensing
IP & Licensing is a global group of qualified IP professionals who protect DSM innovations by securing patents and trademarks. This group also includes certified licensing professionals who offer expertise for intellectual property-intensive deals across all DSM businesses, including joint development agreements, technology acquisitions and sales, and in-, out- and cross-licensing deals.
In 2018, DSM filed 397 patents, a figure which is in line with our goals and our long-term average.
Emerging Business Areas
Our EBAs provide strong, long-term growth platforms in promising end-markets that are based on the company's core competences. We have three EBAs:
DSM Biomedical
DSM Bio-based Products & Services
DSM Advanced Solar
DSM Biomedical
DSM Biomedical is a trusted partner to the global medical device industry, enhancing the quality and delivery of healthcare, and shaping the future of biomaterials and regenerative medical devices. Every second, a patient somewhere in the world receives a medical device containing a biomedical solution from DSM.
Key trends shaping the global medical device industry in 2018 included:
The shift toward value-based reimbursement, with market success for products that have proven clinical and health economic outcomes
The large-scale industry consolidation of medical device companies and associated supply chain rationalization
The quest for proven, largely de-risked products and concepts that can be developed into innovative, finished medical devices
The aging of the global population, the increasing incidence of lifestyle diseases, and the growing demand for sustained quality of life are driving up healthcare costs worldwide. These trends continue to stimulate industry changes, creating opportunities for DSM Biomedical as we develop solutions to meet previously unmet needs.
With a global reach backed by a leading research and distribution network based in the US and the Netherlands, our product portfolio, technologies and expertise enable medical device companies to deliver advances in care across a wide range of medical specialties. Our products address key global trends in medicine, from addressing the needs of an aging global population to supporting more active lifestyles, while at the same time answering the requirement for safer, less invasive and more cost-effective medical procedures.
Through our investment in research and our state-of-the-art capabilities, we create, develop and produce innovative materials for our partners, along with components, sub-assemblies and full medical devices. Our technology portfolio of high-quality, advanced healing solutions includes biomedical polyurethanes and polyethylenes, resorbable polymers, bioceramics, collagens, extracellular matrices, device coatings, and cellular therapy platforms. These are used in applications in some of the world's most attractive high-growth markets, including orthopedics, soft tissue repair, cardiology, diabetes management, and general and reconstructive surgery. Examples include ColOSSIS™ and MacroSet™, our resorbable cements for use in orthopedic trauma and extremity bone repair, for which we received FDA clearance in 2018. Also, our Dyneema Purity® Black fiber, commonly employed in high-strength orthopedic suture applications, is now permitted for wider use. Finally, we expanded our collaboration agreement with Aerie Pharmaceuticals. This partnership focuses on novel drug delivery technology in ophthalmology.
DSM Biomedical made good progress in 2018. Assisted by growth from product innovations in medical devices for selected therapeutic areas, we outpaced our attainable market for the third consecutive year while capturing higher-value business.
DSM Bio-based Products & Services
As the world increasingly seeks alternatives to fossil resources and progresses toward a more sustainable, bio-renewable economy, significant commercial opportunities are presenting themselves in advanced biofuels and renewable chemical building blocks such as bio-based succinic acid. With the transition toward a low-carbon economy, the market for biofuels will grow and we are offering a range of solutions.
DSM Bio-based Products & Services pioneers advances in biomass conversion and seeks to demonstrate the commercial viability of sustainable, renewable technologies in collaboration with strategic partners in the value chain. In particular, we have developed patented bioconversion technologies (yeast and enzymes) for various feedstocks and processes (including starch-based and cellulosic) in the biofuels industry.
Our strategy is to deliver unique and differentiating technologies that enable biofuel plant operators to optimize their processes and maximize their yield and co-product creation. This helps make the production of biofuels even more sustainable.
Starch-based bio-ethanol
We successfully launched eBOOST™, a new proprietary yeast for corn-ethanol production. Since its launch, eBOOST™ has continued to demonstrate high performance at multiple plants. Increased ethanol yields are consistently demonstrated at industrial scale at customer plant locations.
Cellulosic bio-ethanol
The POET-DSM Advanced Biofuels joint venture operates a commercial-scale production facility for cellulosic bio-ethanol in Emmetsburg (Iowa, USA). The Emmetsburg plant processes corn-crop residues by means of a bioconversion process using enzymatic hydrolysis followed by fermentation. The facility continues to ramp up volume.
Further enhancements in yield and robustness were made in 2018 by switching to a new yeast that we had developed ourselves. POET-DSM also invested in an innovative on-site enzyme manufacturing, which was mechanically completed by the end of 2018. This has been fully integrated into the process, forming a key component of the technology package for further licensing.
Bio-succinic acid
The Reverdia joint venture between DSM and Roquette operates a plant in Cassano (Italy) that produces high-quality bio-succinic acid (Biosuccinium®). The joint venture's customer portfolio grew by 48% in 2018. Industry segments with end-use applications for Biosuccinium® include compostable bioplastics and bio-based materials, as well as cosmetics and personal care.
In 2019, the structure of the cooperation with Roquette will change. As a result, DSM will enter into a license agreement with Roquette, who will operate the plant.
DSM Advanced Solar
Solar photovoltaic (PV) capacity continues to grow more rapidly than any other fossil or renewable power source. DSM Advanced Solar aims to accelerate the uptake and effectiveness of solar energy by focusing on the development and commercialization of technologies and materials that increase the efficiency of solar modules. Increased efficiency reduces the cost of energy delivered.
More than 250 million PV modules installed to date are equipped with DSM coating technologies. Our anti-reflective coating has enabled the generation of more than 7,500 GWh of additional power.
We introduced aftermarket coatings to select customers as an extension of our market-leading Anti-Reflective coating and Anti-Soiling coating. This new coating is designed for existing solar modules that are as yet uncoated. It has been proven to boost energy production by up to 3%.
The solar market increasingly recognizes our endurance backsheet as reliable and durable, even in extreme conditions such as desert or tropical settings and floating solar parks. We are introducing cost-competitive backsheets that are 100% recyclable and also have a lower footprint. For example, our customer Sharp uses our endurance backsheet in their new series of high-performance solar panels.
We announced a strategic alliance with Silfab Solar, North America's leading solar module manufacturer, to mass-produce high-power back-contact solar modules. This is a major step toward introducing conductive backsheet-based high-power modules to the US market in 2019.
DSM Business Incubator
The DSM Business Incubator explores potential future business opportunities in areas with a close link to our technologies and competence base. Platforms are created within the scope of securing society's food, health and energy requirements, in close collaboration with industry partners and existing and potential customers. The Business Incubator feeds our new product pipeline with opportunities that address previously unmet customer needs.
In 2018, the Business Incubator continued to work on three key ventures. In the Canola venture, we produce a high-quality plant protein from biomass derived from rapeseed, also known as canola. This is for applications in the food & beverage sector. The demonstration unit was used for further process optimization and for producing pre-marketing volumes for application development. Market interest in our CanolaPRO™ solution grew during 2018. In our energy storage project, meanwhile, a number of potential leads were explored in 2018, generating development projects at several battery/separator companies. The third key venture is our partnership with Syngenta, which continued the joint development of microbials for crop protection agents (see next section, 'Innovation partnerships').
Innovation partnerships
We have many partnerships that support and accelerate innovation. Highlights include our involvement in MIT.nano, a ground-breaking academic nanotechnology laboratory at the heart of the MIT campus. We are engaged with this state-of-the-art facility through common research programs and exchange of scientists. For more information, see Society in our Sustainability statements. Another example is our ongoing R&D partnership with Syngenta. We are developing and commercializing a range of agricultural solutions that are based on naturally occurring micro-organisms rather than synthetic solutions.