Strategy 2021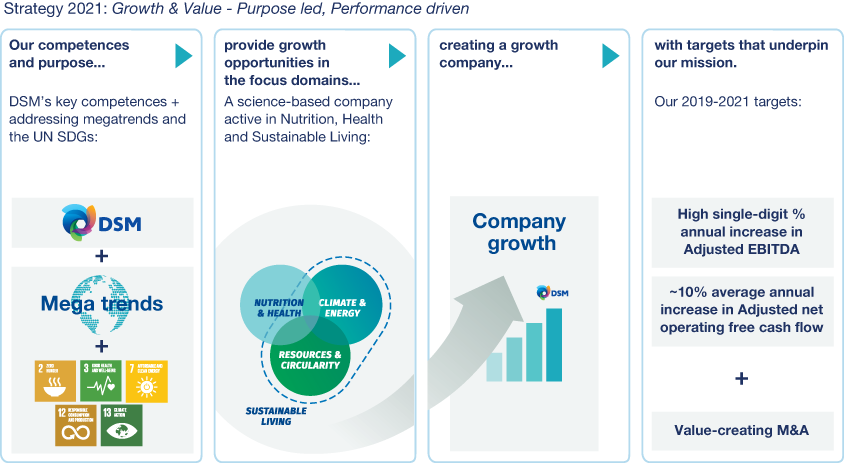 Purpose sets scope for further growth and evolution
With Strategy 2021: Growth & Value - Purpose led, Performance driven, we will evolve further toward being a purpose-led, science-based company operating in the fields of Nutrition, Health and Sustainable Living. Our strong growth platform, centered on developing innovative solutions addressing Nutrition & Health, Climate & Energy and Resources & Circularity, together with increased customer-centricity and our large innovation projects, will drive above-market growth. At the same time, we will remain focused on cost control and operational excellence, allowing us to accelerate profit growth and cash generation. Organic growth will be complemented by acquisitions, predominantly in Nutrition.
Our Nutrition business will focus on human nutrition (ingredients and solutions for food & beverages, as well as specialty nutrition, nutritional ingredients, consumer-branded products and personalized nutrition), animal nutrition (with premix and specialty solutions), and personal care and aroma ingredients.
Our Materials business will further develop as a high-growth, higher-margin specialty business, and will focus on the categories Improved Health & Living, Green Products & Applications, and New Mobility & Connectivity.
By improving the impact of our own operations, enabling sustainable solutions for our customers, and advocating sustainable business, we can grow faster and reduce our cost and risk profile. We will further step up our ambitions regarding the reduction of greenhouse gas emissions in line with the Paris Agreement, our energy efficiency and our use of renewable energy.
Performance to deliver growth and value
We have set two ambitious targets for profit growth and cash generation to drive value creation for the period 2019-2021:
A high single-digit annual percentage increase in Adjusted EBITDA
An average annual increase of about 10% in Adjusted net operating free cash flow
We are committed to top-line growth ahead of market, which will be supported by expanded solution offerings that place the customer even more firmly in the center of our activities, as well as by harnessing digital capabilities to increase customer intimacy, improve productivity and efficiency, and support new business models. Approximately 45% of sales will come from high-growth economies.
We will leverage our unique technology capabilities to develop innovative sustainable solutions in Nutrition & Health, Climate & Energy and Resources & Circularity and will invest approximately 5% of sales in R&D to develop differentiating science and technology. Our innovation projects, including Veramaris®, Project Clean Cow, fermentative Stevia and Niaga®, will result in about 20% of sales coming from innovation.
The following table describes the ambitions underpinning our financial targets:

Greater efficiencies and a heightened focus on higher-margin specialty solutions will enable new Adjusted EBITDA margin ambitions by 2021 for Nutrition (over 20%) and Materials (18–20%). Organic top-line growth combined with these enhanced margins will drive high single-digit Adjusted EBITDA growth.
We aim to accelerate growth in Adjusted net operating free cash flow, generating an average annual increase of approximately 10%. This results from the ambition to:
Reduce working capital levels by around 50 basis points annually
Take a disciplined approach to capital expenditure, with an overall level of spend of approximately 6.5% of sales
Drive improvements in organic Return on Capital Employed (ROCE) of around 1% annually
Our overall deployment of capital is expected to drive Adjusted Earnings Per Share (EPS) growth ahead of Adjusted EBITDA growth. Our cash allocation policy remains unchanged and has a clear order of priority for cash deployment:
Disciplined capital expenditure for organic growth: about 6.5% of annual sales
A stable, preferably rising dividend
Disciplined M&A, predominantly in Nutrition
In the absence of value-creating M&A, capital to be returned to shareholders
We remain committed to maintaining a strong, investment-grade credit rating.
While keeping our policy of a stable, and preferably rising, dividend unchanged, we propose a dividend increase of about 25% to €2.30 per ordinary share over 2018, as already reflected in the interim dividend over 2018 paid in August 2018. This step-up in dividend is linked to the earnings growth of the underlying business. In line with the targets set for the period 2019–2021, our performance is expected to result in further dividend growth, which could lead to an expected average payout of 40–50% of adjusted earnings.
We will target M&A predominantly in Nutrition, given its unique growth potential, resilience, strong leadership position and potential for value creation.
Nutrition
We have built a unique, highly integrated, global and broad portfolio in food & beverage, specialty food and feed, and nutritional ingredients and solutions, meeting local needs through our unparalleled network. We possess a diverse and significant premix footprint, with superior formulations and delivery systems, helping to drive sustainable nutritional solutions. This infrastructure is fueled by our complete portfolio of nutritional ingredients, which includes minerals, vitamins, nutritional lipids, eubiotics, enzymes and yeasts, as well as texturants, flavors and cultures. This diversity and level of integration creates a resilient portfolio with limited exposure to single products or customers, while benefiting from the opportunities provided by global megatrends.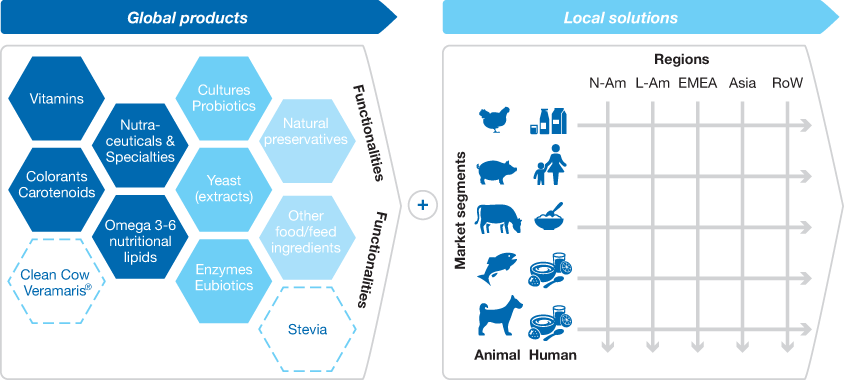 Focused on Nutrition & Health, we will continue to aim for above-market growth with targeted, high single-digit Adjusted EBITDA growth and an Adjusted EBITDA margin greater than 20% by 2021. We will complement organic growth with inorganic growth. At the same time, we will further build on the successful initiatives of Strategy 2018, increasingly placing the customer at the center of everything we do, while delivering large, sustainability-driven, innovation projects.
Animal Nutrition & Health
We will continue to seek to deliver above-market sales growth through our acCElerate program, increased levels of innovation, and further investment in our business-to-farmer and go-to-market capabilities. The first phase of acCElerate began in 2018, as we sought to align our operating model and organization to deliver the strength of our global capability by meeting increasingly local demand trends, as well as by defining new metrics to assess regional performance.
Subsequent phases of this program will focus on:
Marketing & Sales excellence (especially building specialist functions to address wider species opportunities and pursue new health solutions)
Customer-centricity & agility, to place the customer at the heart of everything we do, by improving the end-to-end experience for the customer
Further investing in our business-to-farmer (e.g. in China) and go-to-market capabilities
In addition, we will pursue radical innovation for core sustainability topics, all of which seek to deliver long-term solutions for the industry with the potential to create significant value for our company and our customers.
Human Nutrition & Health
Building on the success of the first two parts of the LiftOff! Program as part of Strategy 2018, we will step up further in Strategy 2021 with a third phase of LiftOff! to drive above-market organic growth through:
Focusing on customer-centricity and agility, seeking to move closer to the customer by strengthening the value propositions of our products and services, creating end-to-end customer experiences, and enhanced innovation and application capabilities
Continuing to invest in business-to-consumer to ensure the growth of i-Health beyond the United States, as well as business-to-me (the practice of marketing to the individual based on the desires of that individual) and personalized nutrition
In addition, we will continue to pursue inorganic opportunities in food and beverages as well as dietary supplements, to enhance and complement our already strong market positions.
Our business is well positioned to benefit from strong trends, as evidenced by the disruptive value chain shifts we are witnessing, which are leading to new opportunities in Human Nutrition & Health.
In food and beverages, we see an increasing number of local players entering the market in answer to the growing demand for local, healthy products of natural origin with reduced sugar, salt and fat. These new players have generally limited development and production assets and market their products through social media. Global players are facing the challenge of reducing costs in order to remain competitive while innovating their products. This scenario represents a unique opportunity for us. We offer tailored nutritional solutions to local players through our global presence and our R&D competences. At the same time, we help global players reduce their manufacturing and R&D costs with our premix capabilities, but also provide innovative solutions to replace sugar, salt and fat. As an example, our joint venture with Cargill (Avansya) to bring zero-calorie, cost-effective, non-artificial sweeteners to market faster is well positioned to help food and beverage producers deliver the products and brands consumers prefer, with significantly reduced calories.
In specialty nutrition (especially dietary supplements), more health-conscious and educated consumers are increasingly seeking more personalized products based on their lifestyle, diet and genetic make-up, leading to a demand for more individualized advice, delivery systems and diagnostic tools. This requires a more integrated offering beyond the supply of nutritional ingredients alone — one that involves turning scientific know-how into expert advice for the consumer. To help us meet these needs, we are building on our existing business-to-business and business-to-consumer strengths in personalized nutrition and are also acquiring business-to-me learnings from leading startups such as Mixfit, Tespo and Biomarker.
Materials
We are further future-proofing our Materials business by aligning it toward Sustainable Living, in line with our key focus domains of Climate & Energy and Resources & Circularity. This will further develop Materials into a high-growth, higher-margin specialty business, delivering above-market organic growth, focused on Improved Health & Living, Green Products & Applications and New Mobility & Connectivity.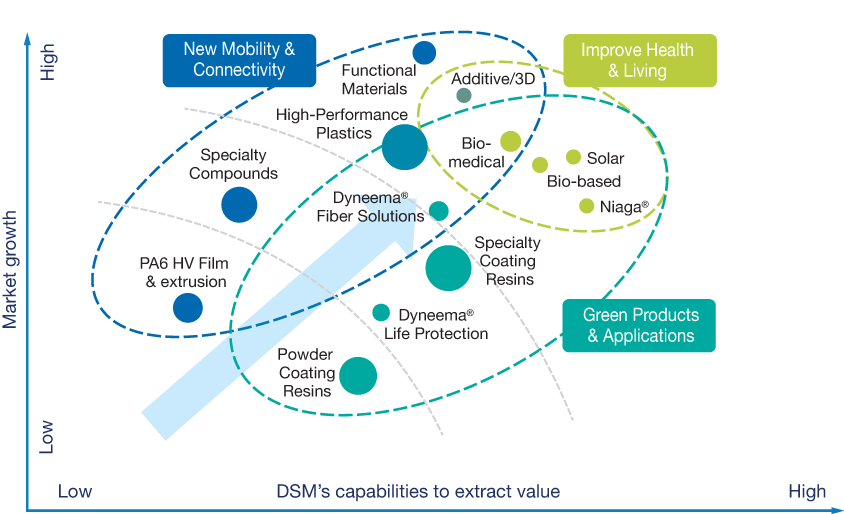 In Improved Health & Living, we are focusing on the increasing demand for advanced healthcare applications. In addition, we offer solutions that enhance end-user safety and health conditions.
In Green Products & Applications, we are providing solutions that enable customers to cut emissions by using materials that are lighter, stronger, more efficient and more sustainable. We are also increasingly focusing on bio-based, recycled, and fully recyclable solutions.
In New Mobility & Connectivity, we are targeting materials that support the transition from fossil fuel to electric automotive power. We are also addressing the growing need for increased connectivity between products, devices and applications.
Across our businesses, we have intensified our focus on customer-centricity and have implemented several programs that focus on creating a positive experience for our customers.
Innovation
Innovation is what transforms our 'Bright Science' into 'Brighter Living'. We can leverage our unique technology capabilities for developing innovative sustainable solutions through possessing a profound understanding of:
The science behind nutrition, and the capability to develop new nutritional ingredients with proven health benefits — supported by our state-of-the-art Biotechnology Center, providing sustainable alternatives for chemical synthesis, as well as plant/animal-derived ingredients
Material synthesis and characterization, and the capability to convert this into Sustainable Living applications — supported by our state-of-the-art Materials Science Center
The ability to continually deliver innovative and improved products and solutions to meet our customers' needs drives sales growth. Our innovations reflect our commitment to healthier and more sustainable outcomes and so help drive the performance of our Brighter Living Solutions portfolio. Innovation sales have also improved our profitability, delivering higher margins than the average of our running business. Our innovation sales, defined as products and applications that have been introduced over the past five years, accounted for 19% of total sales from underlying business in 2018. We aspire to maintain a level of around 20% during the new strategy 2019–2021 period, which we consider to be a healthy proportion in view of the overall balance of our product portfolio and product life cycles. We will continue to invest in differentiating science and technology, allocating approximately 5% of sales in R&D.
Our organic growth will be supported by a number of focused, large innovation projects — for example, Project Clean Cow, Veramaris®, fermentative Stevia, enzymes and yeasts for 1.5th and 2nd generation bio-ethanol, Niaga®, Additive Manufacturing, plant-based proteins, bio-agriculture and biomedical adhesion barriers (Actamax™). These solutions are expected to be introduced to the market in the 2019–2025 time-frame. All these innovations seek to meet significant, global sustainability challenges in Nutrition & Health, Climate & Energy and Resources & Circularity. Altogether, we expect these to generate around €350 million of sales and €100 million of Adjusted EBITDA from 2021 to around €1 billion and €400 million, respectively, from 2025 onward.
As well as supporting innovation in our core businesses, the DSM Innovation Center also aims to develop its Emerging Business Areas (EBAs). These are promising growth platforms outside the scope of our business groups. They comprise DSM Biomedical, which focuses on innovative materials for medical devices; DSM Bio-based Products & Services, which focuses on clean energy from crop residues as well as bio-chemicals with enzymes and yeasts for biomass conversion; and DSM Advanced Solar, which offers yield-boosting solutions for solar energy.
Enabling programs for accelerated growth
Our enabling programs will underpin and facilitate our ambitions by focusing on key areas such as performance-driven organization, leadership and people, culture, digitalization and sustainability leadership across DSM.
Organization, leadership and people, and culture
We continue to develop our organization, leadership and people, and culture to enable continued performance. In terms of organization, we are maintaining cost discipline and further optimizing the support functions. Moreover, we are further developing a customer-centric organization aligned with market/customer segments.
Regarding leadership and people, we are accelerating leadership development for both people and teams, as well as for effectiveness in growing our businesses. We are also embedding a global mindset through further internationalization.
In terms of culture, we introduced The DSM Ways of Working, which describe a daily mindset that enables everyone in our company to make a difference. These are described in more detail in People.
Digitization and digitalization
Digitization and digitalization drive our growth and improve our efficiency on three levels:
Customer intimacy: improving top-line results by, for example, customer data analytics, omnichannel apps providing 24/7 customer experiences, and digital collaboration tools
Operational performance: reducing costs by automation and data analytics to increase productivity in support functions and manufacturing, optimize operational processes, and improve safety, quality and plant reliability
New business models: supporting entrepreneurship and artificial intelligence. Examples are our partnerships for digital value propositions and our pilots in the areas of personalized nutrition and animal feed
Sustainability leadership
Sustainability is not only our core value and a key responsibility, it is increasingly an important business growth driver at DSM that is fully engrained in our strategy. We are stepping up our sustainability aspirations. By improving the impact of our own operations, enabling sustainable solutions for our customers and advocating sustainable business, we can grow faster and reduce our cost and risk profile. This is integral to our strategy and is detailed in the Brighter Living Agenda. For more detail, see People and Planet.