Workforce

20,977

~23,0001

at year end 2018,
excluding affiliates

Engagement

76%

Employee Engagement Index
versus 75% in 2017

Gender ratio

28/722

Female/male ratio
versus 27/73 in 2017
Female executives

19%3

Female executives,
versus 17% in 2017

Safety

0.33

Frequency Index of Recordable
Injuries versus 0.36 in 2017
(per 100 DSM employees
and contractors)
1 At year-end 2018, including affiliates.
2 The companies that are not integrated into the HR systems (approx. 2% of the total workforce) are not taken into account.
3 Going into 2019, the percentage of women in our Executive Committee and Supervisory Board is 43%.

We aspire to a high-performance company and culture that aligns with our purpose. Our success is built on the engagement, commitment and capabilities of our people. To secure our ambitions for the future, we seek to attract and retain people with diverse backgrounds and talents who will turn our strategy into action, while developing themselves. Above all, we aspire to be an injury- and incident-free organization.
The key material topics for People are:
Health & wellness (covered in Safety, health & wellness)
Careers & employment
Responsible business practices
For more information about our People performance, see Sustainability statements. See also How we create value for our stakeholders and Stakeholders.
People and organization strategy
In line with the strategy update, we have developed a people and organization strategy for DSM for the coming years. We will focus on six strategic levers:
Operating model: ensuring efficiency and growth through globally leveraged functions, shared services and value-chain-focused business groups, with the opportunity to integrate acquisitions when needed
Customer-centricity: putting the customer first in how we focus, organize and build capabilities
Internationalization & diversity: developing a talent base that is as global and diverse as the markets and customers we serve
Leadership & development: developing people in line with our growth aspirations as a business, with people managers playing a vital role
Team by team: engaging teams effectively to ensure high performance, collaboration and agility
Culture / The DSM Ways of Working: Doing Something Meaningful, every day, that contributes to delivering our strategy
Culture / The DSM Ways of Working
In line with the update of our strategy, we have also reviewed our One DSM Culture Agenda and developed it into a new culture agenda called 'The DSM Ways of Working'. We are a purpose-led, performance-driven company. How we deliver our purpose and strategy is supported by The DSM Ways of Working. Doing Something Meaningful, every day starts with us as individuals, by doing the right things in our daily jobs.
The DSM Ways of Working describe the mindset that enables everyone in DSM to make a difference, and drives accelerated business growth. The DSM Ways of Working build on three behaviors – Customer passion inspires innovation, Accountability and agility spark success, and Inclusiveness brightens our future.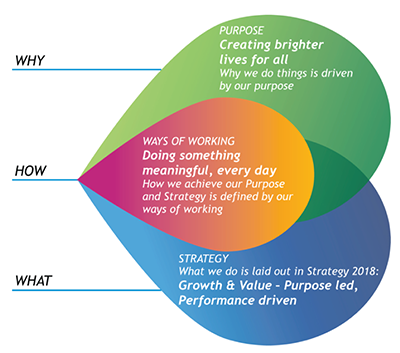 Customer passion inspires innovation We always put our customers first. We know our customers and make their success our business.
We combine curiosity, technology, and outside-in thinking to bring their needs and our innovation together. By creating meaningful solutions, we deliver value for our customers, every day.
Accountability and agility spark success
We deliver on our promises and respond to challenges quickly. Clear expectations, trust and freedom to act allow us to make responsible judgements and flourish, every day.
We live safety unconditionally — I care, we care, every day.
Inclusiveness brightens our future
We value uniqueness and foster a sense of purpose and belonging. We embrace all aspects of diversity to enrich our thinking. Connectivity allows us to collaborate effectively without boundaries. We are stronger together, every day.
All our employees globally will be onboarded with The DSM Ways of Working. We started the process in June 2018 at leadership level and will continue to engage different DSM audiences in several phases. Throughout 2019 and 2020, The DSM Ways of Working will be embedded in our key people processes to ensure a consistent employee experience. Progress will be measured as of 2019.
Safety, health & wellness
Aspiration

2018

2017

Occupational safety

- Frequency Index REC

0.25
in 2020

0.33

0.36

- Frequency Index LWC

0.11

0.16

Process safety

- PSI Rate

0.15
in 2020

0.22

0.19

Occupational health cases

29

14
Occupational and process safety
Employee health includes safety at work. We strive to be an incident- and injury-free company. At the end of the day, people should leave work exactly as they came, if not better. So it is with deep regret that we report a fatal accident that occurred at our DSM Nutritional Products (Tortuga) site in Pecém (Brazil).
Both occupational and process safety are extremely important to us. Occupational safety is the safety of people (employees and contractors). Process safety is the safe operation of facilities. We set targets, define actions and monitor safety performance as described in the DSM Responsible Care Plan 2016–2020. We report our occupational and process safety performance with frequency indexes. For a full description of these indexes, see Explanation of some concepts and ratios.
Occupational safety
In 2018, the Frequency Index of all DSM Recordable Injuries improved from 0.36 to 0.33, with the majority of our sites injury-free. This demonstrates that zero incidents are achievable. Still, we must further intensify our efforts in the coming years to meet our ambitious target of 0.25 by 2020. Our focus will be on those sites where improvements are needed. The Frequency Index of Lost Workday Cases for DSM employees improved to 0.11 in 2018 versus 0.16 in 2017.
The Frequency Index of Recordable Injuries among contractors further deteriorated to 0.51 in 2018 versus 0.46 in 2017. A factor in this trend is the increase in contractors relative to DSM employees in plant maintenance and upgrade activities. To counter this trend, we will increase our focus on contractor supervision. However, we also see encouraging signs in contractor safety. The Blue Sky project at our Jiangshan production facility (Jiangsu Province, China) was completed in 2018: it reported only one health incident (heat stroke) and no safety incidents. The project required approximately 2.2 million contractor man-hours and 2,000 employees on site at peak times.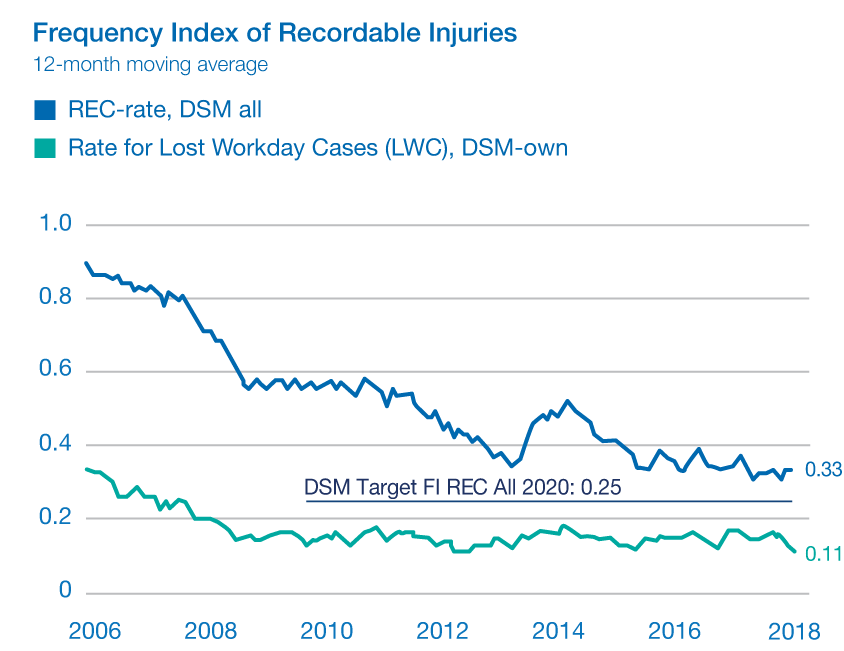 In 2018, we focused on keeping safety awareness high through our Living Safety Campaign 'I Care, We Care'. This campaign offered global guidance through quarterly themes and locally relevant programs at site level. The initiatives to strengthen leadership and create capabilities that had begun in 2017 continued. A series of workshops and intensive training efforts increased awareness and focus on safety. During 2018, 1,066 leaders and managers completed intensive safety trainings, which is an increase of 84% versus 2017. Special attention was given to the safety onboarding of new executives.
A new set of global leading performance indicators was developed throughout the year. These enable us to more proactively tackle safety observations, preventing incidents from occurring. We expect to start reaping the benefits in 2019. These indicators are aligned with the key items that emerged from the safety-first workshops from the 'I Care, We Care' program.
Despite our efforts, a tragic accident took place in September 2018 at DSM's Tortuga site in Pecém (Brazil), where a contractor lost his life. This has shocked all of us at DSM and we are supporting the affected family through this difficult time. This stresses once again that Health & Safety must always remain our top priority: we must ensure that people come home safely and must continuously improve our safety performance every day. The root causes have been thoroughly investigated and the lessons learned are being implemented. We have included transport and warehouse safety in our revision of the DSM Life Saving Rules to improve standards of warehouse safety across the whole of our company. We are committed to the safety of all workers, including the safety of our contractors.
The incidents that still occur, along with the severity of their consequences, signal the challenge to ensure that everyone, all of the time, uses safe working practices that prevent accidents. Efforts in further building risk recognition capabilities and competences, as well as standardization of high-risk working activities, will continue in 2019.
Process safety
Process safety incidents are rare but can have a major impact on people and the environment. Process safety is measured via the Frequency Index of Process Safety Incidents (PSI), and we have a target for 2020 of 0.15.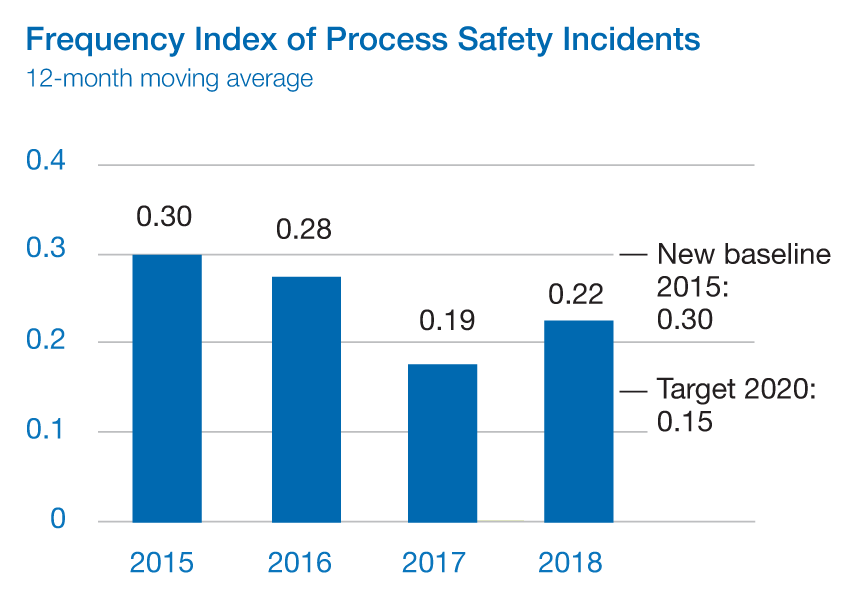 The Process Safety Incident rate deteriorated from 0.19 in 2017 to 0.22 in 2018. Most incidents were related to the unintentional release of substances from plants or storage facilities and were remediated without further consequence. The increase in the PSI rate is due to a better understanding of managing and reporting PSIs in one of our businesses. We are focusing our efforts on the incidents highlighted by this process in order to reverse the trend. There was a small number of other incidents, which are described in the chapter What still went wrong in 2018.
Additional training efforts, in combination with applying more strict qualification criteria, are being rolled out to increase the competences of people executing key roles in process safety management. We will convert existing good practices (guidance notes) into mandatory standards to improve standardization and bring focus to effective implementation.
Employee health
At DSM, we believe in a positive culture of health at work. This increases the intrinsic motivation of employees to make healthy, sustainable lifestyle choices. Our health management system is based on prevention, primary care and promotion.
DSM has an extensive industrial hygiene program which also addresses physical hazards and exposure to hazardous substances. Through the design of our processes and products, as well as providing proper protective equipment, we aim to prevent occupational illness. Primary care is provided by site-based medical professionals and also includes emergency preparedness and first aid. Promotion of good health is continuously addressed through a wide range of health promotion activities and is reflected in our Safety, Health and Environment policies.
An example of both health promotion and health prevention within our company is our Vitality@DSM program. Vitality@DSM is a voluntary program that helps employees track and assess their physical, social and mental well-being. We had approximately 1,000 participants in 2018. 68% of the participants reported low lifestyle-related risks, 32% of the participants reported moderate to high risks. Participants received customized advice to help improve their overall well-being, support early intervention before disease and maintain employability. According to the group report, due to interventions and changes of lifestyle made by the target group we save approximately 1% per year from reduced productivity loss.
In 2018, we continued to promote the Global Corporate Challenge, a team-based approach to stimulate increased physical activities, improved nutrition, sleep and psychological well-being of our employees. Although the number of participants declined compared to 2017, 83% of the participants in 2018 achieved the recommended daily levels for physical effort of 10,000 steps per day (up from 77% in 2017). Due to these efforts, 68% of the participants reported that they experienced reduced stress levels at home or at work and 51% of the participants reported an increase in productivity or concentration.
Local wellness initiatives are actively encouraged. For example, in the Netherlands we are making all our premises smoke-free, we offer healthy choices in the company restaurants and we focus on prevention of work stress.
Occupational health cases
Despite our efforts in the area of occupational health, the number of reported health cases increased from 14 in 2017 to 29 in 2018. We reported in 2017 that several employees at our Jiangshan site (Jiangsu Province, China) indicated they were suffering from hearing loss. These cases have been thoroughly investigated and 15 cases of hearing loss have been included in the overall figure. The remaining cases were mainly related to ergonomics at the workplace as well as skin irritation (two cases) during lab work.
Privacy concerns or cultural factors may influence employees' willingness to report and discuss personal health issues, so some occupational health cases may go unreported. We continue to raise awareness about stress and other occupational health risks and to encourage transparency.
Careers & employment
Aspiration

2018

2017

Employee Engagement

75%
by 2020

76%

75%

Inclusion & Diversity

- Female executives

25%
by 2020

19%

17%

- Under-represented nationalities

60%
by 2020

60%

56%

- Inclusion Index

72%

71%

Learning and Development

- Training hours per employee1

6

n.a.
Workforce engagement
Having an engaged workforce is essential for our success, now and in the future. The DSM Employee Engagement Survey, run annually since 2007, helps us understand how our employees feel at work and where we need to improve. Our goal is to ensure that people are proud to work at DSM and have the opportunity to contribute and excel at what they do. The Engagement Index measures four attributes: commitment, pride, advocacy and satisfaction. In 2017, we switched to a shorter version of the survey that still collects essential information about safety, engagement, inclusion and other key themes.
The 2018 survey was sent to all employees and was available in 21 languages. The 2018 response rate of 87% (up five percentage points) was the highest we have recorded since we started measuring employee engagement. The Engagement Index was 76% (up one percentage point) in 2018, a new record for us.
At global DSM level, we saw an improvement of at least one percentage point on 19 out of the 22 questions. There was a notable increase in the area of career opportunities, a topic that was defined as a focus area from the 2017 survey. We have recorded a three percentage point increase on the question "I am satisfied with career opportunities at DSM". We also saw an increase in perceived opportunities for learning and development (up two percentage points) and regular development conversations (up one percentage point). We believe that there is still further room for improvement on these three topics, so they will remain a focus area for the coming year.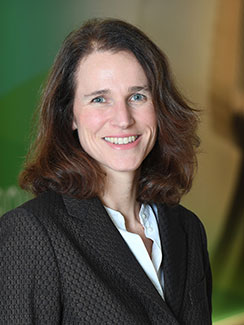 At DSM, we believe that everybody's contribution counts in creating a thriving business and, at the same time, brighter lives for all. We all take great pride in Doing Something Meaningful, every day.
Judith Wiese, DSM Executive Committee
Inclusion & diversity
Our inclusion & diversity activities focus on two main topics:
Increasing representation of women and under-represented nationalities at executive level and throughout our management pipeline to fuel innovation and growth in every country where we operate
Creating an inclusive work environment in which each employee can contribute
By 2020, we aim for 25% of our executives to be female and for at least 60% of our executives to come from under-represented nationalities. We achieved an improvement in both areas in 2018 thanks to continued focus and commitment on the part of all businesses and functions. The percentage of female executives in 2018 reached 19% (2017: 17%), while the number of under-represented nationalities at executive level increased to 60% (2017: 56%), achieving our 2020 aim of 60% ahead of schedule.
The targets to increase the diversity of our talent pipeline below executive level also focus both on gender and nationality mix. Both measures saw a positive trend across all our businesses and functions in 2018, with female representation increasing by three percentage points and under-represented nationalities increasing by two percentage points.
In line with Dutch legislation, the diversity policy for the Executive Committee, Managing Board and Supervisory Board aims for at least 30% male and at least 30% female members. In addition, it aims for no more than 50% of the Executive Committee and Supervisory Board to be drawn from one nationality. For more detail, see Corporate governance.
With the appointment of Patricia Malarkey as Chief Innovation Officer, our Executive Committee's gender diversity percentage will be 43%, while the number of nationalities has been further diversified. In 2018, the gender diversity percentage was 29%, with a maximum of 43% drawn from one nationality, in line with our target of not having more than 50% drawn from one nationality. Our Managing Board, consisting of one female and two male members, is fully aligned with the figure of 30% prescribed by Dutch legislation in terms of gender balance. Our Supervisory Board is also well balanced, in terms of both gender and nationalities, and is in line with Dutch legislation in this regard. More than one third (43%) of its members are women. Furthermore, in the Supervisory Board of DSM Nederland B.V., a subsidiary of Royal DSM, one of the three members is female (33%).
In 2018, DSM addressed unconscious bias in our Women Inspired Network activities. Unconscious bias refers to the unconscious assumptions and attitudes we all have that influence our behavior. This focus supports our employees to understand how we can become more aware of our behavior. On International Women's Day, we held a global DSM campaign titled 'Women in Science and Technology – Unconscious Bias' to highlight the role of women in science, technology, engineering and mathematics, and promote the work we do to improve inclusion in the company. The November 2018 People Manager campaign helped people managers to understand what they can do to combat unconscious bias. More than 20 female and male employees participated in the Women's International Networking Conference in Rome (Italy).
In addition, a workshop was designed to address inclusion and diversity, with a specific focus on unconscious bias. The workshop's objective is to create more inclusive teams by improving awareness about the importance of inclusion and diversity and to define actions on how to overcome unconscious bias. The first workshops were delivered in 2018, with the full roll-out planned for 2019.
Our inclusion efforts, monitored via the Employee Engagement Survey's Inclusion Index, increased from 71% in 2017 to 72% in 2018. Employees have shared they feel more comfortable sharing their ideas (up one percentage point) and they are more involved in decisions that affect their work (up two percentage points). We are proud of this increase and will continue to focus our efforts in creating an even more inclusive work environment in DSM.
Going forward, we will also continue to address the geographical distribution of executives and other key functions, keeping a keen eye on nationality balance. From 2019, we will focus on improving the representation of non-Europeans in the executive group to further reflect our global footprint. As the long-term target for nationality mix has already been reached, we will redefine our goals for nationality balance as of 2019.
Leadership and development at DSM
Developing our talent
At DSM, we believe that learning and development fuels the growth of our employees and leaders. Creating the conditions in which our people can learn and develop faster will enable us to grow. In 2018, we continued to increase our emphasis on learning through the 70:20:10 principle: 70% learning through experience (such as guided on-the-job assignments), 20% learning through others (such as peer-group learning and mentoring), and 10% learning through formal sources (such as classroom training and digital learning). By this approach, we are creating a culture of continuous learning in which people learn from experience, feedback, reflection, experiments, and mistakes, and not just from training courses.
We work in close cooperation with leading international business schools and global learning content providers — such as Duke Corporate Education, IMD, Ashridge Executive Education, Vlerick Business School, and CrossKnowledge — to design and deliver high-quality learning activities for our employees around the world. The European Foundation for Management Development (EFMD) awarded us the EFMD Excellence in Practice Gold Medal 2018 for Professional Development in recognition of our partnership with Vlerick Business School on our learning journeys to drive Marketing & Sales Excellence.
The learning platforms that are available to all our employees feature easily accessible online learning catalogs, learning resources and courses that are available via smartphone apps, and online tooling to identify and select on-the-job experiences. The new global learning management system introduced in 2017 began to replace local legacy systems across the globe during 2018, with finalization planned for 2019.
Learning and development through experiences with Experience Maps and X-Time
In 2018, we introduced the concept of 'Experience Maps', to facilitate learning through (on-the-job) experience. The Experience Map describes a variety of broadening and functional experiences that can create impactful learning. Employees and people managers use the Experience Map to strengthen their development conversations and to plan and accelerate experience-based development that is aligned with individual career goals, interests and potential. In 2018, Experience Maps were launched for the functional areas Finance, IT, and People & Organization.
Also in 2018, we piloted the 'X-Time' platform in the US. It enables employees who are seeking development experiences to look for available on-the-job experiences throughout the company. X-Time serves as an online project marketplace designed to connect people and drive results at DSM. Managers who are seeking resources and capabilities for specific projects can post roles on the easy-to-navigate online marketplace and connect with employees across the company. Employees participating in an X-Time experience can commit up to 10% of their time to this project — enough time to make a meaningful contribution while continuing to meet their current obligations. Through X-Time, employees can build new capabilities and relationships which will enrich their development and careers.
Learning and development through others with Bright Mentoring
Mentoring plays an important role in learning through others. We revamped the Bright Mentoring initiatives across all regions in 2018, creating a consistent experience for all mentors and mentees worldwide. Bright Mentoring consists of a global mentoring program, regional mentoring programs, and a new reverse mentoring initiative. Program participants can stay connected to one another, share best practices, and learn from each other through connection point webinars as well as our internal social media platform. In 2018, over 120 employees participated in the global mentoring program, while our regional mentoring programs involved more than 600 participants across all regions, including almost 90 participants with a cross-regional mentoring relationship.
The reverse mentoring program was initiated by the Inclusion & Diversity Council to foster inclusion and diversity at DSM. Almost 50 people participated in this program. The Reverse Bright Mentoring program connects senior DSM executives as mentees to bright talents as mentors. In the reverse mentoring relationship, the bright talent in an early stage of her or his career provides mentoring to a more senior leader to offer skills and share knowledge from different perspectives (such as generation, gender and culture).
Developing our leaders & people managers
Developing both our leaders and our people managers remains a key priority for us at DSM. The DSM Leadership Model, introduced in 2012, provides a common vision and language for leadership at our company and specifies the behaviors we expect from our leaders and people managers. It remains fully embedded across the organization and continues to be a foundational element of new learning and development initiatives.
DSM's Leadership Transition Programs support our managers in their development through each transition in their careers. Based on pilots in 2017, we launched three blended learning journeys across all regions in 2018: Leading Self, Leading Others and Leading Leaders. Key elements of these learning journeys are a strong online learning environment and pre- and post-work involving participants' managers to ensure strong commitment and follow-up. The programs are delivered by a joint team of external facilitators, company senior executives, designated talents, and internal talent development consultants to maximize the relevance of the experience to everyday working life at DSM.
In 2018, we continued our online campaign 'People Manager 2018'. Every month, this campaign highlights a topic that is of relevance for our people managers. Our peer group learning sessions 'Meet, Share and Learn' were offered at critical moments in the P&O cycle: Goal-Setting, Talent Review, Development Conversations, and Performance Reviews.
Strengthening our talent pipeline
Talent development is a key priority for the leadership of our company. To further grow our business, we need to develop all our people so that they achieve their full potential. At DSM, talent development focuses on building a sustainable talent pipeline that is diverse, global, with the right balance of deep expertise and broad leadership. Core to our approach is the belief that talent is in everyone: what matters is looking at what kind of potential you have, and the best development path to reach your full potential.
Attracting and selecting talent
Attracting the right talent is crucial when building a sustainable talent pipeline. In 2018, DSM was included in the Forbes list of the World's Best Employers, recognized as a thought leader on candidate engagement by Gartner, and also featured as a finalist in the LinkedIn Talent Awards.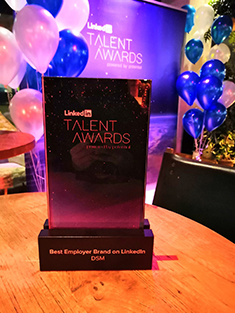 We continued to drive digital innovation within the Global Talent Acquisition organization by launching a new digital hiring platform. This platform enables us to meet the needs of the modern talent marketplace with video interviewing software and assessments. Our hiring intelligence platform is transforming the way we discover, hire, and develop talent. We proactively identified more than 800 high-quality candidates using artificial intelligence sourcing tools and employer brand marketing campaigns within DSM Engineering Plastics, the procurement function, and the Nutrition cluster.
We invested in upskilling the organization, with people managers trained in the (he)Art of Hiring, including training on unconscious bias and inclusion & diversity. We offered more than 400 internships, and more than 300 early career hires participated in our MATCH! and other graduate talent programs around the world. We hired over 3,000 employees via our regional recruitment teams in 2018. We also enhanced the candidate experience, with a candidate satisfaction rating of 92% globally — our highest ever.
Identifying and developing future talent
One of the key focus areas for strengthening our talent pipeline is to identify a broader pool of emerging leaders — early career talent who could be stretched into accelerated career development. Development for emerging leaders continues, and this is the most diverse group from a gender and nationality perspective. Our first emerging leader pool of 2016 shows an overall positive picture, with a retention rate of 88%.
Our emerging leaders are also generally in fast-track mode, with 70% in their current position for less than three years and 42% promoted one or more levels since their designation. The emerging leader pool increased by 28% in 2018 compared to 2017. Within our senior talent group, which continued to increase in size and diversity, we saw retention rates of over 90%. This trend was complemented by very good career moves, including some cross-business redeployments, which are key to helping us develop senior leaders with broader experience and skills sets. Going forward, our focus will be on broadening the experience opportunities of our talents, as this is key to strengthening our pipeline.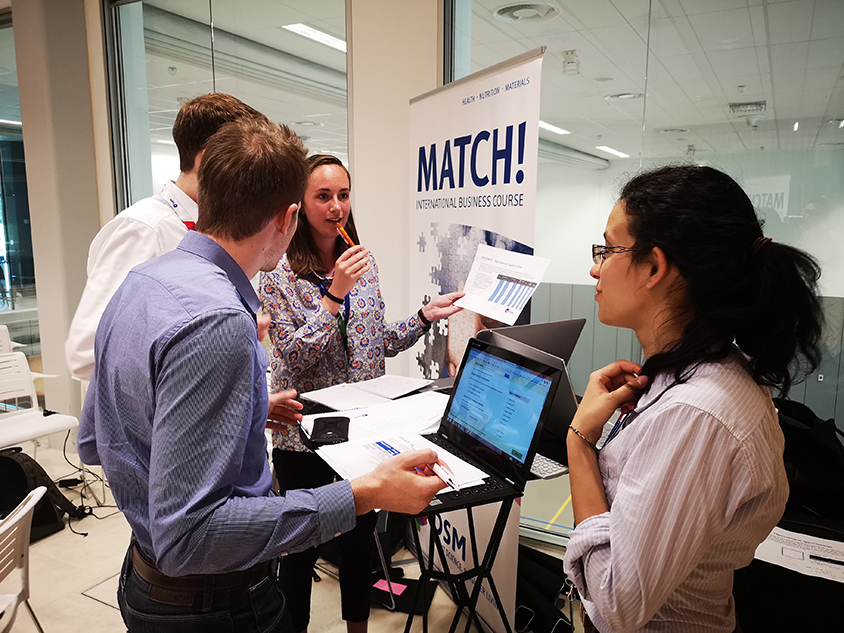 A turnover rate of 9.5% in our executive pipeline has enabled us to increase the diversity and geographical spread of our executive population. The overall succession strength for our business and functional leadership teams remained stable compared to 2017. Going forward, we will have to maintain our focus on this topic throughout 2019, with a particular emphasis on succession planning.
Total rewards
Our total rewards strategy aims to support the realization of our business objectives through monetary and non-monetary rewards. It serves as a reference frame for compensation and benefit plans and programs across the organization, and is designed to:
Ensure a consistent and fair approach in our reward programs across employee segments and geographies, contributing to a consistent employee value proposition around the globe
Support the further development toward a high-performance organization and culture, help to attract, engage and retain high caliber employees and to reinforce desired behaviors
Get the maximum out of our investments in rewarding talents
In 2018, we reviewed our total rewards strategy to align it with the recent strategy update. This review also aligns the possible contributions of reward tools, products and services to the six strategic levers as highlighted in the renewed people & organization strategy. An example is the inclusion of customer-centricity in our incentive schemes.
In 2018, further steps were made to align and standardize salary structures on a global scale using a set of shared basic principles. This helps to further enhance the use of a global platform to manage salary adjustments in a consistent way.
Major steps have been made in aligning and deploying global sales incentive plans within the outlines of the Sales Compensation Framework. New tooling has been introduced allowing the business to improve goal setting, monitor progression in sales results and subsequent incentive pay, and to steer on predefined KPIs during the year.
A global annual cash incentive framework for non-sales, known as the Short-Term Incentive (STI) Framework, was introduced, with a phased roll-out started in the last quarter of 2018. The new Framework replaces a broad variety of existing plans, emphasizing that we are one company working toward the same business objectives. The new STI Framework:
Better aligns pay and performance and focuses on the achievement of business objectives by aligning objectives top-to-bottom within the organization
Significantly reduces the number of STI plans, enabling more efficient and consistent plan/program management and administration (global tooling)
Driving performance
Individual performance evaluations
Regular performance evaluations play an important role in ensuring we are performance driven. Over 14,000 employees have access to the digital evaluation tool for performance reviews. All other employees participate in performance evaluations on paper or with other local systems. Our approach to target-setting focuses on 'Fewer, Bigger, Better Goals' that are measurable, relevant and challenging.
Continuous Improvement in operations
One of the ways in which we drive organizational performance is by fostering a culture of continuous improvement across manufacturing sites and supply chain environments. This mindset is driven by the DSM Integral Continuous Improvement (DICI) journey, which is currently running in 83% of our Manufacturing and Supply Chain organizations. The premix locations are currently excluded from the DICI scope.
We focus on empowering all our people, so they can make the many small improvements that can have a significant impact on operations and on our employee engagement — unleashing the talent in everyone. This journey is being executed together with one common way of working, which enables us to share and learn across sites and businesses much faster than before.
A group of operators in Waalwijk (Netherlands) had the ambition that each operator should have the motivation and the power to optimize his own workplace. They engaged all shifts in mini kaizen workshops which resulted in many practical improvements: reduced workload, batch time reduction, better ergonomics and yield improvements. This example of changing the mindset of the work force by using the DICI methodology won the DSM Operations Continuous Improvement Award, presented by Managing Board member Dimitri de Vreeze.
In Belvidere (New Jersey, USA), the team utilized coaching and feedback in supporting the learning process of all site employees. They boosted the continuous improvement culture by measuring behavior in 'High Impact' moments, providing feedback — in the moment and one-on-one — and developing coaches in the site organization. This resulted in big improvements in the culture at their fermentation plant — very positive Gemba walks, more effective meetings, people feel listened to and feel more inspired by their supervisors.
Responsible business practices
International Labour Standards
We apply the International Labour Standards of the International Labour Organisation. We respect the role of works councils and collective bargaining and work with these groups in the countries and regions in which they are present. We develop social plans and severance programs in the event of significant reorganizations. We promote employee empowerment and human rights protection and maintain dialogues with employees and representative bodies to enable this.
Human rights
Our purpose as a company means that respecting human rights is fundamental to achieving the sustainable societal advances to which we aspire. We believe that the basic rights and freedoms to which all people are entitled — human rights — should be understood, respected and promoted by all companies as the cornerstone of socially responsible business.
We have a long-standing commitment to international declarations and the relevant instruments to safeguard these, including:
The UN Universal Declaration of Human Rights
The UN Guiding Principles on Business and Human Rights (the Ruggie Framework)
The ILO International Labour Standards
The OECD Guidelines for Multinational Enterprises
We have been a signatory to the UN Global Compact since 2007.
Our commitment to human rights is defined in our position paper on the company website. The development of our human rights policy helps embed the responsibility for respecting human rights into the programs, policies and daily operations of all business functions and regions. Our global whistleblower policy (DSM Alert) is in place so that employees and external stakeholders can report any perceived violations of human rights as well as violations of laws and regulations. In 2018, we mapped the potential human rights impacts of our business activities through a global risk assessment. A human rights steering committee was additionally set up to further strengthen the governance structure. The cross-functional steering committee will create a more integrated and coordinated approach, supervising progress on human rights both within our company and in our supply and distribution chains. The steering committee is chaired by Judith Wiese, the EVP Group People & Organization.
In addition to the steering committee, a working group launched the first initiative to translate the outcome of the global risk assessment into a human rights action plan during 2018. The working group is composed of representatives of the various functions on the steering committee. This action plan focuses on:
Further embedding human rights (integrating human rights policies into relevant business processes and raising awareness of these policies)
Risk management (impact assessment in operations in high-risk countries, with a specific focus on vulnerable groups)
Supply chain (onboarding and support systems where needed)
We regularly review our rewards framework to make sure it meets the standards of our total rewards strategy and fair remuneration. In 2018, we focused on our commitment to equal pay and a living wage. We define comparable pay and remuneration for men and women for doing work that requires equivalent qualifications and skills. We have further elaborated our position on equal pay in an equal pay statement on the company website. In addition, a reporting process was developed to execute a gender pay gap ratio and living wage analysis. We will establish the process to obtain and validate the required data to ensure consistent, accurate and transparent reporting.
Beyond our own operations, potential labor and human rights impacts are handled through our Supplier Sustainability Program (SSP). We assess suppliers for potential human rights issues through Together for Sustainability / EcoVadis sustainability assessments and audits. Read more about our SSP and how we manage potential human rights impacts within our supply chain in the Suppliers section of the Sustainability statements. For more information on the steps we have taken relating to Modern Slavery in our supply chain, please see the company website.