Greenhouse gas

33%

Greenhouse gas efficiency
improvement versus 2008,
versus 26% in 2017

Electricity

41%

Purchased electricity
form renewable sources
versus 21% in 2017

Innovation sales

19%1

Innovation sales,
in line with our
ambition of ~20%
Energy efficiency

5.1%

Energy efficiency improvement,
versus 2015, compared to 3.8%2 in 2017,
>1% average annual ambition

Water consumption

22

Water consumption,
down from 23 in 2017
(in million m3)
2 The 2017 number has been adjusted positively because of improved data quality.

We take our global environmental and social responsibilities very seriously. This extends beyond our own operations to include those of our suppliers, customers and end-users. We address our environmental responsibilities through our portfolio of Brighter Living Solutions, our Safety, Health & Environment (SHE) policy, and our position on issues such as product stewardship, industrial biotechnology and biodiversity. We focus on improving our environmental footprint, enabling our customers to do the same, and advocating on our key environmental topics. Our Brighter Living Solutions — solutions that are better than the mainstream reference solution for people and/or the planet — account for 62% of our net sales (excluding the temporary vitamin effect).
Our operations network spans more than 110 commercial production facilities in over 40 countries. The DSM Responsible Care Plan 2016–2020, an essential part of our company strategy, describes our environmental targets and what actions we are taking. Our approach supports the Sustainable Development Goals (SDGs), especially SDG 7 (Affordable and Clean Energy), SDG 12 (Responsible Consumption and Production) and SDG 13 (Climate Action).
This chapter addresses our approach on several topics from our materiality matrix:
Climate change & renewable energy
Resource scarcity / Circular economy
Water security
Biodiversity
Product stewardship
For more detailed information about our Planet performance, see Sustainability statements. See also How we create value for our stakeholders and Stakeholder engagement.
Climate change & renewable energy
In 2015, the Paris Agreement first established the urgent need to take action on greenhouse gas (GHG) emissions to limit temperature increases to well below 2°C. In Strategy 2021, we revised our GHG emissions target in order to bring it in line with the Paris Agreement. Our new target, announced in 2018, is a 30% absolute reduction of our scope 1 + 2 emissions by 2030 versus our 2016 baseline. This is below a 2°C pathway. We will achieve this target through a wide-ranging number of actions across all our operations, including: (1) renewable electricity: 50% of purchased electricity to be sourced from renewables by 2025, increasing to 75% by 2030; and (2) energy efficiency improvement: an average year-on-year improvement of at least 1% until 2030.
An additional scope 3 intensity reduction target of 28% by 2030 versus our 2016 baseline has been agreed which, together with our scope 1 + 2 target, meets the criteria for a Science-Based Target. DSM's climate change strategy received an A- rating from CDP in 2018.
Aspiration

2018

2017

Greenhouse gas (GHG)

GHG emissions scope
1 + 2 market-based
(million tons)

1.21

1.5

GHG emissions scope
1 + 2 location-based
(million tons)

1.41

1.6

GHG emissions scope 3
(million tons)

11.3

13.12

GHG efficiency improvement
versus 2015

25% in 2025

16.6%

8.1%

GHG efficiency improvement
versus 2008

40–45%
in 2025

33%

26%

Energy

Primary energy use (PJ)

20.8

23.6

Energy efficiency improvement
versus 2015

> 10%
in 2025

5.1%

3.8%3

Purchased electricity from renewable sources

50% in 2025

41%

21%
In support of our ambition to substantially reduce our carbon footprint we have introduced new measures which we apply to all growth projects. Starting from 2019, business growth projects must either be GHG-neutral or else be compensated for. In addition, to encourage investments in low-carbon and carbon-free technologies, we use an internal carbon price of € 50/t CO2eq in the valuations of key investment projects.
Scope 1 + 2 GHG emissions
We actively manage our absolute GHG emissions reduction, GHG efficiency and energy efficiency.
Our scope 1 + 2 market-based GHG emissions decreased from 1.50 in 2017 to 1.23 million tons of CO2eq in 2018. Our GHG efficiency improved from 26% in 2017 to 33% in 2018 versus our 2008 baseline. In addition to improvement actions, a large part of the result is due to planned maintenance shutdowns (contributing approximately 150 kt CO2eq). The effect of the shutdowns is temporary, impacting the year in which the shutdown was executed. The increased use of renewable energy (contributing approximately 80 kt CO2eq) resulted in a significant permanent improvement of our GHG emissions. The energy efficiency improvement measures also contributed to the improved GHG performance. Projects included a switch at DSM Nutritional Products' site in Kingstree (South Carolina, USA) from a solvent-based to a water-based technology, requiring less energy and, consequently generating a smaller environmental footprint.
Taking all these different factors into account, we can split the development of the absolute GHG emissions into an underlying structural improvement (such as contributions from renewable electricity, and energy efficiency gains) and some one-time effects from major plant shutdowns (such as maintenance). The structural improvement gains will vary year-on-year depending on the potential renewable electricity initiatives and the magnitude of the improvement projects executed within the company. We estimate the effect of the underlying structural improvements in absolute GHG emissions to be roughly 8% in 2018 versus 2016. The absolute GHG emission reduction (the sum of the structural and one-time effects) amounts to approximately 18% in 2018 versus 2016.
The overall balance shows that we are well on track to achieve the targets defined in the Responsible Care Plan 2016–2020, thanks to our investments in greenhouse gas efficiency improvements and energy improvements.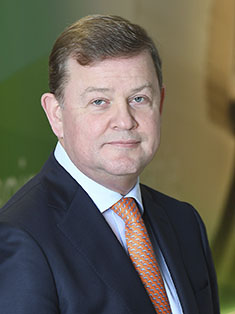 We cannot address climate change alone. We play our part by improving our own footprint, enabling our customers to do the same, and advocating for progress on this important issue.
Feike Sijbesma, CEO/Chairman Managing Board
Energy transition
Our energy efficiency improvement was 5.1% in 2018 versus our 2015 baseline. The annual improvement for 2018 versus 2017 was 1.4%.
Our efforts to reduce our energy utilization and greenhouse gas emissions were supported by a range of improvement proposals from the business groups which were implemented during 2018. This program encompasses projects for saving heat, fuel and electricity with a total greenhouse gas improvement potential expected to yield 30kt in greenhouse gas reduction and energy efficiency improvements of 2% annually as of 2019.
Projects carried out as part of this program in 2018 included one at our DSM Nutritional Products site in Dalry (UK), where an optimization of the distillation column resulted in a significant reduction of steam usage, and another at our DSM Dyneema site in Laiwu (Shandong Province, China), where multiple small optimizations were made to the air compression and cooling networks.
Renewable energy
DSM is a member of the Climate Group's RE100, comprising leading companies that have committed to sourcing 100% of their electricity from renewable sources at the earliest possible opportunity. Our commitment is to source 75% of our electricity from renewable sources by 2030 and 100% at the earliest possible opportunity.
In 2018, we have been making significant progress toward our target of renewable electricity. The percentage of purchased electricity from renewable sources increased from 21% in 2017 to 41% in 2018, clearly a step-change increase due to contractual agreements. In the Netherlands, Windpark Bouwdokken commenced full production in April, while the larger Windpark Krammer went operational in stages throughout 2018. An additional contract brought the coverage of purchased electricity from renewable sources in the Netherlands to 100%. At our DSM Nutritional Products manufacturing sites in Switzerland, approximately 50% of the electricity comes from renewable sources. Our Power Purchase Agreement in the US is currently providing an estimated 40% of our requirements from wind power.
We also look for opportunities to replace fossil fuels used in our processes. The biomass cogeneration plant at our DSM Nutritional Products site in Sisseln (Switzerland) is the first major success in this area. This plant replaces the site's old natural gas-fired cogeneration plant. Our partners, ENGIE and EWZ, have built the biomass plant, which they will own, operate and maintain. The plant will commence production in early 2019, and is scheduled to result in 48 kt CO2eq reduction per year (of which about 80% is for us and 20% for other partners).
Scope 3 GHG emissions
Our scope 3 emissions amounted to approximately 11.3 million tons CO2eq in 2018. This figure is based on calculations using adjusted emission factors, extrapolations and updated assumptions. In 2018, a detailed re-assessment of scope 3 categories was carried out. The 2017 figures have been recalculated using the same approach.
The largest adjustments took place in emissions from 'End-of-life treatment of sold products'. Revised verified landfilling assumptions, exclusion of bio-based and inorganic products, and adjustment of emissions from incineration as per the Guidance for Accounting and Reporting Corporate GHG Emissions in the Chemical Sector Value Chain, provided by the World Business Council for Sustainable Development, led to a significant restatement of this category. The figure for 'Purchased goods and services' was adjusted using updated emission factors.
Our emissions in 2018 decreased by 1.8 million tons primarily due to the divestment of participations in former DSM businesses (DSM Sinochem Pharmaceuticals, and caprolactam business via ChemicaInvest). The main scope 3 category in the 2018 figures is 'Purchased goods and services' which slightly decreased compared to 2017.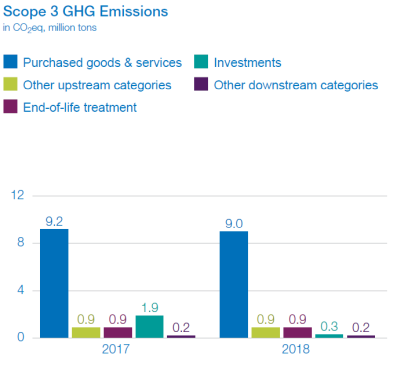 A supplier emission reduction program called CO2REDUCE has been developed in cooperation with several key suppliers. Increased engagement is a core element in our defined supplier program. During our inaugural Supplier Partnership Day in the Netherlands, which was held in September, our commitment to reduce carbon emissions from suppliers was a central theme, generating a clear call to action. This event was attended by more than 75 prominent key suppliers and featured a keynote address from Christiana Figueres (the former Executive Secretary of the United Nations Framework Convention on Climate Change).
We also develop products for the circular and bio-based economy to further reduce scope 3 emissions. See Stakeholder engagement and Resource scarcity / Circular economy elsewhere in this chapter.
Avoided emissions
Brighter Living Solutions can have benefits at any stage in the value chain. Avoided emissions refers to the emissions-related environmental benefits that occur downstream in the use phase of our products
For example, DSM Engineering Plastics supply products into the automotive industry, where they replace metals and other materials to achieve weight savings. These weight savings reduce vehicle fuel consumption and associated greenhouse gas emissions. Products sold in 2018 to this market will avoid the emissions of approximately 806 kt CO2eq over the average lifespan of the vehicles.
VevoVitall® is one of our many solutions in animal nutrition, a eubiotic added to pig diets that delivers proven benefits including improved feed conversion and increased weight gain. This reduces feed intake, one of the largest contributors to the environmental impact of pig farming, which reduces emissions. In 2018, sales of VevoVitall® avoided an estimated emission of 263 kt CO2eq.
Other emissions to air
| | | | |
| --- | --- | --- | --- |
| | Aspiration | 2018 | 2017 |
| Air emissions efficiency improvement versus 2015 | 40% by 2020 | 45% | 41% |
| Air emissions (x 1,000 tons) | | | |
| - VOC | | 4.9 | 6.6 |
| - NOx | | 0.5 | 0.7 |
| - SO2 | | 0.09 | 0.28 |
Although we already achieved our 2020 target in 2017, we continued our efforts to reduce air emissions in 2018, consistent with our sustainability values. For example, a large project to reduce VOC emissions at our largest manufacturing site in Jiangshan (Jiangsu Province, China) was implemented during the second half of the year. This VOC treatment system targets an above-90% reduction in VOC emissions at this site.
Resource scarcity / Circular economy
While valuable materials are leaking away from our economy, the Earth's resources are finite and there is a growing pressure on the availability of those resources. Meeting the needs of current and future generations in a way that is sustainable for people and the planet requires moving away from a linear to a circular use of resources. That is why we are committed to securing the future availability of natural resources and unlocking more value from the limited resources available. By working closely together with our peers and industry experts, we continue to develop closed-loop, circular solutions. These maintain materials and products at their highest value for the longest possible time while improving our own impact, enabling customers to deliver sustainable solutions, and advocating to create a sustainable business environment.
Aspiration

2018

2017

Renewable raw materials

Renewable raw materials

14.3%

15.4%

Waste

Waste recycled

80-90%
in 2020

83%

84%

Non-hazardous waste (kt)

- Recovered

82

104

- Incineration1

11

12

- Landfill

18

162

Hazardous waste (kt)

- Recovered

45

40

- Incineration1

34

23

- Landfill

3

3
Resources & Circularity are a key part of Strategy 2021. We aim to take sustainability into consideration at every stage in the value chain, by embedding circular & bio-based thinking into our sourcing, operations, innovation and portfolio, and enabling 'closed loop' solutions through advocacy and partnerships. Our scientific expertise and innovative power are helping us develop materials that have a wider environmental and societal impact.
We are enabling the transition toward a circular & bio-based economy by:
Reducing the use of critical resources over the value chain
Replacing scarce, hazardous, and potentially harmful resources with safe and renewable alternatives
Extending the lifetime of products with improved durability or shelf-life
Designing for recyclability
Recovering waste streams by viewing waste as a resource
Renewable raw materials
DSM believes that the use of sustainable resources is an essential step in securing future resource availability but that it also has environmental benefits in reducing the ecological footprint. The renewable raw materials we use include waste from agriculture, yeasts and enzymes, carbohydrates and natural oils and acids. In 2018, the share of spend on renewable raw materials decreased to 14.3% versus 15.4% in 2017. The percentage decrease is due to product mix changes, while the absolute amount is comparable to the average of the past few years.
An example of our use of renewable raw materials is EcoPaXX®, DSM's bio-based, high-performance polyamide (PA410). It offers outstanding performance in the most demanding of environments, including excellent chemical resistance and low moisture absorption, combined with a very high melting point (highest of all bio-plastics) and high crystallization rate. EcoPaXX® is 100% carbon neutral from cradle to gate: the amount of carbon dioxide emitted during the production is offset by the amount absorbed in plant growth, and in particular by Ricinus communis, the tropical castor bean plant that makes up some 70% of EcoPaXX®. This provides a perfect opportunity for manufacturers who want to combine sustainability with performance.
Waste
Our definition of waste recycled is the percentage of total waste related to normal operations that is recycled or, if this is not possible, incinerated off-site with heat recovery. We pay careful attention to meeting local waste management legislation. Waste statistics are mainly influenced by volumes, the product mix and improvement projects. We saw a small decline to 83% recycled waste in 2018, having transformed a former recycled waste stream into a product stream. The progress is still in line with our ambition level of 80–90% in 2020.
Projects executed in 2018 include the implementation of a landfill-reduction project at DSM Nutritional Products in Mairinque (Brazil) — enabling an expected reduction of waste to landfill of 0.9 kt per year — and a project at DSM Nutritional Products in Dalry (UK), where an upstream waste stream was repurposed to produce fertilizers. We are investigating the possibilities for shifting a downstream waste stream, which has already decreased in volume due to the upstream waste initiative, away from landfill.
Water security
Water is essential to life. It is also essential to the viability of our business, and we recognize that this precious resource will come under increasing pressure in the face of climate change and growing global demand. We are committed to measuring, tracking and continually improving our water stewardship as well as our position as a global sustainability leader within the chemical sector. As part of this commitment, DSM is a signatory to the CEO Water Mandate, a UN Global Compact initiative that mobilizes business leaders to advance water stewardship, sanitation, and the SDGs, in partnership with governments, peer institutions, civil society, and others. In 2018, we received a B- rating from CDP for our water governance and management strategy.
Aspiration

2018

2017

Sustainable water management

Water risk assessments

90%
in 2020

100%

100%

Water consumption
(million m3)

22

23

Water use (million m3)

114

114

Emissions to water

COD (kt)

2.2

2.5
We recognize water management as integral to our risk mitigation and environmental impact reduction strategies. We believe that water risks are local by nature, and therefore focus on local water risk assessments and thorough follow-up of these. In 2018, we completed water risk assessments at 100% of our material water sites. The main water risks identified related to water quality, changing local regulations and limitations in local infrastructure. Risk exposure to water scarcity was identified as very limited in the regions where we operate. Mitigation actions were defined after the 2017 and 2018 risk assessments. In total, 34 actions were defined by the end of 2018, of which seven were closed during 2018. The remaining actions will continue in 2019.
To strengthen our water management efforts, a new corporate water management standard — defined in line with the Alliance for Water Stewardship standard and the UN Global Compact CEO Water Mandate — was launched in 2018. Implementation of this standard commenced at sites in water-stressed areas as well as at material water sites.
Compared to 2017, our water consumption decreased to 22 million m3 . This decrease was also helped by maintenance stops at various manufacturing sites.
"Water security is a global issue that impacts billions of people, from flooding and storms through to water scarcity and drought. Water security is a material topic for us that requires solutions addressing local water risks. We report our progress on water security toward the UN Global Compact CEO Water Mandate through this report."
Feike Sijbesma, CEO/Chairman Managing Board
Our water pollution reduction programs aim to reduce total water pollution, mainly by cutting Chemical Oxygen Demand (COD). Total COD decreased from 2.5kt in 2017 to 2.2kt in 2018, helped by production shutdowns and investments to improve our water treatment facilities.
A new water treatment plant is under construction at DSM Nutritional Products in Mairinque (Brazil). The project will segregate all lines of domestic effluent, industrial effluent, and rain water, and build containment tanks to store the effluents on site. The domestic plant makes use of a natural phytoremediation process (use of living plants to clean up soil, air and contaminated water). The project represents a significant step forward in terms of water security of supply and water effluent treatment at the site.
Biodiversity
| | | |
| --- | --- | --- |
| | 2018 | 2017 |
| Sites near high biodiversity | 66% | 61% |
Biodiversity and healthy ecosystems are key conditions for a sustainable world. Each year, we identify and monitor the protected areas in the vicinity of our sites and the impact that our activities have on these. Sixty-six percent of our sites have been identified as being located in, or adjacent to, areas of high biodiversity value. The increase compared to 2017 is due to newly acquired sites in areas of high biodiversity and the reclassification of areas surrounding certain existing sites as areas of high biodiversity by (local) governments. For more information, see Stakeholder engagement and our position paper on Biodiversity on the company website.
Product stewardship
Product stewardship is an important aspect of our SHE and sustainability strategies. The term refers to possible safety risks and adverse effects on human or animal health and on the environment that could be caused by our products, or the substances present in them, throughout the value chain. It is our responsibility to control and minimize these. Product stewardship closely connects with the circular economy, as products with zero or reduced hazardous properties will have a higher potential for success in a circular economy.
We renewed our product stewardship commitments in 2018. By the end of 2020, we will have assessed our full product portfolio and will have an action plan for products with Substances of Very High Concern (where the concentration is above 0.1%). Substances in products that are considered 'essential for life' (i.e. that have a proven beneficial effect when used at the officially recommended dose in nutritional and pharmaceutical applications) are excluded from this assessment. We take a risk-based approach and will use safer alternatives where feasible, and always when required. For our innovation portfolio, 'safe by design' is the leading principle in the development of new and better products and processes. For more information on product stewardship, see the company website.