Sustainability statements
Stakeholder engagement
In the following pages, we present some examples of how we engage with external stakeholders, including the partners in our value chain. For an overview of all our stakeholders, please see Stakeholders. For information on how we engage with our employees, see People.
Customers
Our Strategy 2021: Growth & Value - Purpose led, Performance driven defines how we fulfil the current and future needs of our customers and of their consumers. Our starting point is our constantly evolving portfolio designed to serve our evolving customers' needs and attuned to their values. The launch of Maxilact® Smart illustrates the continuous improvement mindset. The premium, lactose-free product segment is growing fast, and this product supports our customers' ambitions in this market. Maxilact® Smart enables a significant increase in production efficiency and capacity at our customers on top of an effective reduction of lactose.
Our portfolio reflects our purpose and supports our pioneering customers. Our innovations contribute to Health, Nutrition and Sustainable Living. Whether it is Niaga® to create a 100% recyclable carpet, waterborne resins that have transformed the container paint industry in China or the creation of the Avansya partnership with Cargill for fermentative steviol glycosides, all these innovations were founded on our purpose-led philosophy and consumer needs.
Customer-centricity
Customer-centricity is the cornerstone of our growth ambition: we strive to understand what drives value for our customers and build multi-level relationships to strengthen customer intimacy. To strengthen our customer relationships at strategic accounts, we have implemented the Triple Fit methodology developed by St. Gallen University's Account Management Center across our business groups. This proven and effective methodology aims to build and maintain high-value relationships with our strategic accounts by identifying and implementing joint value creation projects.
Co-development of solutions and offerings with our customers is a growing area in nearly all the industries we serve. Our partnership with Cooprata, a leading regional cooperative in Brazil to produce solutions for beef cattle, combines local raw materials with our vitamins. TruVitamins — a partnership in the human nutrition market — utilizes the product formulation, branding and marketing expertise of our Nutrition cluster with our customer Happy Enzyme for this new vitamin supplement. The value of the Quali® Brand on the product packaging is a point of differentiation for the consumers in Korea. Increasingly we complement our in-depth customer understanding with consumer understanding to address the needs of the entire value chain and enable incumbent and new players to differentiate themselves by means of our extensive, high-quality portfolio.
Our skilled professionals are continuously trained on what it means to be customer-centric, enabling us to continue bringing value to our customers. This was recognized through the prestigious 2018 EFMD Excellence in Practice Gold Award in the category 'Professional Development'.
Digitalization
Data are critical to understanding the customer and its ecosystem. In 2018, the Data Analytics Center of Excellence was introduced. The data analytics capabilities that are being developed will help to accelerate the development, industrialization and adoption of insights and data analytics within DSM. Through this, we aim to create substantial and additional impact, adding value to our businesses and functions and gaining an ever better understanding of customer/consumer behaviors and needs.
Next to data, digital technologies also help us to strengthen our customer relationships, optimize customer touchpoints and create customer delight. One such example is the YiGouBao app developed for farmers in rural China. This app allows farmers to order products from our distributors in an easy way. It serves as a performance tracker for our customers. Through this new way of interacting we can reach an even larger group of farmers scattered across rural areas, leading to improved penetration in the market and a higher customer loyalty.
Customer loyalty
We measure customer loyalty through the Net Promoter Score (NPS). In 2018, our NPS score reached 40 (2017: 39). NPS allows us to measure customer satisfaction across the full customer journey over a defined period. Additionally, we measure NPS at key moments of the customer journey to further optimize the process and enable improvements during the journey.
Brand Value
Our brand is an important business asset. We are a purpose-led, performance-driven company that aspires to provide innovative products and solutions that support our purpose to create brighter lives for all. In 2018, our brand value continued its positive trajectory and reached €844 million. Brand Finance attributed the increase to improved growth forecasts.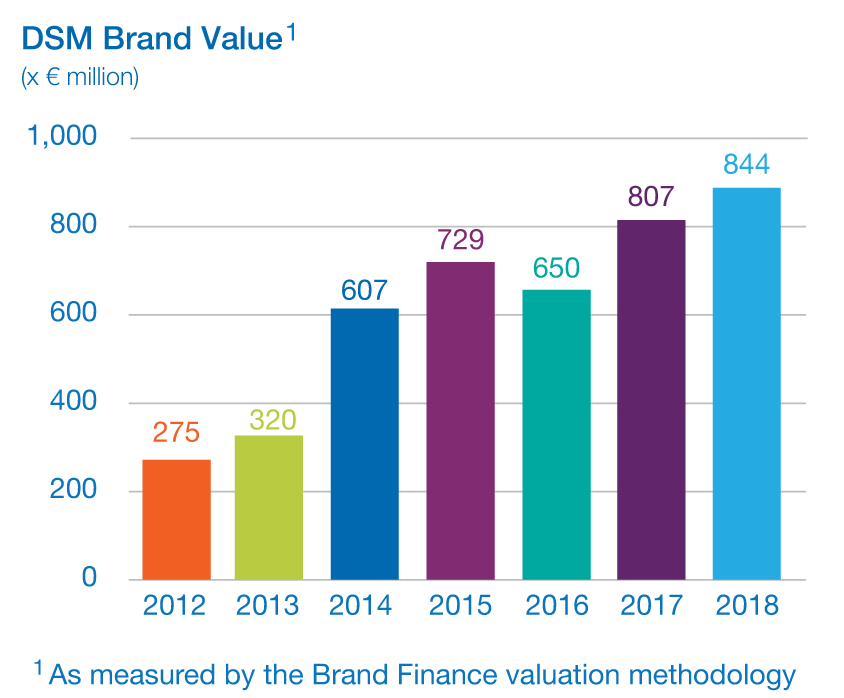 Suppliers
We engage with approximately 35,000 suppliers through our Supplier Sustainability Program (SSP) to strengthen our supply chain, reduce risk, lower cost and create value for society and our company. Annual supplier sustainability plans and sustainability roadmaps are used to gain insights. The Supplier Sustainability Plan 2018 addressed a number of relevant topics for the materiality matrix: 'Resource scarcity / Circular economy', 'Responsible business practices' and 'Climate change & renewable energy'.
DSM Supplier Sustainability Program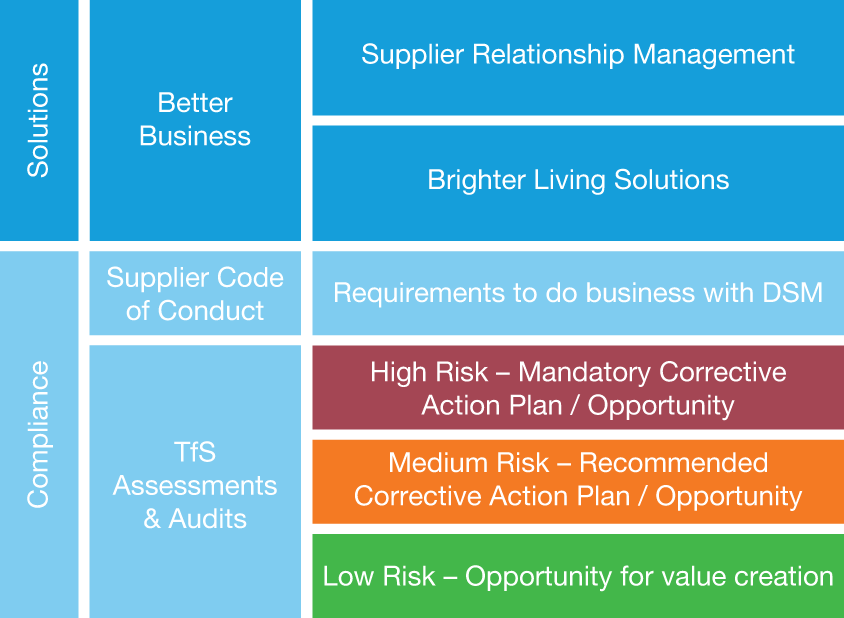 Supplier Sustainability Program strategy
Our Supplier Sustainability Program is comprised of two elements: Solutions and Compliance. Insights gathered in the compliance program enabled us to very clearly define how we choose to do business with our suppliers. We have invited suppliers to contribute to our competitiveness in areas of sustainability, innovation, business growth, security of supply, new business models and strategic alliances. This occurs via our 'Better Business' projects and other initiatives.
Our assessment of the maturity level of our SSP was conducted in 2016 and addressed four dimensions: Strategy/Plan; Supply Risk & Opportunity; People, Infrastructure & Measurements; and Processes. Those insights were used to develop our sourcing strategy and position to meet the ambition level for 2020.
Internal skills and capabilities
Internal capability-building regarding supplier sustainability continued in 2018. We have shifted the focus from delivering training toward providing hands-on support and promoting peer learning. The peer learnings offer practical experience and knowledge-sharing about integrating sustainability into the daily work of sourcing professionals.
In Indirect Procurement, we initiated a strategy project to increase our sustainability maturity. The strategy aims to move from compliance through supplier selection toward impacting the entire supply chain. The project includes an aligned and approved strategy by the review board, and repetitive trainings to raise sustainability awareness in the entire procurement organization. The supplier selection consists of the sustainable tender principle and risk management through Together for Sustainability insights (TfS). The impact is driven by including sustainability in our Key Supplier Management program and by developing specific sustainability strategies for high-impact categories.
Every year, the DSM Procurement community presents awards to teams who have developed successful projects in several categories, with sustainability a key topic in selecting the winners. The Strategic Sourcing Methodology (SSM) Award promotes strategic thinking, courage and creativity, while the Best Supplier Innovation (BSI) Award recognizes a successful collaboration with a supplier that brings value to DSM.
Collaboration
We work with external partners to enhance collaboration in the supply chain such as the Roundtable for Sustainable Palm Oil (RSPO) and TfS.
Our exposure to palm oil is very limited. DSM Nutritional Products is a member of RSPO due to the potential risks to the environment, human rights issues and labor practices in the palm oil supply chain. DSM Food Specialties sources RSPO 'Mass Balance' certified palm-derived glycerin in Asia. Our objective is to use 100% RSPO-certified sustainable palm oil and palm oil derivative products using RSPO 'Mass Balance' supply chain models by 2020. Going forward, we aim to have all of the production sites that use palm oil or palm oil derivative products RSPO-certified. For more information on palm oil, see the company website.
We have 'Friends of the Sea' certification for all of our fish oil purchases. This helps ensure that the fisheries involved in providing fish oil for the production of our omega-3 product range are sustainable.
We held our inaugural Supplier Partnership Day in the Netherlands, which was attended by 75 key strategic suppliers. This event aimed at strengthening key partnerships and making our partners aware of our company's strategy to drive further progress in sustainability through reducing our environmental footprint while making a positive social impact. We value our strategic supplier partnerships in delivering tangible benefits in the areas of performance, innovation and sustainability. As part of the event, we showcased the specific contributions of excellent suppliers in different areas through our Supplier Awards.
Compliance
Our approach to compliance is defined in our Supplier Code of Conduct (SCoC). Through assessments and audits, we check that suppliers act in compliance with external and internal norms and values. Where a risk or breach occurs, we work with suppliers to define and execute an improvement plan. If non-compliance still persists, we may choose to terminate the relationship with the supplier. In 2018, 95% of our spend was covered by the SCoC.
We focus on approximately 1,000 critical suppliers, defined as those that provide critical components, are located in potentially high-risk countries, supply a high volume of products or services, are non-substitutable, or have the potential to create shared value in areas of innovation and sustainability.
Since 2015, we have been actively collaborating with TfS. Founded in 2011, TfS now has 22 members and aims to develop and implement a global audit program to assess and improve sustainability practices within the chemical industry's supply chain. TfS works with EcoVadis, a recognized provider of CSR ratings, to implement the program. The EcoVadis methodology is aligned with international standards and supervised by a scientific committee. This collaboration gives DSM access to supplier assessments and audits, which are executed by other TfS members and shared on the TfS platform. The EcoVadis assessment covers Environment, Labor & Human Rights, Ethics and Sustainable Procurement.
The collective (potential) supply base of the TfS members has been rated by 10,566 EcoVadis assessments and 1,526 TfS audits. In 2018, an additional 1,491 sustainability assessments were shared among TfS members and 358 new TfS audit reports were received by the initiative. In 2018, the average EcoVadis assessment score of suppliers that completed an assessment at DSM's request was 49 (up 1 point on 2017). The average of the supplier performance level indicates that our suppliers are engaged with sustainability.
In 2018, as a result of the new Strategy 2021, a new procurement sustainability vision was developed which includes a Procurement Sustainability roadmap that will guide our efforts toward sustainability and will impact TfS (re-)assessments in future years. This new roadmap will support the improvement of our low-scoring suppliers' sustainability performance by actively developing and following up on corrective actions. It will mark the start of a shift from quantity to quality of assessments, and more to sustainability related improvements in DSM's supply chain.
Better business
While compliance remains the cornerstone for achieving a sustainable supply base, procurement activities increasingly focus on so-called 'better business'.
As part of our drive to foster better business through our supplier solution projects, our procurement organization engages in proactive dialogue with suppliers in order to move the business agenda forward on topics such as climate change, food and nutrition security, health, and the circular economy. In this context, we pursue initiatives to create joint value, awareness and engagement using similar drivers to those in our Brighter Living Solutions methodology.
Via the CO2 Emission Reduction Initiative, the Global Logistic and Packaging team investigated suppliers' footprints in road transportation, marine, packaging and air transportation to explore opportunities for improvement. Our aim of achieving a 20% reduction per unit of measurement in emissions by the end of 2020 compared to 2010 was reached by the end of 2017, the latest reporting period. This great achievement can be attributed to the engagement in joint initiatives with suppliers that led to environmental benefits in the value chain. Projects such as leveraging operations by optimizing logistics for glass fiber inbound logistics and utilizing non-dedicated containers to increase transport flexibility resulted in significant reduction in CO2 emissions.
Through a collaboration between procurement, supplier and site colleagues, DSM Nutritional Products' site in Kingstree (Georgia, USA) achieved a raw material change that delivered significant advantages. The site uses an imported non-GMO dry dextrose raw material that is shipped in one-ton bags. Through the project, a switch to a liquid solution was realized that reduced material handling risks for the raw material. In addition to safety and ergonomic improvements, a productivity gain was realized thanks to the different biomass behavioral characteristics during the drying process.
Investors
DSM values the essential role of its capital providers for the success and prosperity of the company, allowing it to pursue a long-term oriented, value-creating strategy. This should also lead to a continuous increase of the company's valuation for the benefit of its shareholders and provide a low risk profile for its debt holders.
We ensure that accurate financial and relevant non-financial information is communicated to the financial markets in a transparent and simultaneous way. All information is made easily accessible to the public via the company website. Next to the Annual General Meeting of Shareholders, we also reach out to the financial markets through events like the Capital Markets Day, participation in investor conferences, and by organizing roadshows. We also actively seek engagement with financial advisors who cover DSM on behalf of their financial market clients, such as brokers, credit rating agencies, proxy advisors, shareholder representative organizations, and ESG rating agencies.
We actively seek feedback from the financial markets, which is discussed and assessed by the company's Managing Board and Supervisory Board from time to time. We highly value the insights gained through these engagements.
We engage with our investors and their representatives on topics such as the SDGs, climate change, governance, sustainability in supply chain management, natural and social capital, and responsible taxation.
We introduced Strategy 2021: Growth & Value - Purpose led, Performance driven at our Capital Markets Day in London (UK) in June 2018. We presented how we will capture growth opportunities offered by global megatrends and the SDGs, and the ambitious targets for profit growth and cash generation that are associated with this. The market was also updated on how sustainable long-term organic growth will be supported by our large innovation projects.
This has led to an increased interest from investors and analysts with a strong Environment, Social and Governance (ESG)/SDG mindset. These parties recognize our efforts to pursue good financial returns together with acting with purpose.
We actively participated in various impact investment initiatives including De Nederlandsche Bank (DNB) working group on SDG Impact Measurement in 2018. We also participated in dedicated ESG conferences for investors such as the SRI conferences in The Hague (Netherlands) in March and in Paris (France) in November.
Society
We engage with society at many levels. We collaborate with renowned universities and research institutes and work with NGOs and civil society to work on solutions for societal challenges. We engage with governments and society to advocate on important issues relating to the Paris Agreement and the Sustainable Development Goals. Here we share some examples of our collaborations with society.
Scientific research institutions
We are one of the founding partners of EIT FOOD, which is one of the six European Knowledge and Innovation Communities (KICs) of the European Institute of Innovation and Technology (EIT). The aim of EIT FOOD is to transform the food ecosystem. In 2018, together with our project partners we completed the first EIT FOOD Innovation, 'My Yogurt' – a project to tailor the health, sustainability and sensory attributes of yogurt for the millennial and 60+ generations. We also participated in the education project 'Tasty Macronutrients', looking at the use of plant-based proteins in food.
We are a founding member of the world-class nanotechnology center at MIT in Boston (Massachusetts, USA), which opened in October 2018. MIT.nano is an advanced facility open to the entire community of faculty, researchers, students and industry and will accelerate the pace of research at MIT and with its partners worldwide. We also sponsor collaborative projects to accelerate the innovation process, decreasing the time from the lab to the market.
In the Netherlands, our partnerships tend to be in the so-called golden triangle of governments, universities and knowledge institutions to jointly develop new markets and growth areas, creating jobs and economic value for the Netherlands. The successful growth of the Brightlands Chemelot Campus, which has the Province of Limburg, Maastricht University and DSM as its founding fathers, is an example of a successful partnership and a shared ambition. This has enabled the Limburg region to become a magnet for top talent from the Netherlands and abroad.
NGOs
In Brazil, we support Gastromotiva, a non-profit organization that has reached more than 3,500 at-risk young people through articulated education, professionalism and gastronomy. We supply high nutritional value foods, improving the quality of life of people through micronutrient supplementation. In addition, DSM experts contribute by sharing technical-scientific knowledge for the 'Super-Gastromotive Food League' project, which aims to improve child nutrition and prevent childhood obesity.
In Singapore, we partner with 45Rice, a social enterprise dedicated to improving lives through nutrition. With the motto "Fortifying every meal", 45Rice brings essential vitamins and minerals to a bowl of rice.
Local communities
Our DSM Nutritional Products and Food Specialties site in Xinghuo (Shanghai, China) organized with the community an open day for residents to increase transparency and trust in the site. The theme of the open day was 'creating a green life together'. This initiative was welcomed by resident's leaders, the Development Zone and the Environmental Protection Bureau.
In Brazil, we support Enactus Brazil. Enactus is a network of students, executive and academic leaders that provides a platform for college students to create community development projects that put people's skills and talents in focus.
Governments
In Europe, DSM engages with governments at several levels. This includes specific visits from Members of Parliament, as well as speaking slots at multi-stakeholder events including the European Commission (EU Circular Business Conference), EEB, HollandBIO, the European Parliament and The European Forum for Industrial Biotechnology and the Bioeconomy.
Management approach for material topics
In the following tables, we elaborate on the material topics defined in the materiality matrix (see Materiality) and describe how we manage these topics.
Society
Environment
Business Enablers
Governance
Taskforce for Climate-related Financial Disclosures (TCFD)
The Taskforce for Climate-related Financial Disclosures (TCFD) recommendations are a set of voluntary, climate-related financial disclosures for use by companies to provide information to their stakeholders. In 2017, we were among the first companies to commit to implementing, as fully as practicable, these recommendations over the following three years as outlined in the TCFD's implementation path. The recommendations are structured around four themes — Governance, Strategy, Risk Management, and Metrics and Targets.
This Report includes various disclosures relevant for the TCFD recommendations. To highlight this, for each TCFD theme reference is made to relevant sections.
Governance
IAR Disclosures
Sustainability, including climate risks & opportunities, is a direct responsibility of the Managing Board. Sustainability is an integral part of how we do business. It is a key responsibility, our company's core value, and a business growth driver. Our CFO is responsible for the implementation of the TCFD recommendations and has appointed a taskforce for this.
Sustainability Governance Framework. Defines in more detail how Sustainability, including climate-related topics, is governed within our company. Our external Sustainability Advisory Board acts as sparring partner to the Managing Board and senior executives.
Supervisory Board — Committees. The Sustainability Committee prepares the Supervisory Board's discussions on sustainability topics, including our low-carbon future, improving our climate impact, and reducing our climate risk exposure.
Strategy
IAR Disclosures
It is our strategy to grow our business by offering innovative sustainable solutions, some of which can clearly help to deal with climate risks.
Strategy 2021. Through our approach to sustainability based on Improve, Enable and Advocate we de-risk our own operations and we capture growth opportunities via our products and innovations. Products in our focus area Climate & Energy enable our customers to deliver solutions to deal with the impact of climate risks. A Risk Assessment was performed on Strategy 2021 including Climate Risks.
Planet. The sections on Climate change & renewable energy and Water security outline how we adapt to and mitigate climate change in our own operations. We apply an internal carbon price of € 50/t CO2eq in our investment proposals.
Review of business. Our portfolio of Health, Nutrition and Sustainable Living products addresses our focus domains. In Innovation, our big-ticket innovations derive from opportunities we have identified in those domains.
Future considerations
Scenario analysis. We are still defining our approach toward resilience and scenario analysis. We have joined the WBCSD Preparer Forum for the Chemical sector and scenario analysis will be one of the main items to jointly work on.
Time horizons. We have defined our time horizons, via our CDP disclosure, but these are not yet integrated, together with the accompanying issues, in our Annual Report.
Risk Management
IAR Disclosures
Risk Management. Climate risks are integrated in our normal risk management processes and also monitored as such in the Managing Board. Additional focus has been placed on climate related risks during our bottom-up 'Letter of Representation' process to sensitize the organization to long term climate risks. Climate risk is again identified in our Corporate Risk Assessment as an emerging risk with both transitional and physical aspects.
Other considerations
Risk Management. Quantification and monetization of long-term climate-related risks needs to be addressed.
Metrics and Targets
IAR Disclosures
Strategy 2021. Our Scope 1 + 2 target is based on a below 2°C scenario and is supported by a range of measures including our energy efficiency improvement and renewable electricity targets.
Planet. We disclose our Scope 1 + 2 and Scope 3 emissions, and risks and opportunities relating to them. We apply an internal carbon price of € 50/t CO2eq in our large investment proposals. We also report on avoided emissions, water, waste, and other emissions.
Remuneration policy of the Managing Board. Climate-related metrics are part of the Short-Term and Long-Term Incentives of the Managing Board.
Future considerations
Additional Metrics. We disclose additional information about DSM's footprint via CDP and the company website. These are not yet integrated into this Report. The targets and metrics will be updated as risk assessments and scenario analysis will develop further.
Philanthropy and sponsorships
We are recognized for our efforts in our sustainable growth areas of Nutrition & Health, Climate & Energy and Resources & Circularity. On top of this, we also engage in philanthropic and sponsorship activities. In 2018, we again donated funds to a range of initiatives, resulting in an on average yearly contribution of around €6 million over the next few years, which is in line with previous years. As outlined in our Code of Business Conduct, we do not make political donations. The full text of the Code can be found on the company website.
DSM Brighter Living Foundation
In 2018, DSM established and sponsored the DSM Brighter Living Foundation (full name: Stichting Royal DSM – Brighter Living). The Foundation aims to support initiatives and activities in and outside the Netherlands that promote social and ecological awareness and are aligned with our People and Planet approach. Examples of these are the development of sustainable innovative solutions or solutions that answer to societal needs and contribute to brighter lives. The Foundation operates independently of DSM, but has a strong connection to us, given the link between the aim of the Foundation and our strategy. In 2018, DSM and the Foundation started the transfer of former beneficiaries of donations and contributions from us to the Foundation. This process will be finalized in 2019.
Asia-Pacific
On International Children's Day, a group of DSM 'Rainbow Ambassadors' delivered lectures on English, science, and the Netherlands to local school students in China. We provided them with new summer school uniforms and water dispensers to address water hygiene.
In India, we contributed to the Jeewan Jyoti Women's Empowerment Institute. This Institute aims to address women's empowerment and combat malnutrition in rural Pune. Our contribution will fund eight teachers over three years to support the Institute. In addition to financial support, we are also exploring how our fortified foods could be involved in the program.
Europe
In the Netherlands, our activities focus on knowledge and education, innovation, arts and culture and sports. We are engaged in long-term partnerships, such as the Nemo Science Museum in Amsterdam; Artis Microbia (Amsterdam), the world's first museum of microbes; the Bonnefanten Museum in Maastricht; and Natuurmonumenten, a Dutch association that manages and protects natural resources in the Netherlands.
We are a proud partner of Team Sunweb, and we support the cyclists with innovations that support their performance, such as tailor-made multivitamin supplements, Fruitflow® (to support healthy blood flow), PeptoPro® (to support recovery) and bib-shorts (containing DSM Dyneema, to protect cyclists from abrasions).
Latin America
We supported a number of educational initiatives such the Young Professional Project in Mairinque (Brazil), and PALCO Project in Jaguaré (Brazil). These initiatives engage with students on education, careers and job market with local high school students. We also supported the Agrinho program, an initiative of the National Service of Rural Knowledge (SENAR), which has provided educational material and trained teachers in dozens of cities.
Local Initiatives supporting environmental awareness in Brazil included a school partnership for a vegetable garden, engaging the students in growing food that will be used in school meals, and tree planting activities with students and teachers on Earth Day.
North America
We continued to support the Union County College Foundation Close the Gap initiative to provide scholarships to help African American students complete their degrees. We also continued to work with the Global Health Corps to underwrite the cost of two Fellows to 1,000 Days to further public health equity.
The DSM NA employee relief fund also continued throughout the year to support employees who were adversely impacted by natural disasters.
Sight and Life
Sight and Life Foundation is a humanitarian nutrition think tank delivering innovative solutions to eliminate all forms of malnutrition in children and women of childbearing age and improve the lives of the world's most vulnerable populations. Through continued support of the Sight and Life Foundation, DSM delivers value in the nutrition sphere by accelerating the translation of science to innovative solutions at scale.
The Sight and Life Foundation is engaged in many initiatives, such as OBAASIMA, creating demand for nutritious food in Ghana; the recently launched Nutrition Kiosk for good nutrition in low- and middle-income countries; and the EGGciting project, making eggs available and affordable to low-income households through new poultry business models.
Creating new knowledge and thought leadership on key public health topics is an essential part of Sight and Life's work, and in December 2018 Sight and Life Foundation launched a special issue of Sight and Life Magazine on the double burden of malnutrition, which brings new voices to the discourse, including private-sector actors in the food system. For more information, please visit: www.sightandlife.org