Stakeholders
Our purpose can only be realized together with our stakeholders. Through empowering our employees, engaging with our customers and suppliers, and with the support of our investors, we combine doing well financially with doing good for society. We discuss topics that are relevant to our operations and our impact on society regularly with our stakeholders. These conversations shape how we define and execute our strategy, including risk management, materiality, and new business opportunities.
Employees
Our employees represent more than 110 nationalities, working at more than 210 sites and offices in 46 countries worldwide. We empower our employees to contribute to the success and growth of our company, and reward and celebrate their contributions. We aspire to provide an incident- and injury-free working environment for everyone, including our contractors.
For information on how we engage our employees, see People.
Customers
Our customers are key stakeholders. They drive our business and through our collaborations, we enable solutions that help solve some of the world's biggest problems.
For information on our business and customers, see Review of business. For information on how we engage with our customers, see Customers.
Investors
Capital providers play a significant role in the success and prosperity of our company. They support us in our pursuit of a long-term oriented strategy which aims to continually create value for shareholders while offering a low-risk environment for debt holders.
For more information on how we communicate with investors, see 'Investors' and elsewhere in this Report.
Suppliers
Our supply chain consists of more than 35,000 suppliers. Our suppliers are important partners for achieving our purpose, and we work closely with them through our Supplier Sustainability Program.
For more information on how we work with our suppliers, please see Suppliers.
Society
We engage with society on many levels. In addition to the engagements we have with scientific research institutions, NGOs, local communities and governments, we also engage in philanthropic events and sponsorship activities.
We collaborate with renowned universities and science institutes. These engagements include financial support, the sharing of knowledge, research and facilities, and lectures.
Our work with NGOs and similar organizations contributes to solutions for the world's societal challenges and helps us to achieve our purpose.
Engaging with the communities in which we operate is important for raising awareness about what we are doing, and how our solutions address societal needs. We engage and inform our local stakeholders through open days, news bulletins, social media and other initiatives.
Achieving the SDGs can only be done with the active participation of and cooperation with governments. We engage with governments directly as well as through coalitions and trade associations. As stated in our Code of Business Conduct, we do not make political donations.
For more information on how we engage with these stakeholders, see Society.
Materiality
In order to assess material topics that are both of interest to society and have impact on our businesses, we annually refresh our materiality analysis. In 2018, we performed a light update of our materiality matrix to reflect any changes in the relative position of various topics. A more extensive analysis will be performed in 2019 as part of our new Strategy 2021: Growth & Value - Purpose led, Performance driven.
Our refresh in 2018 consisted of a survey conducted among business and functional leaders to capture shifts in societal interest and business impact. The results were presented and discussed with the Sustainability Leadership Team. This was later fine-tuned through interviews with the Executive Committee. The matrix was compared with the Corporate Risk Assessment to make sure all relevant topics had been captured from a materiality and/or risk perspective. Finally, it was approved by the Managing Board.
Changes in 2018
A light refresh was performed in 2018. No new topics were added to the matrix, and no topics were deleted. The topic 'Emerging economies' has been renamed 'Global footprint' and 'Resource scarcity / Circular & bio-based economy' has been renamed 'Resource scarcity / Circular economy'. The relationship between 'Geopolitical tensions & inequalities' and 'Trade barriers' has been further clarified, with the former capturing the indirect impact of the latter.
For more information on Materiality, Management approach for material topics.
For more information on our position on relevant societal issues, see the company website.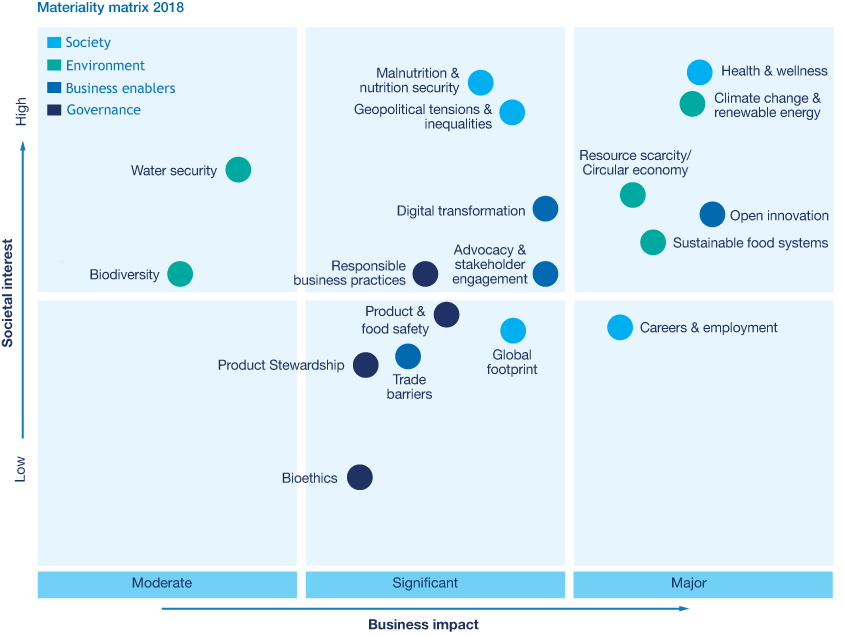 Collaborative platforms and networks
We collaborate with like-minded peers through platforms and networks that contribute to our purpose of creating brighter lives for all. These collaborations are chosen to amplify and accelerate our advocacy for a transition to more sustainable economic models on material topics that align to our focus areas of Nutrition & Health, Climate & Energy and Resources & Circularity. Collaborative platforms and networks such as these can result in progressive new measurement and performance methods, as well as roadmaps for business contributions toward the Sustainable Development Goals (SDGs). In this section, we describe some of the most significant initiatives.
World Economic Forum (WEF)
We are a strategic partner of WEF and we actively participated in their meetings throughout 2018, including the annual meeting in Davos. We continued to strengthen our presence at regional events, including in Africa, Latin America and Asia, to highlight key partnerships and initiatives concerning nutrition, circularity and climate change. We engaged in many projects and initiatives of WEF, including the Partnership to Accelerate the Circular Economy (PACE), Future of Proteins and Bio-Innovation.
In 2018, we joined the Global Future Council on the New Social Contract as part of our involvement in the Future of Education, Gender and Work, and our CEO Feike Sijbesma co-chaired the Consumer Governors and chaired the Alliance of CEO Climate Leaders. The Alliance published an open letter ahead of COP24 urging governments to be more ambitious in addressing climate change.
World Business Council for Sustainable Development (WBCSD)
We are a member of WBCSD and participate in different working groups and coalitions. We are part of the Climate Policy Working Group and our VP Sustainability sits on the WBCSD Climate & Energy Program Board. We also joined the Taskforce for Climate-related Financial Disclosures (TCFD) Preparer Forum for the chemical sector, which kicked off late in the year.
We are a founding member of Food Reform for Sustainability and Health (FReSH), a coalition between WBCSD and EAT, a foundation focused on food systems that aims to transform global food systems. We are a member of the Program Board and we co-lead a number of workstreams. In 2018, two 'Science to Solutions' events were organized between top scientists, civil society and business delegates to discuss complex scientific challenges related to the food system. A new study, 'Sustainable and Healthy Diets' on sustainable and healthy dietary guidelines and food intake in 12 countries, and the report 'Consumption Behavior and Trends' were completed and published.
We are part of the Leadership Group of the global campaign 'below50' from the Low Carbon Technology Partnerships initiative (LCTPi), a multi-stakeholder platform led by the WBCSD that presents the opportunities for large-scale development and deployment of low-carbon technologies. In 2018, the below50 policy webtool was released, a tool offering insights into local policies that increase the use of low-carbon fuels and drive greater climate ambition.
Together with over 30 leading companies across 16 sectors, we joined in a new circular economy initiative, Factor10, in 2018. Factor10 aims to reinvent the way that businesses produce, use, and dispose of the materials that make up global trade by moving away from the traditional 'take-make-dispose' economic model to one that is regenerative by design. As Co-Chair of the program, we will focus on circular metrics, as well as on developing circular blueprints for the built environment, automotive and bio-economy sectors.
We collaborated with eight other companies, the American Chemistry Council, CEFIC and WBCSD on the Chemical Sector SDG Roadmap in 2018. The roadmap, published in July, details the impact categories and action points where the chemical sector has the highest potential to make an impact on the SDGs.
Accounting for Sustainability (A4S)
Our CFO Geraldine Matchett continued her active role as Co-Chair of the A4S CFO Leadership Network. This network brings together leading CFOs to help embed the management of environmental and social issues into business processes and strategy, particularly through the finance function. Ms. Matchett is a signatory to the A4S CFO statement of support for the Taskforce for Climate-related Financial Disclosures recommendations.
In 2018, we contributed in particular to the A4S Culture project, which aims to create a shift in the culture of the finance profession in organizations that already have a strong focus on sustainability. This includes showing finance professionals why and how they can play a part in delivering sustainability initiatives by motivating, empowering and inspiring them to make the required changes. In November, the Culture project delivered the A4S Essential Guide to Finance Culture, a guide on how to integrate sustainability into the finance and decision-making process.
Carbon Pricing Leadership Coalition (CPLC) convened by the World Bank
In April, our CEO Feike Sijbesma co-chaired the High-Level Assembly of the CPLC for the third and final year. The CPLC's long-term objective is for effective carbon pricing to be applied throughout the global economy. In addition to facilitating leadership dialogues, the CPLC, together with partners, is also mobilizing business support to put an internal price on carbon.
We apply an internal carbon price of €50 per ton CO2eq when reviewing large investments. Mr. Sijbesma, who serves the World Bank Group as a Climate Leader since 2017, also assumed the role of co-chair of the High-Level Leadership Forum on Carbon Pricing and Competitiveness.
At various high-level events throughout the year, such as the Annual Meeting of the World Economic Forum in Davos, and New York Climate Week, Mr. Sijbesma shared our experience with carbon pricing. He called on other businesses to implement an internal carbon price and advocated for embedding a price on carbon in global financial systems.
Ellen MacArthur Foundation
CE100 is the Foundation's global platform that brings together companies, emerging innovators, universities and cities to accelerate the transition toward a circular economy. In 2018, together with Essity, IKEA and Tetra Pak we published a report on renewable materials for a low-carbon and circular future. This report was presented to the European Parliament at the end of the year. The report shares the authors' vision for a low-carbon and circular future, which aims to serve as input for the mandates of the upcoming European Parliament and Commission.
Circle Economy
In 2018, we continued our membership of Circle Economy, a Dutch social enterprise that emphasizes practical and scalable solutions in the transition toward a circular economy. We joined their Circle Textiles Programme (with DSM Dyneema) and their Circle Built Environment Programme (with DSM Advanced Solar). We started a trial with Circle Assessment, a digital tool that enables organizations to accelerate the practical implementation of the circular economy. Workshops and lunch sessions were organized at DSM in collaboration with Circle Economy to increase employee awareness and knowledge about the topic.
RE100
Our engagement with RE100, the world's leading campaign to scale corporate sourcing of renewable power, continued throughout 2018. We participated in the learning opportunities, conferences and advocacy opportunities offered to us in the EU, US and China. As part of our RE100 commitment, we shared our insights through webinars, presentations and other engagements including our journey with fellow RE100 members AkzoNobel, Google and Philips to jointly source power from wind energy projects in the Netherlands. For more information on renewable energy, please see Planet.
We Mean Business
We Mean Business activates hundreds of companies and investors to commit to low-carbon initiatives. Our VP Sustainability sits on the Business Advisory Board. In 2018, we continued to work together on the Carbon Pricing Corridors project led by CDP, CPLC and We Mean Business. This project aims to enable large market players to define the carbon prices needed for industry to meet the Paris Agreement. We also worked on a number of advocacy and communications activities around 'below50' and renewable energy.
Dutch Sustainable Growth Coalition (DSGC)
The DSGC is a CEO-led coalition of eight Dutch multinational corporations which aim to drive sustainable growth business models that combine economic profitability with environmental and social progress and thus contribute to the achievement of the SDGs. To accelerate this transition in the Netherlands and abroad, the Coalition wants to lead the way and pursues a strategy of Scale – Share – Shape. In 2018, the Coalition assessed new fields for collaboration such as clean shipping and the circular economy. Moreover, they engaged with future leaders by hosting a community dinner at the 2018 One Young World Summit.
Catalyst
Catalyst is a non-profit organization that promotes inclusive workplaces for women. We are a Global Supporter of Catalyst. Our CEO Feike Sijbesma continued his role on the Board of Directors and our CFO Geraldine Matchett her role on the European Advisory Board. We are also represented on the Catalyst Japan Advisory Board.
Our CTO shared with the Catalyst global community his experiences on women in the scientific workplace, with his daughter sharing her perspective on young women in science. At the Catalyst Award dinner in New York City (New York, USA), our colleagues shared their views and personal stories on what it means to be a working woman in DSM with Mr. Sijbesma and the President of DSM North America.
One Young World (OYW)
The One Young World Summit gathers 1,800 young leaders from around the world, empowering them to make lasting connections to create positive change for sustainable development. In 2018, our CEO Feike Sijbesma joined the first OYW Global Advisory Board, which aims to support and champion the growing community, and gave a keynote address. We were one of the largest business partners for the 2018 Summit in The Hague (Netherlands), sending 43 young talents representing all businesses and regions, and sponsoring five young leaders and social entrepreneurs from Africa who are working on the topic of malnutrition via our DSM Brighter Living Scholarship. On their return, our delegates will act as intrapreneurs to engage fellow colleagues on purpose-led projects.
UN World Food Programme (WFP)
In place since 2007, the DSM-WFP partnership 'Improving Nutrition, Improving Lives' aims to improve the nutritional value of the food that WFP distributes through product innovations such as fortified rice and a product aimed at people living with HIV/AIDS. Together, we make a difference to millions of people. The DSM-WFP partnership was extended for a further three years in 2018. The next phase of the partnership will put even greater emphasis on raising awareness for improved nutrition while continuing to develop new scientific and technical solutions — one of which is a major project to continue developing fortified rice, a crucial staple food in the developing world.
In 2017, WFP reached 39.4 million beneficiaries with food that had been improved by the DSM-WFP partnership. Additionally, we collaborate on training and development initiatives and on employee fundraising campaigns.
UNICEF
The DSM-UNICEF partnership has been in place since 2013. The partnership with UNICEF and Sight and Life continued through the year, supporting the Government of Nigeria in realizing its vision of scaling up the micronutrient powder (MNP) program nationally, reaching people suffering from malnutrition. In Nigeria, the partnership will build national capacity to scale up the program and will advocate for domestic resources to scale and sustain the interventions. Together, we aim to directly impact the lives of one million children in Nigeria, by providing access to MNP.
In 2018, the partnership with UNICEF and Sight and Life was extended through to 2021 and India was added as a focus country. The partners will support the UNICEF India nutrition program by seeking to engage private-sector stakeholders as part of the government of India's Social Movement on Nutrition program, from 2019 onwards. The cooperation in India will focus on raising awareness to mobilize the private sector around nutrition literacy.
World Vision International
Our partnership with World Vision and Sight and Life, titled 'Joining forces for last mile nutrition' aims to impact the well-being of people at risk of micronutrient deficiencies and influence key stakeholders. We leverage our scientific excellence, technical expertise and extensive customer base to facilitate the development and supply of innovative nutrition, formulation and fortification.
In Rwanda, the partners worked on a pilot for a more efficient supply chain for local maize production, working with farmers and other stakeholders on improving the raw material quality and access in Rwanda for Africa Improved Foods. The results of the first pilot were positive, and the next phase will focus on scale-up.
Together we initiated project EGGciting, focusing on eggs as an important nutrition source. The project will kick off in 2019, and will increase the availability, accessibility, and consumption of eggs at the household level in Sulawesi by addressing bottlenecks in the supply chain and driving demand on the consumer side to improve nutrition. Furthermore, a social business distribution model is being scoped, to further help reach this goal.
Partners in Food Solutions
Partners in Food Solutions, an independent non-profit organization, works to increase the growth and competitiveness of food companies in Africa. These aims are achieved by inspiring business leaders and linking highly skilled corporate volunteers from a consortium of leading companies, including DSM, Cargill, General Mills, Hersey, Bühler and Ardent Mills, with promising entrepreneurs and other influencers in the food ecosystem. The six corporate partners have empowered hundreds of entrepreneurs to work toward a stronger, more resilient food value chain across the African continent.
DSM has an active network of almost 50 employees using their technical, business and communications skills to work directly with small and growing food processors. Our employee volunteers are proud to engage in positive and meaningful assignments to strengthen food security and foster economic development in Africa.
Scaling Up Nutrition
The SUN Business Network (SBN) — co-hosted by the Global Alliance for Improved Nutrition and the UN World Food Programme — is the private-sector branch of the Scaling Up Nutrition (SUN) Movement. It aims to support businesses in growing the role they play in nutrition and to support SUN countries in developing national business engagement strategies. The SBN is located in 18 countries and includes more than 400 companies, mostly SMEs. Our CEO Feike Sijbesma is a member of the Lead Group of the SUN Movement and Co-Chair of the Advisory Group of the Network. Our VP of Nutrition in Emerging Markets and Public Private Partnerships is on the Operations Committee of the SBN.
Via the network, as well as the WFP partnership, we supported a number of SBN projects in Zambia, Zimbabwe and Malawi. Together with the SBN global team, we initiated and organized the first ever Nutrition Africa Investor Forum (NAIF), reframing the dialogue around nutrition and raising its profile as an impact investment opportunity. As an SBN global member, we are supporting the implementation of SBN principles notably around workforce nutrition commitments; overweight, obesity and diet-related non-communicable diseases; and the delivery of technical assistance to national SBNs and its members. We advocate for business to take a leading role on these important issues.
Africa Improved Foods
Africa Improved Foods (AIF) is a joint venture between the Government of Rwanda and a consortium of Royal DSM, the Dutch development bank (FMO), the DFID Impact Acceleration Facility managed by CDC Group plc and the International Finance Corporation (IFC), the private sector arm of the World Bank Group. AIF sources local soy and maize from over 24,000 farmers across Rwanda to locally produce nutritious fortified food products that meet the nutritional needs of vulnerable population groups such as pregnant and breast-feeding mothers, older infants, and young children. The Kigali factory also supports over 300 skilled workers with well-paid industrial jobs, providing employees with schooling and income.
In 2018, AIF celebrated its first anniversary. The facility has an annual capacity of 45,000 metric tons, which allows it to feed over two million people per year on a consistent basis, making it one of the largest food manufacturers in East Africa. AIF was recognized for its contribution to economic growth and sustainable development, winning awards such as the Rwanda Development Board's Exporter of the Year 2018 and Swiss Green Economy Symposium's UN Sustainable Development Goals Award 2018. A recent impact study conducted by the University of Chicago (Illinois, US) for IFC, concluded that the net incremental value added of AIF to the Rwandan economy between 2016-2031 amounts to USD 758 million. It is further estimated that AIF will contribute USD 85 million to Rwanda's foreign exchange position and add USD 142 million worth of value to East Africa through regional purchases over the same period.
MANDI
DSM has been further expanding MANDI (Making A Nutrition Difference to India), a socio-commercial business delivering local nutritious products that are affordable and aspirational, including fortified food and staple products, such as rice and lentils, as well as vitamin and mineral supplements. India is home to over 500 million inhabitants that are malnourished, distributed across all social-economic classes. In 2018, MANDI's strategy was reviewed. MANDI works with various partners. In 2018, a successful distribution partnership was set up with the Dharma Life Foundation.
For information about other nutrition initiatives and partnerships, such as Nutrition Improvement and Sight and Life, see Nutrition and Philanthropy and sponsorships.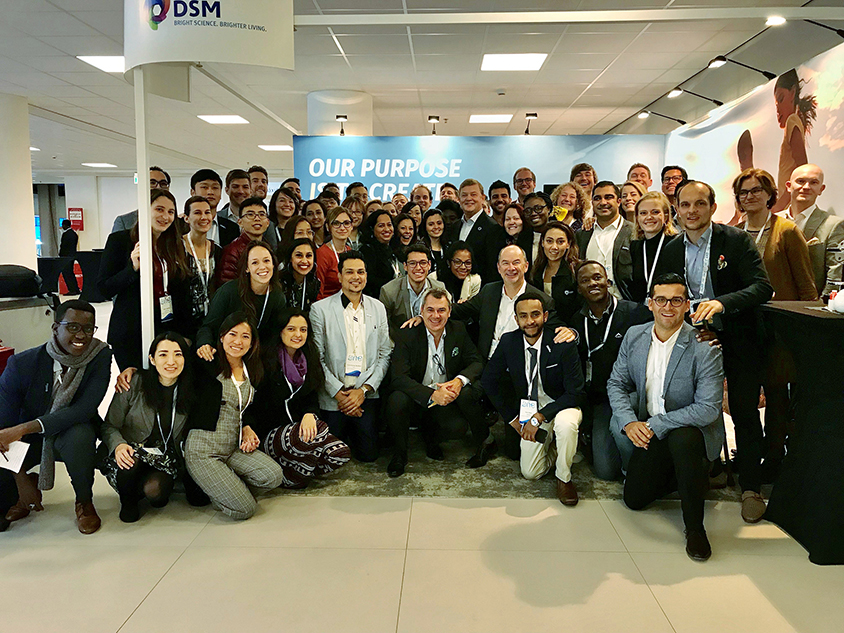 External recognitions
We are proud when our efforts are recognized by others. Below is a selection of some awards and recognitions that DSM received from NGOs and trade organizations, customers, suppliers and academia in 2018. A full list of our recognitions can be found on the company website.
In June, DSM was awarded the 2018 Best Female Leadership Companies by the Shanghai Daily in China together with other global industry leaders. Our corporate culture stood out among the contestants.
In July, DSM received the Best Stakeholder Engagement and Materiality Award at the Sustainable Business Awards 2018 ceremony in Singapore organized by Global Initiatives.
In August, Fortune Magazine revealed that for the third consecutive year, DSM again made Fortune Magazine's Change the World list, an annual recognition of companies that have a positive social impact through their core business strategy. Fortune Magazine also named DSM's CEO Feike Sijbesma as one of the "World's Greatest Leaders" earlier in the year.
In August, our DSM China President, Dr. Jiang Weiming was selected in Fast Company China's 100 Most Creative People in Business for 2018. Fast Company recognized his innovative spirit and sharp business acumen.
In September, DSM was again among the leaders in the Management Scope Corporate Impact Index. DSM scored particularly high on sustainability, and also achieved a high score on relationship with the outside world.
In October, DSM was awarded a position on Forbes' The World's Best Employers 2018 list. Earlier in the year, we were also awarded a position on their America's Best Midsize Employers 2018 list.
In October, DSM received the Responsible Business of the Year Award from Ethical Corporation who highlighted the position of sustainability at the heart of our strategy.
In October, DSM was awarded the Henri Sijthoff prize from 'Het Financieele Dagblad' (Dutch financial newspaper) for the best annual report by a company listed on the AEX stock exchange in the Netherlands.
In December, DSM was named in the '2017–2018 Most Respected Companies in China' list by The Economic Observer. The award recognizes companies that have demonstrated excellence in areas including financial performance, operations and management, innovation and corporate social responsibility. DSM was nominated for the second year in a row.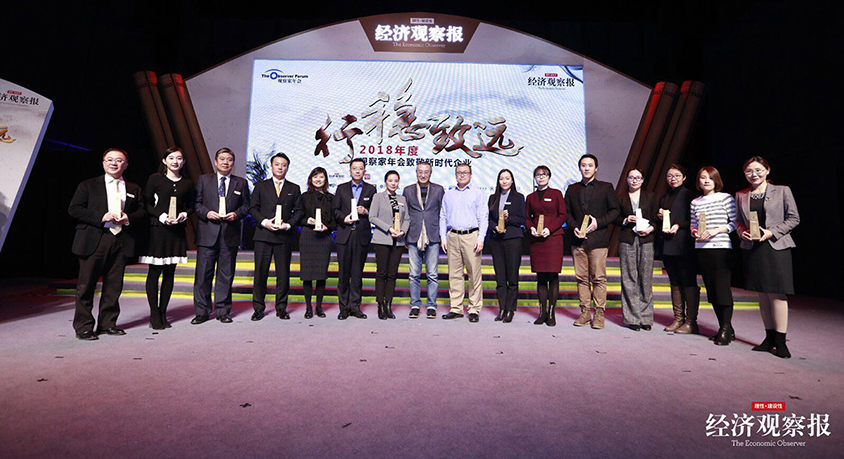 ESG Ratings and Benchmarks
At DSM, sustainability is at the heart of our business. Sustainability is our core value; we see it as a key responsibility and an important business driver. Our efforts and performance are recognized externally (see, External recognitions). We are also included in several Environmental, Social, Governance (ESG) Benchmarks and Ratings (see table below), of which in most we score as (sector) leader.
The ESG benchmark sector is experiencing rapid growth. In contrast to the financial world, where IFRS, for example, has defined a global financial reporting standard, there is no global standard for value creation and the ESG dimensions, yet. We recognize that it is impossible for companies to participate in every ESG benchmark.
We are currently prioritizing our active participation in these, and high on our list are benchmarks that are recognized, valued and used by our stakeholders, including our investors, that are transparent in their methodology, rely primarily on publicly accessible information, will not create additional administrative work, and provide participating companies with sufficient feedback to enable them to make meaningful year-on-year improvements. In that context DSM will also review its continued active participation in some indices.
In 2018 we also renewed key sustainability and environmental targets, such as greenhouse gas emissions, energy efficiency and renewable energy. These are described in detail elsewhere in this report and reported transparently also based on the Global Reporting Initiative (GRI) standards.
| | |
| --- | --- |
| | In May, DSM was assessed as an ESG (Environmental, Social, Governance) leader within the chemicals industry by Sustainalytics, ranking number 1 out of 135 companies. |
| | In April, DSM maintained an AA rating from MSCI. MSCI highlighted DSM's Corporate Governance as a strength in the company's performance. |
| | In September, DSM was once again named the leader in its industry group in the Dow Jones Sustainability World Index. The company has been recognized among the DJSI leaders for 15 years running and held the number one position in the sector eight times. |
| | In September, DSM was again confirmed as a constituent of the FTSE4Good Index. We have held a position on this list since 2004. |
| | In November, DSM was again awarded a Gold CSR Rating by EcoVadis. Our score of 75 points, up 6 points versus 2017, puts us in the top 1% of companies assessed on the platform in our industry. |
| | For our climate strategy, and water governance and strategy in 2018, DSM was assessed as A- for Climate and B- for Water by CDP. |