Co-CEO letter
Dear reader,
In our reflections for each of the past two years, we have described the challenges facing the world and expressed our admiration for how our DSM colleagues have successfully navigated such volatile and demanding times. 2022 was no different. While the COVID-19 pandemic eased in many regions, new human conflicts, extreme weather events and supply chain challenges caused a multitude of challenges to overcome, both for DSM and the global economy, once again. Within this context, our purpose has never been more relevant or valid.

This was also a year of change at DSM as we made major strides in our strategic journey. By setting in motion the divestment of all our Materials businesses and simultaneously announcing an exciting agreement to merge with Firmenich, we are putting in place the foundations of a unique company that can lead science-based progress in nutrition, beauty and well-being, and continue our purpose-led journey, creating value for all our stakeholders, including customers, employees, shareholders, and society at large.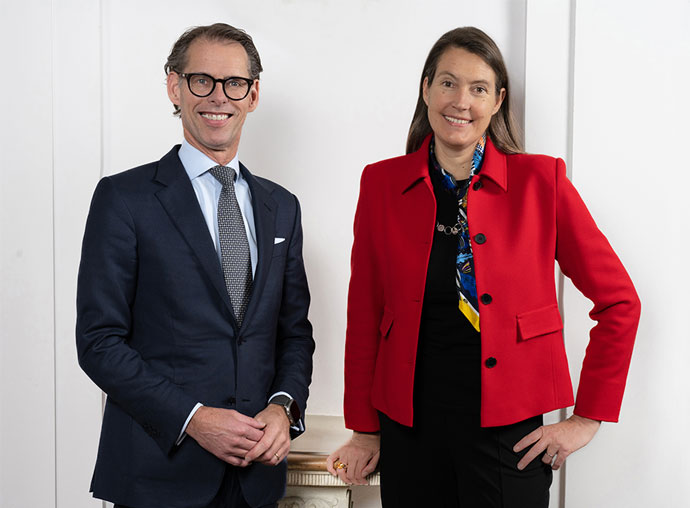 A year of challenge and opportunity
Conflicts and extreme weather events in 2022 had worldwide repercussions, with increasing raw materials costs and soaring energy and food prices impacting everyone. Unfortunately, this disruption may only be a foretaste of the challenges that global warming will continue to bring. The United Nations' Intergovernmental Panel on Climate Change released updated research during the year warning that it is now or never if humanity is to avert the worst consequences of climate change. For DSM, this only makes our determination even greater to accelerate the potential that digital technology and bioscience have in driving environmental and societal prosperity, especially at the nexus of climate, food, nutrition, and health.
With a growing global population that needs and deserves the health benefits that come from good nutrition, we see a great opportunity to meaningfully improve the sustainability and productivity of the world's food systems for the benefit of people and the planet. There is also growing recognition, heightened by concerns during the pandemic, of the importance of being proactive about our own health. This shift in individual attitudes and public health policy towards preventative actions is an opportunity to reduce the future burden of healthcare more broadly through improved nutrition.
Throughout this report we highlight just a few of our growing range of solutions. For example, we are developing enzymes that help animals digest more nutrition from their feed, helping the sustainability and efficiency of farming. In our human nutrition activities, we are scaling our capabilities to enable the formulation of tasty and nutritious beverages with the vitamins, minerals and probiotics necessary to maintain an effective immune system, countering the declining nutritional value of what we eat. And we are also creating algae-based omega-3s that provide a sustainable alternative to fish oil, reducing the pressure on our oceans. Ultimately, our strategic focus means we are well positioned to contribute to resolving the looming polycrisis, capturing the opportunities to make an even bigger difference for people and the planet.
"As we harness the latest advancements in digital technology and bioscience, we can offer realistic, scalable solutions to the significant challenges associated with feeding humanity sustainably."
Focusing on growth in Health, Nutrition & Bioscience
Having announced an acceleration in executing our strategy in late 2021, we began 2022 with a new simplified operating structure, and were already well underway in a review of our two remaining Materials businesses, DSM Engineering Materials and DSM Protective Materials. That review ultimately concluded with us finding new owners for both and in deals that realized the considerable value that had been created over the decades. We are thankful to everyone who contributed to the success of these businesses and wish everyone working in them today every success as they continue their development under new ownership.
For our Health, Nutrition & Bioscience activities, we established three distinct yet complementary market-focused businesses – Animal Health & Nutrition, Health, Nutrition & Care, and Food & Beverage – each with clear opportunities to benefit the health of people and the planet. This structure better enables us to leverage DSM's strong scientific competences, the quality of our worldwide manufacturing operations, and our growing range of nutrition and health solutions. As we harness the latest advancements in digital technology and bioscience, we can offer realistic, scalable solutions to the significant challenges associated with feeding humanity sustainably. And by creating new value propositions and innovation opportunities for our customers, such as through the rapidly emerging area of precision & personalization, we can drive further long-term growth.
Performance-driven results
Against the backdrop of considerable global volatility, we delivered a solid financial performance that consolidated the rapid sales growth of recent years, highlighting the resilience of underlying consumer demand for our essential products and services. Rising energy and raw material costs weighed on profit margins, particularly in the second half of the year, owing to the time gap between the rate of inflation and the implementation of our multiple price actions. Underlying end-consumer demand however remained resilient across our markets.
Each of our Health, Nutrition & Bioscience businesses delivered good organic sales growth, reflecting their quality. Total group sales, for our continuing operations, were up 15% and Adjusted EBITDA was up 1%. Ultimately, we realized an Adjusted Net Operating Free Cash Flow from continuing operations of €310 million. Given the positive structural long-term drivers of our business, underpinned by our strong innovation pipeline, we remain confident in the mid-term financial targets for DSM.
Purpose-led progress
Within the context of such challenge, our people continued to demonstrate great resilience. Overall employee engagement remained at an all-time high of 77% and many associated indicators in our Employee Engagement Survey showed sustained improvement. Safety continues to be core to our purpose so we were disappointed to see the frequency of recordable Injuries return to pre-pandemic levels as COVID-19 restrictions in most countries eased. We will be scrutinizing every aspect of workplace safety in 2023 as our aim remains to make DSM fully incident- and injury-free. Looking at Diversity, Equity & Inclusion, the representation of women at executive level improved again (26%, up from 23%), helping us better reflect our global customer base and their end-consumers. Our Employee Resource Groups, which support a broader agenda including generational diversity, visible and non-visible disabilities, and LGBTQ+ inclusion, are now well established and having an important impact.
For the planet, we routinely evaluate what DSM can do to go further and faster toward net-zero, building a resilient business with a minimal environmental footprint. It remains possible to limit global warming to 1.5°C but this requires all organizations to align with the latest climate science. Consequently, we accelerated our target for cutting greenhouse gas emissions associated with our own operations for the second successive year. Our new target of a 59% reduction from 2016 levels by 2030 was also independently validated by the Science Based Targets initiative as aligned with limiting global warming to 1.5°C. We are able to go further faster thanks to our rapid action in recent years, such as switching to renewable sources of purchased electricity whereby we exceeded our target eight years early. We now aim for 100% worldwide by 2030. These efforts have again been acknowledged by CDP, considered the gold standard for evaluating corporate environmental disclosure, which awarded both our climate change strategy and water stewardship A ratings, making us one of only a handful of companies in our sector worldwide to achieve such high recognition.
Going beyond our own footprint, we continue to steer the development of our portfolio toward solutions that help our customers to have a better environmental and/or societal impact. In the first full year since setting clear Food System Commitments, targeting the areas where we feel we can make the greatest contribution to improving how the world produces and consumes food, we have our initial results. These quantify the considerable positive impact we are having on the health of millions of people, on healthy livelihoods, and on health of the planet, already although we have a long way to go to reach our ambitious aspirations for 2030.
"As stewards of this great company, we were honored to be able to propose the next exciting phase of DSM's evolution."






The creation of DSM-Firmenich
As stewards of this great company, we were honored to be able to propose the next momentous step in DSM's evolution – a transformational merger with Firmenich that will create the leading creation and innovation company in nutrition, beauty and well-being. The transaction subsequently received overwhelming support from DSM shareholders – 99.86% – at an aptly named Extraordinary General Meeting. Like DSM, Firmenich enjoys a tremendous heritage of scientific discovery and purpose-led business. By uniting our complementary capabilities to bring about one of the largest creation communities in the industry, we intend to unlock new opportunities that benefit our customers as well as the world. In turn, this will position us to deliver enhanced growth and further shareholder value. DSM has a long track record of successful transformation, and the opportunity to bring together so many passionate people with a common commitment to improve the health of people and the planet is compelling as we seek to deliver value for all stakeholders.
Thank you
As we prepare for an exciting new phase for DSM and the opportunities that the merger will bring, we would like to thank our employees for what they achieved in difficult circumstances in 2022. This has been another incredibly challenging year, but the future is bright.
A special note of appreciation goes to Helen Mets, who successfully led our Materials businesses in recent years and stepped aside after concluding the agreements to divest them. Our thanks go likewise to our Executive Committee colleagues Cristina Monteiro (People & Organization), Trish Malarkey (Science & Innovation), and Luca Rosetto (Operations), who will leave once the merger is completed in 2023. All four have been invaluable members of our leadership team over the years and their guidance and support has helped make the merger possible. We wish them all the very best for the future.
Finally, we thank our customers, suppliers, and shareholders for their continued trust. We look forward with continued optimism and confidence, ready to seize the opportunities ahead.
Stay safe and stay healthy!
Geraldine Matchett and Dimitri de Vreeze
Co-CEOs DSM
Adjusted net operating free cash flow
Biosciences
Biosciences are any of the sciences that deal with living organisms.
CDP
Carbon Disclosure Project
EBITDA
Earnings Before Interest, Taxes, Depreciation and Amortization
Greenhouse gas emissions (GHG)
DSM applies the Greenhouse Gas Protocol, which
defines GHG
as "atmospheric gases that absorb and emit radiation within the thermal infrared range and that contribute to the greenhouse effect and global climate change." We report GHGs based on their global warming potential over 100 years in carbon dioxide equivalent (CO
2
eq).
LGBTQ+
Lesbian, Gay, Bisexual, Transgender, Intersex and Queer
Organic sales growth
Organic sales growth is the total impact of volume and price/mix. Impact of acquisitions and divestments as well as currency impact are excluded.