Governance framework
Organizational & operating model
Our business groups are the main building-blocks of the company's organization. They have integral long-term and short-term responsibility for business and have at their disposal all functions that are crucial to their business success. As the company's primary organizational and entrepreneurial building-blocks, our business groups focus on four primary business functions: Innovation and R&D, Direct Sourcing, Manufacturing & Operations, and Marketing & Sales. Intra-company product supplies are contracted by the business groups on an arm's-length basis.
The business groups are organized into clusters, thus ensuring coherence of operations and the leveraging of resources within each cluster. The clusters are the main organizational entities for external strategic and financial reporting. This structure ensures flexibility, efficiency and speed of response to market changes. In order to ensure sufficient independence regarding financial management, the CFO has no business groups reporting to her.
Our business groups receive services from global support functions and functional excellence departments and are supported by the regional organizations. This set-up enables us to create a global, high-performing organization focused on meeting its targets and achieving its ambitions. The support functions and functional excellence departments are paid for their services by the users — the business groups and, to a lesser extent, other DSM units. Corporate departments are paid from a corporate budget.
Support functions provide those services that can be delivered more efficiently (in terms of total cost of ownership) by leveraging them across the company, thus capturing scale benefits and delivering higher quality at lower cost, rather than having them arranged in each business group separately.
Within support functions, centers of expertise provide specialist support, while shared service centers provide standard transactional support. Business partnering is the concept that acts as the interface between the business groups and the support functions. Business partners consequently have a second reporting line in the business. In order to ensure that the functional policies sufficiently reflect regional requirements, the support functions work closely with the regional organizations and integrate their advice.
Each support function reports to a Managing Board member. There are support functions in the areas of Finance, People & Organization, Legal, Indirect Sourcing, Communications and ICT.
Corporate functions (small, high-level groups) supporting the Managing Board and Executive Committee are also seen as support functions. The corporate departments are: Corporate Strategy & Acquisitions, Corporate Operational Audit, Group Risk Management, Corporate Sustainability, Corporate Investor Relations and Corporate Affairs.
Functional excellence departments are mandated by the Managing Board to help the businesses achieve excellence in their respective fields. They cover the areas of Operations & Responsible Care, Marketing & Sales and Science & Technology. Functional excellence departments support our businesses in improving their performance. They also provide guidance in setting aspiration levels and targets.
Governance framework
The following figure depicts our company's overall governance framework and the most important governance elements and regulations at each level.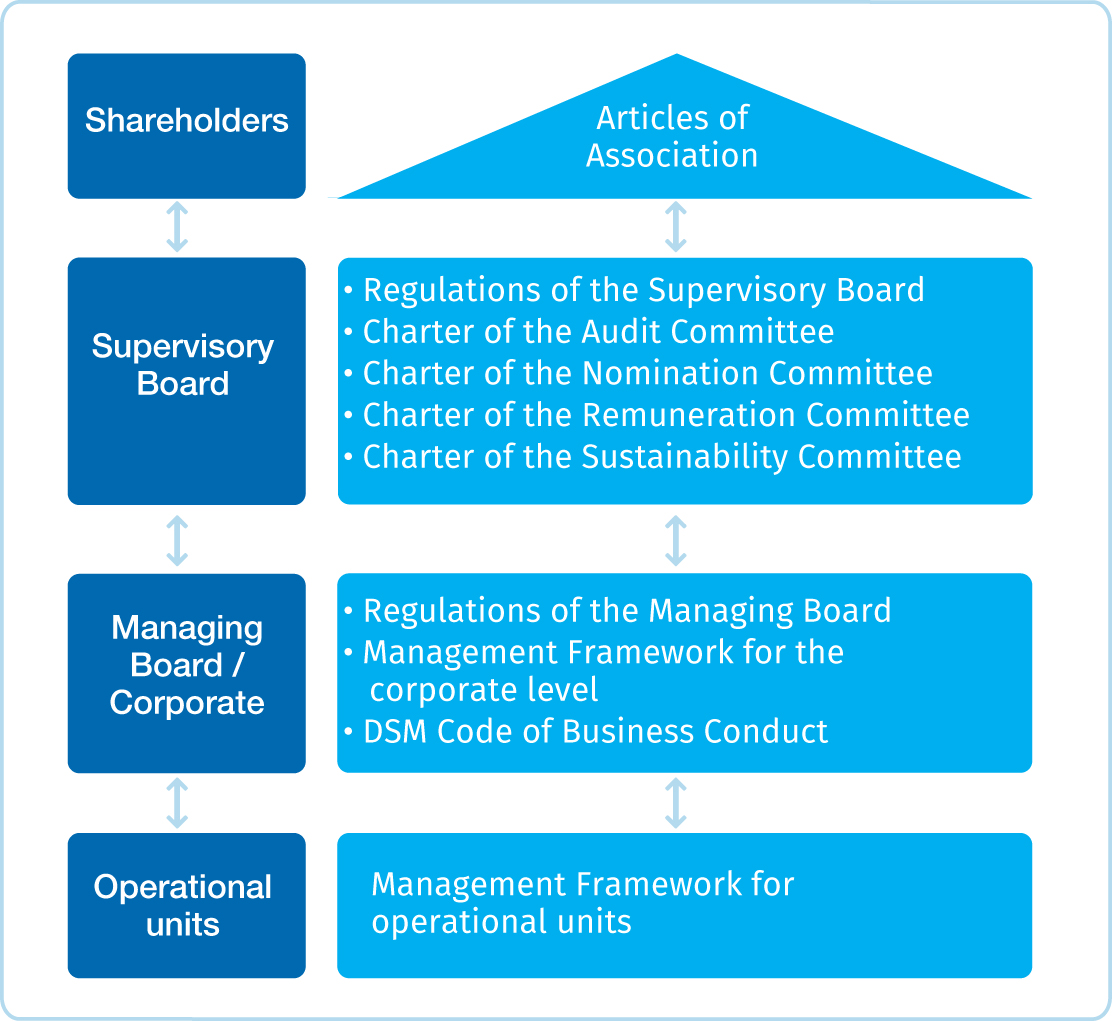 For the sake of clarity, a short summary of the main aspects of the framework at Managing Board / corporate level and operational level is given here. The Managing Board and Executive Committee adhere to the Regulations of the Managing Board. The Managing Board and Executive Committee work according to the Management Framework for the corporate level. This implies, among other things, that they adhere to the DSM Code of Business Conduct and applicable corporate policies and requirements. The Management Framework for the corporate level further provides a description of the most important (decision-making) processes, responsibilities and 'rules of the game' at Managing Board, Executive Committee, functional and regional levels, and includes governance relations with the immediately superior levels (Supervisory Board and shareholders) and the operational units.
The company's strategic direction and objectives are set by means of a Corporate Strategy Dialogue. In June 2018, DSM presented its updated Strategy 2021: Growth & Value - Purpose led, Performance driven, which is described in more detail on page 'Strategy 2021'.
The operational units conduct their business within the parameters of the Management Framework for operational units. This implies, among other things, that they:
Comply with the DSM Code of Business Conduct, Corporate Requirements and Directives

Establish the strategy, objectives and operational targets of their business according to the Business Strategy Dialogue, in alignment with the Corporate Strategy Dialogue, in which various scenarios and related risk profiles are investigated, and report on the achievement of these

Implement risk management actions according to an Annual Risk Management Plan and in line with corporate policies

Execute company-wide standards for support functions (systems, processes, vendors, etc.)

Implement annual functional improvement plans, monitor the effectiveness of the risk management and internal control system by means of process risk assessments and internal audits, and regularly discuss the findings with the Executive Committee member responsible
Independent audits for all operational units are conducted by the Corporate Operational Audit (COA) department. The Director of COA reports to the CFO and has access to the Chairman of the Managing Board, the external auditor and the Audit Committee of the Supervisory Board. Furthermore, the Director of COA acts as the compliance officer regarding inside information and is also the secretary of the Disclosure Committee, as well as being chair of the DSM Alert Committee, which is responsible for our whistleblower policy, systems and processes.
Chaired by the CFO, the Disclosure Committee ensures the timely and accurate disclosure of share-price-sensitive information related to the company and is responsible for the implementation of company rules on the holding and execution of transactions in the company's financial instruments, among other things.
A third committee at corporate level is the Fraud Committee, which was installed to ensure structural follow-up of fraud cases with the aim of reducing fraud exposure. Relevant corporate functions participate in the Fraud Committee, which is chaired by the CFO.
Sustainability Governance Framework
Managing Board
Sustainability falls under the responsibility of the Managing Board. While CEO/Chairman of the Managing Board Feike Sijbesma is the primary point of contact, other members also chair sustainability topics and initiatives. In addition, the specific actions in our climate action agenda are owned by members of the Managing Board and Executive Committee.
In 2019, Mr. Sijbesma oversaw sustainability as a key responsibility and company value as well as a driver of business growth. He also oversaw our engagement with organizations including the United Nations and the World Bank, our strategic partnership with the World Economic Forum, and our nutrition-related initiatives, including the WFP partnership. Within the climate action agenda, he was responsible for our product portfolio impact measurement upgrade and climate advocacy efforts, and for upgrading our emissions reduction targets together with Dimitri de Vreeze.
Our CFO, Geraldine Matchett, integrated sustainability into financial decision-making and represented DSM in the Accounting for Sustainability (A4S) CFO Leadership Network. She also oversaw our efforts and commitment toward the Taskforce for Climate-related Financial Disclosures (TCFD) recommendations, and chaired the Inclusion & Diversity Council. Within the climate action agenda, she was responsible for integrating climate risks into our risk management process, TCFD, carbon pricing and developing our engagement with climate-focused investors.
Mr. de Vreeze was responsible for Safety, Health and Environment (SHE) and also oversaw our Sustainable Procurement Program and the sourcing of electricity from renewable sources in his responsibility for the Sourcing function. Within the climate action agenda, he was responsible for upgrading our emissions reduction targets in line with a 1.5°C ambition together with Mr. Sijbesma.
Supervisory Board
Our Supervisory Board has its own Sustainability Committee to oversee progress against targets and to report on the embedding of sustainability across the organization. For more details, see 'Supervisory Board Report'.
External Sustainability Advisory Board
Comprising a diverse international group of thought leaders, DSM's Sustainability Advisory Board acts as a sparring partner for the Managing Board and senior executives, to help sharpen their focus on strategic issues, deepen their understanding of external stakeholder needs, conduct advocacy and handle dilemmas. This board met once in 2019 together with the Managing Board and a number of senior executives. Subjects addressed included business updates, climate change and market disruption, carbon avoidance or capture, and Purpose-led Innovation. The board also participated as table hosts during our multi-stakeholder event 'It's no longer business as usual', held at the New York Public Library (New York, USA) exploring the role of business in society, adjacent to the UN General Assembly and the Climate Action Summit. There were no changes to the composition of this board in 2019. The board maintains a good balance of knowledge across our three focus domains and a diverse composition in terms of gender and nationality.
Sustainability Advisory Board
| | |
| --- | --- |
| | |
|   |   |
| | Co-founder and former CEO of Zipcar, co-founder of Veniam and the New Urban Mobility Alliance, board member of the World Resources Institute, and Tucows, and serves as an informal advisor to many cities, national governments, and transport agencies on the transition to shared automated vehicles. Nationality: American. |
| | Distinguished Fellow with The Chicago Council on Global Affairs, visiting scholar at Stanford University and Trustee on the UK based Power of Nutrition Board of Directors. She served as the twelfth Executive Director of the United Nations World Food Programme from 2012 to 2017. Nationality: American. |
| | Social entrepreneur, author and corporate strategy advisor. Fellow at the University of Cambridge Institute for Sustainability Leadership (UK). Author of The Great Disruption (Bloomsbury, London, 2011). Executive director of Greenpeace International during the 1990s. Nationality: Australian. |
| | Senior Strategic Adviser to the President of Rwanda since May 2018. Partner at SYSTEMIQ since 2017. Special representative for climate change of the UK government from 2013 to 2017. From 2008 to 2012, served as the founding director of the Smith School of Enterprise and the Environment at the University of Oxford (UK). Chief Scientific Advisor to the UK government 2000–2007. Nationality: British. |
| | Social entrepreneur and Founder of LEAP Africa and co-founder of AACE Food Processing & Distribution Ltd. (AACE Foods), an indigenous agro-processing company in Nigeria. She is also the managing partner of Sahel Consulting Agriculture & Nutrition, which works across Africa, transforming the nutrition and agriculture landscapes, via innovative ecosystem solutions. Nationality: Nigerian. |
| | Director of the Institute for Public Policy at Hong Kong University of Science and Technology, and Cheung Kong Professor of Environmental Policy at Tsinghua University in Beijing (China). Before joining Tsinghua, he taught at Beijing Normal University, and the University of California at Berkeley (California, USA). Nationality: American. |
Global network
At a corporate level, sustainability is steered by our Sustainability Leadership Team, a group of senior executives representing the business groups and contributing corporate functions, which is chaired by the Vice President Sustainability. He leads the Corporate Sustainability department and reports directly to Mr. Sijbesma. The Corporate Sustainability staff function as a business-oriented center of excellence and partner on sustainability, internally and externally.
The Sustainability Leadership Team meets quarterly to monitor the progress of sustainability across the company, with particular emphasis on steering our business and innovation portfolio in relation to key drivers. Regional operational sustainability networks are in place in China, India, Latin America and North America.
DSM Operations & Responsible Care has responsibility for all corporate issues related to SHE. The Senior Vice President DSM Operations & Responsible Care reports directly to the Managing Board. SHE managers provide support at business group level. Our SHE Council, which includes all business group SHE managers, is instrumental in sharing experiences and developing best practices and communications on SHE issues.
Ms. Matchett has appointed a finance executive to lead a taskforce addressing the recommendations of the Taskforce on Climate-related Financial Disclosures (TCFD). The taskforce, comprising representatives from finance, risk management, sustainability, and investor relations, works with functions such as strategy, operations and procurement, to define what is needed to meet our TCFD commitments. This Taskforce convened in 2019 to define our approach to scenario analysis. It considered distinct approaches for physical and transition risks, as well as how we can further integrate climate-related risks into the risk management process. For more information, see 'Sustainability statements — TCFD'.