Purpose
For more than a decade, we have distinguished ourselves by embracing sustainability and providing value for all our stakeholders across the three dimensions of People, Planet and Profit. We have taken a decisive next step as a purpose-led company, contributing to a brighter world for all with our science-based solutions. Our purpose is therefore fully anchored in our Strategy 2021: Growth & Value - Purpose led, Performance driven.
"
We cannot be successful, nor can we call ourselves successful, in a society that fails.

"

 

Feike Sijbesma, CEO/Chairman Managing Board
Our purpose is to create brighter lives for all
Businesses need to generate profitable growth while at the same time playing a positive role in the world.
We use our bright science to create solutions for people today and generations to come. We use our scientific competences to deliver transformation at scale for as many people as possible, within the constraints of the world's resources. We aim to redefine how we live and work in order to create a fairer, more prosperous and more sustainable society.
We aspire to be a company for all, creating value for all our stakeholders — customers, employees, shareholders and society at large — and building a stronger legacy and a brighter future for generations to come.
Acting on our purpose
We make change happen in three ways:
Improve: we optimize our own operational impact by continually raising safety standards, promoting health and well-being in our own workforce, reducing our emissions, increasing our use of renewable energy and unlocking more value from the limited resources

Enable: we create products and services that enable our customers and partners to deliver sustainable and healthy solutions for the planet and society

Advocate: we advocate for the future we believe in and we fully accept our responsibilities as a corporate member of society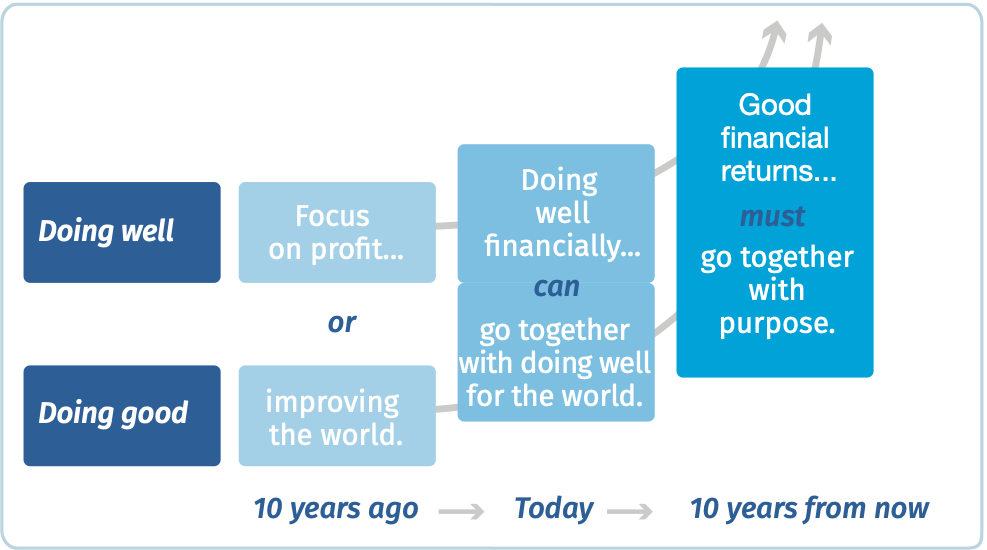 We recognize the growing scale of companies in the global economy, and the increasing impact they are having on our world. With increased impact comes increased responsibility. The private sector as a whole needs to deliver value for all stakeholders — not just employees, customers and shareholders, but the world's communities and the individuals who live in them. We therefore take an integrated approach to our responsibilities. Our Brighter Living Agenda brings together many purpose-led initiatives and creates an actionable framework for further engagement with our stakeholders.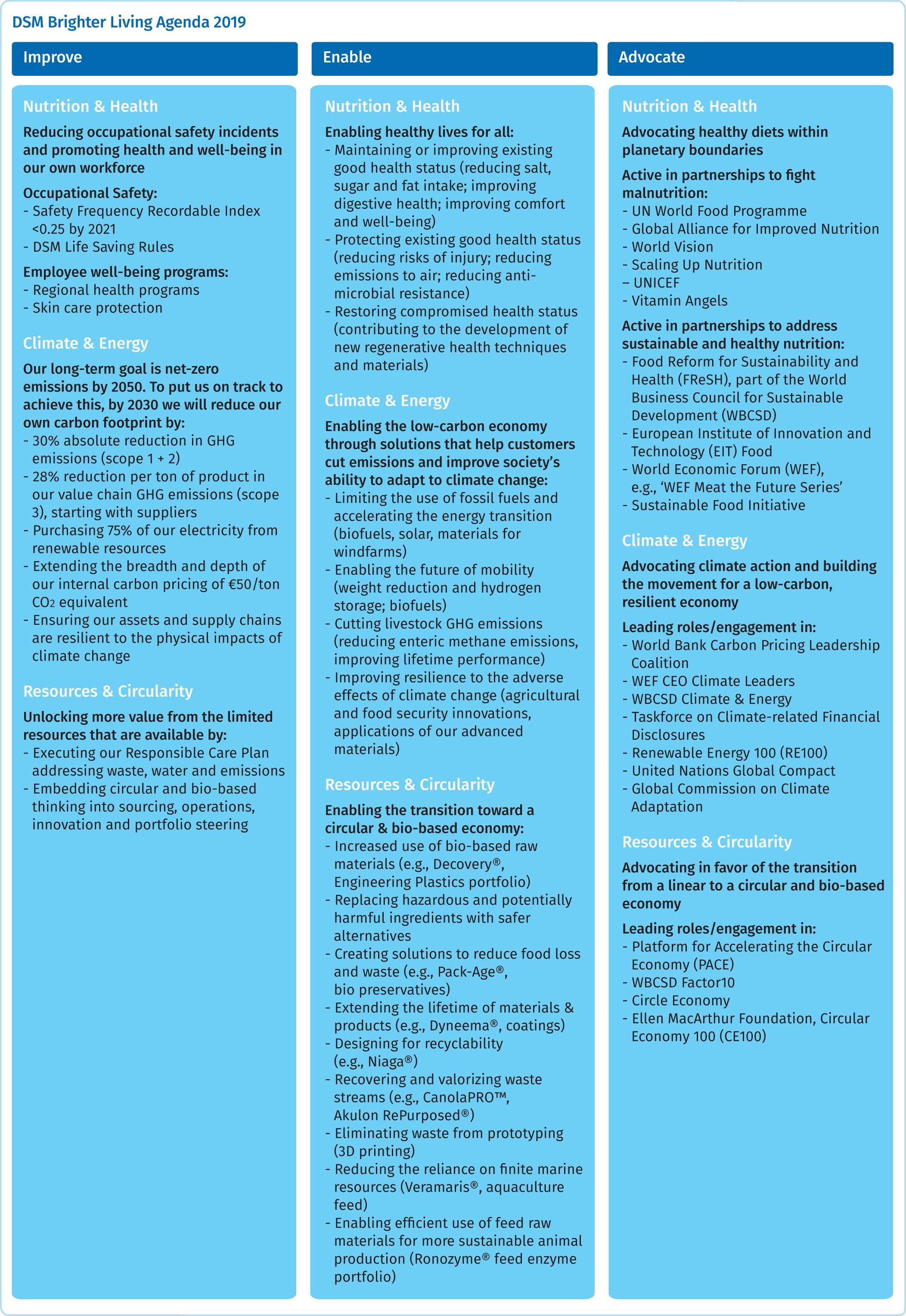 Progress in 2019
We implemented a range of initiatives designed to embed our purpose throughout the company during the course of 2019.
These included translating the DSM Brighter Living Agenda into versions for our business groups and functions so as to create clear ownership and focus. In our businesses, we also focused on connecting customer needs with our purpose and sustainability ambitions, thereby creating a pull for purpose-led business. An example is our cooperation with FrieslandCampina. "DSM and FrieslandCampina both have a purpose-driven strategy in which various aspects of sustainability like nutrition and environmental impact are key. By working together in these areas, we can build on each other's expertise and increase impact. One of the areas of cooperation is the reduction of the carbon footprint at the farm. With DSM's knowledge of animal nutrition and health and our knowledge of milk and farming, we explore together the effect of feed additives on reducing methane emissions. Together we can make a difference and build a leading position with sustainability," said Margrethe Jonkman, Global Director Research & Development FrieslandCampina.
We set additional circularity-related targets at business-group level in Materials in order to boost our transformation into a purpose-led business throughout the entire product life cycle. For more information, see 'Materials'.
Through key corporate functions such as People & Organization, Finance, Operations and Innovation, we are creating a culture in which purpose and performance go hand in hand, while making all employees feel they can contribute to our global agenda. We established a purpose-led innovation program that defines the innovation platforms that will deliver growth in our three focus domains going forward.
We created local ownership to help transform markets worldwide by connecting regional business dynamics and sustainability challenges to our global strategy. We also worked on a combination of global and regional initiatives to create a workplace that reflects our purpose-led approach. For more information, see 'People'.
In addition to these efforts, we hosted a number of multi-stakeholder events, including at the World Economic Forum in Davos, Switzerland, in January. In September, we gathered leaders from the private and public sector as well as civil society in New York City (New York, USA) to discuss the role of business in society and identify initiatives that have transformational potential.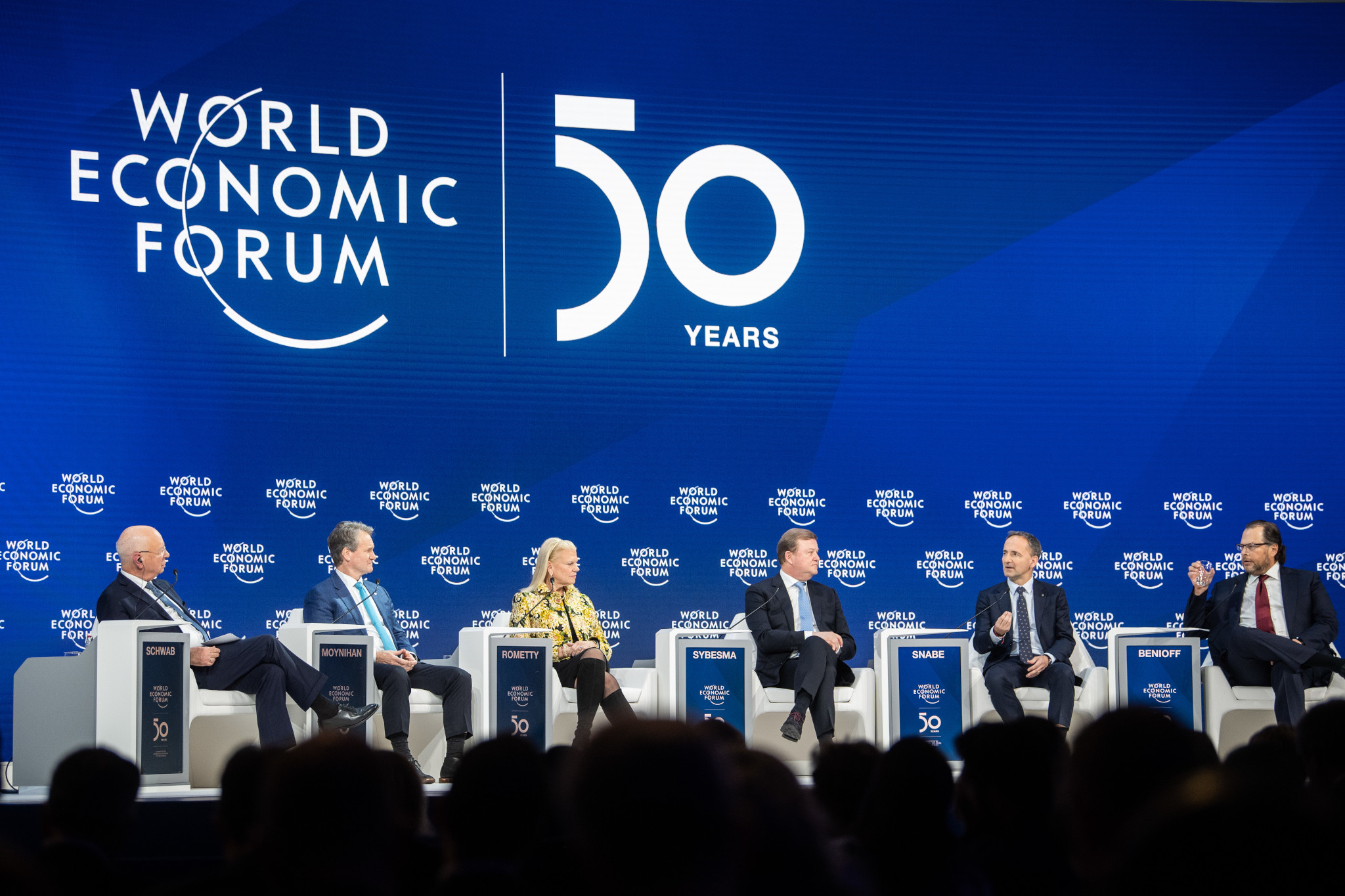 DSM CEO Feike Sijbesma at a key panel of the World Economic Forum in January 2020.