Materials
| | | |
| --- | --- | --- |
| | | |
|   |   |   |
| |   |   |
| | | |
| | | |
| DSM Resins & Functional Materials | | |
|   |   |   |
| | | |
|   |   |   |
| Organic sales growth (in %) | | |
| | | |
| Adjusted operating profit | | |
| | | |
| Capital employed at 31 December | | |
| | | |
| Adjusted EBITDA margin (in %) | | |
| | | |
|   |   |   |
| Workforce at 31 December (headcount) | | |
Business
Our Materials cluster comprises DSM Engineering Plastics, DSM Dyneema and DSM Resins & Functional Materials. We are a global player in specialty plastics for the electrical components and electronics, automotive, flexible food packaging and consumer goods industries. Our portfolio also includes Dyneema®, the world's strongest fiber™, for protective solutions and commercial marine applications, as well as resins for use in paints, industrial applications and optical fiber coatings, Niaga® technology for circular design, and advanced materials for additive manufacturing/3D printing applications.
Materials cluster performance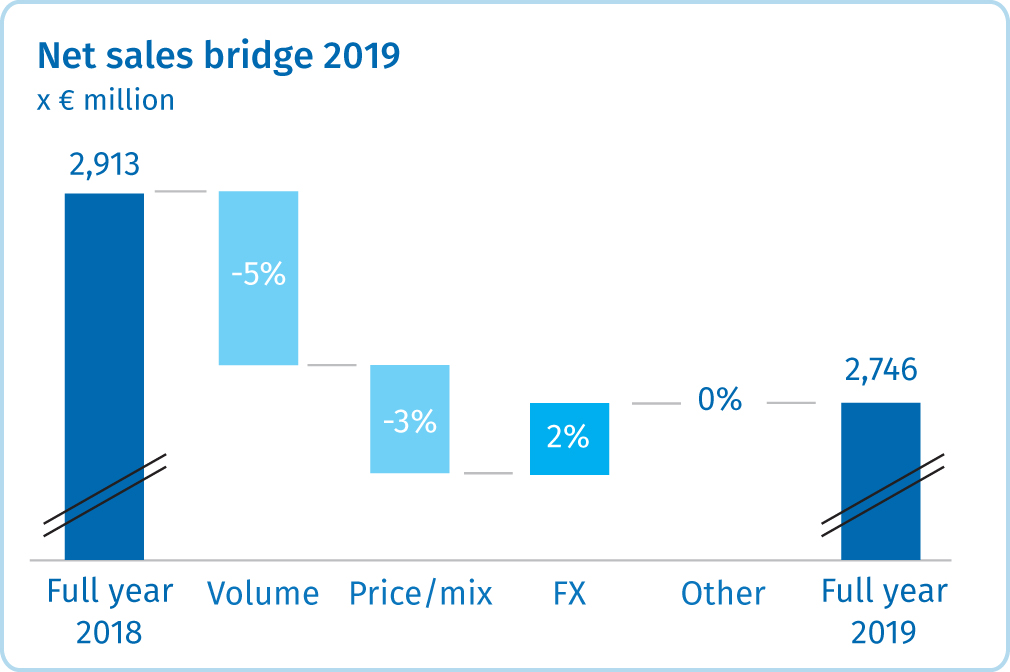 In 2019, Materials continued its ongoing transformation into a high-growth, higher-margin specialty business, focused on Improved Health & Living, Green Products & Applications and New Mobility & Connectivity. DSM Engineering Plastics expanded its production capacity for specialty plastics in India through the acquisition of the Engineering Plastics business of SRF (India), while DSM Dyneema opened new production lines in the Netherlands and in the US to support further growth.
While building a strong platform for its long-term growth ambitions, in the short-term Materials was confronted with weak macroeconomic conditions in China and in some of its end-markets. Materials reported €2,746 million sales in 2019, with organic growth down by 8%, driven by lower volumes (-5%) and prices down by 3% (fully reflecting lower input costs).
Due to the strong performance of the higher-margin businesses (especially DSM Dyneema), good margin management, cost control and some benefit from exchange rate effects, Materials reported almost flat earnings in 2019, demonstrating the strong resilience of our specialty portfolio in weak economic conditions. Total Adjusted EBITDA was €509 million, 1% lower compared to the previous year and including 1% from IFRS 16. The Adjusted EBITDA margin was 18.5% (including 0.2% from IFRS 16) compared to 17.6% achieved in the previous year.
"
We are playing a key role in enabling the transition toward a bio-based and circular economy by delivering commercially attractive bio- and recycled-based alternatives.

"

 

Dimitri de Vreeze, Co-CEO
Trends
Advanced materials with ever-higher performance levels are required across a wide range of applications and industries today. Our Materials cluster serves these global markets, delivering innovative and sustainable solutions that serve society's rapidly changing needs.
The world's urgent requirement for sustainable transportation systems calls for higher-performing materials that enable autonomous, lightweight and more energy-efficient automotive design.
Advanced materials also have a key role to play in the generation and storage of renewable energy, 3D printing, sustainable packaging solutions, and advanced healthcare applications.
Consumers are increasingly seeking 'smart' connected and customized products and services that call for high-performance materials. Meanwhile, advances in medical technology are creating new performance requirements for materials to be used both inside and outside of the body.
Across the globe, circular economy concepts such as recycling and the use of bio-based materials are gaining traction. Consumer sentiment and regulatory pressure are combining to stimulate the development of materials that can facilitate the creation of a genuinely circular economy — materials that are bio-based, recycled-based, reusable and recyclable.
Additionally, people everywhere are increasingly aware of the importance of safety, including safe manufacturing and product safety. DSM Engineering Plastics and DSM Resins & Functional Materials offer solutions that eliminate or reduce the use of hazardous substances in plastics and paints, while DSM Dyneema is used in protective apparel for sports, outdoor recreation, law enforcement, and the first-responder sector.
Sustainability & Innovation
Our innovation projects deliver sustainable solutions for a more circular and bio-based economy. Technology from DSM-NIAGA, which enables the production of fully recyclable carpets, mattresses and furniture components, is an excellent example of this philosophy. For more information on Niaga®, see 'DSM Resins & Functional Materials'.
In 2019, all our materials businesses initiated additional circularity ambitions and programs to reduce the environmental impact of their operations and to increase the sustainability value they deliver.
At DSM Resins & Functional Materials, we announced for example that we will have zero waste to landfill by 2022 and we have committed that by 2030, at least 30% of our raw materials will be bio-based and/or recycled-based.
At DSM Engineering Plastics, we will offer a full portfolio of alternatives that contain at least 25% recycled and/or bio-based content by 2030. As an immediate step, we launched bio-based grades of our Stanyl® and Arnitel® portfolio in October 2019.
At DSM Dyneema, we committed to sourcing at least 60% of our raw materials from bio-based feedstocks by 2030 and created a circular-economy consortium with a remit to establish an end-of-life recycling program.
At the same time, demand for renewable energy technologies such as solar, wind and water is driving the development of higher-performance materials. Several renewable energy technologies, including those for tidal and wind energy, contain Dyneema® as a key enabler.
At DSM Additive Manufacturing, we launched a strong sustainability strategy focused on delivering bio-based products (such as Arnitel®) and recyclable products, such as PBT (polybutylene terephthalate — a thermoplastic engineering polymer that is used, for instance, as an insulator in the electrical and electronics industries).
Our cross-company DSM Materials Science Center helped expand our innovation capabilities in 2019, working ever more closely both with the running businesses of our Materials cluster and with our Emerging Business Areas (EBAs) Biomedical and Advanced Solar, which form part of the 'DSM Innovation Center'.
Strategy
We continue to future-proof our Materials business by centering it on the delivery of Sustainable Living and further strengthening our key focus domains of Climate & Energy and Resources & Circularity.
This will further develop our Materials cluster into a high-growth, higher-margin specialty business that delivers above-market organic growth in the fields of Improved Health & Living, Green Products & Applications, and New Mobility & Connectivity.
In Improved Health & Living, we are focusing on the growing demand for advanced healthcare applications. In addition, we offer solutions that enhance end-user safety and health conditions.
In Green Products & Applications, we are providing solutions that enable customers to cut emissions by using materials that are lighter, stronger, more efficient and more sustainable. We are also increasingly focusing on bio-based, recycled-based, and fully recyclable solutions.
In New Mobility & Connectivity, we are targeting materials that support the transition from fossil fuel to electric automotive power and hydrogen-fueled cars. We are also addressing the growing need for increased connectivity between products, devices and applications.
Across our businesses, we further intensified our focus on customer-centricity in 2019, implementing several programs designed to deliver a positive experience for our customers. These include the multi-year integrated program within DSM Engineering Plastics that launched customer-focused scorecards in 2019 that give insight into our Net Promoter Score, see 'Sustainability Statements — Customers', and an initiative to help employees use customer feedback to improve their work.
Partnerships
We have many partnerships and coalitions that support and accelerate innovation within Materials. An example of our customer-centric cross-sector collaboration and innovation was the active membership of ARENA2036 (Active Research Environment for the Next Generation of Automobiles), the leading technology platform for mobility in Germany. ARENA2036 is the initiator of sustainable automotive engineering and automobile production for the next generation of vehicles and a platform in which suppliers, customers and research institutes participate.
In 2019, together with ECOR, DSM-NIAGA started a consortium comprising leading furniture manufacturers Royal Auping, Canary Company, Cartoni Design, Concourse, INTOS, König+Neurath, Occony, Triboo and Zwartwoud to explore the use of circular panels in their furniture. In DSM Additive Manufacturing we are working with a range of partners to create a complete additive manufacturing ecosystem to accelerate the adoption of 3D printing. These partners include companies such as Stratasys, Fortify, CEAD Group, e-Xstream, Origin, Twikkit, Ultimaker and Royal HaskoningDHV.
DSM Engineering Plastics
Highlights 2019
Persisting softness in China and the global automotive segment

Continued shift of portfolio toward higher-value, specialty materials

Launch of bio-based offering of Stanyl® and Arnitel® grades

Acquisition of the specialty materials business of the Indian company SRF Ltd.
DSM Engineering Plastics reported total sales of €1,406 million in 2019 compared to €1,516 million in 2018. DSM Engineering Plastics saw persistent softness in China and in the global automotive segment, resulting in a 10% reduction in organic growth versus 2018. Electrical & electronics saw some signs of improvement in the second half of the year. Business conditions in other end-segments were solid.
DSM Engineering Plastics addresses the key market trends in automotive and electronics. Besides serving these two sectors, we provide solutions to specialized industries that address a range of evolving consumer and societal needs. Example application areas include water management, power distribution, outdoor power equipment, and multilayer flexible food packaging.
The quest for new forms of mobility remains a key driver for our business. We create products that help reduce the fuel consumption and thus the tailgate emissions of light vehicles, and which also improve the safety and connectivity of cars. Our products find applications in the automotive industry in fields such as powertrain, auto electronics and electricals, as well as vehicle interiors and exteriors.
The other key trend for our business is the rapidly growing demand for device connectivity. We have a strong track record in the consumer electronics industry, with our materials finding extensive use in connectors in mobile devices such as smart phones and notebooks. This expertise can be deployed in other fields too, such as connected vehicles and smart electricals and appliances.
During 2019, we continued to shift our portfolio toward higher-value, specialty materials with advanced grades and improved properties. We increased our number of differentiated grades, offering high performance in areas as diverse as heat resistance, thermal conductivity, electromagnetic interference shielding, electrical insulation performance, halogen-free flame retardancy, and hydrolysis resistance.
We also launched new approaches in support of the circular and bio-based economy. We will be offering a full portfolio of alternatives that contain at least 25% recycled and/or bio-based content by 2030. As an intermediate step, we introduced bio-based Stanyl® and bio-based Arnitel® grades founded on a certified, mass-balancing biomass feedstock approach. We also engaged with companies in our value chain to explore and further develop chemical and mechanical recycling routes.
In 2019, we acquired the specialty materials business of the Indian company SRF Ltd. to further strengthen our market-leading position in that country. This fits well with our strategic aim of generating leading positions in fast-growing economies.
We also announced the operational launch of a new production line for Arnitel® in Emmen (Netherlands). The capacity has been expanded by 20% and will enable greater flexibility and security of supply.
In alignment with Apple's Clean Energy Program, we transitioned to 100% renewable electricity in the manufacture of our materials for Apple's products by the end of 2019.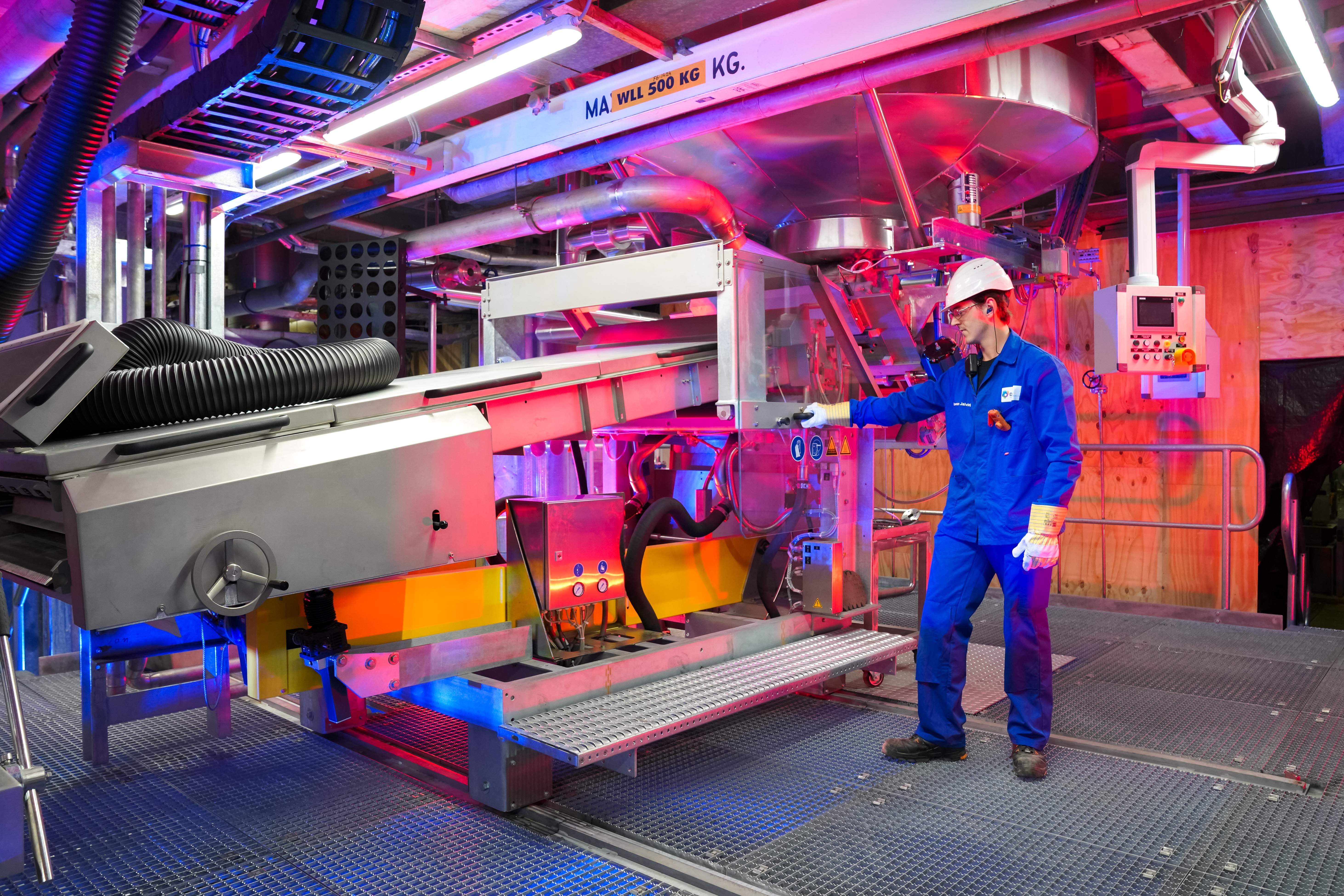 Operational launch of a new production line for Arnitel® in Emmen (Netherlands).
DSM Dyneema
Highlights 2019
Continued high demand in the high-margin personal protection segment

New Dyneema®next-generation UD technology line opened to increase capacity

Launch of sustainability strategy covering bio-based Dyneema® and industry coalition for end-of-life recycling
DSM Dyneema reported total sales of €338 million in 2019 compared to €344 million in 2018. DSM Dyneema reported minus 4% organic growth. The focus on strong growth in the high-margin personal protection business resulted in lower volumes in other segments. The shift had a strong positive effect on the margins.
Dyneema®, the world's strongest fiber™, is 15 times stronger than steel on a weight-for-weight basis, 40% stronger than aramid, and floats on water. This combination of extreme strength, lightness and high durability makes it suitable for a wide and expanding range of applications, including personal protection, workwear and sports apparel, outdoor equipment and nets for the rapidly growing aquaculture sector. Products made with Dyneema® provide an environmental and/or societal benefit compared to their mainstream counterparts.
We are the only global and backward-integrated producer of ultra high molecular weight polyethylene (UHMWPE) products. Dyneema® offers exceptional safety in combination with excellent ergonomics. It protects over one million first responders and service personnel around the globe, such as ambulance crews and law enforcement officers, while approximately 22 million pairs of hands worldwide are protected by gloves made with Dyneema®. We aim to grow the number of people protected by our life-saving and high-risk applications to 40 million worldwide by 2023.
During 2019, we continued our strategy of expanding into existing market segments and applications by offering a range of innovative, unique and patent-protected technologies. Examples include:
Dyneema® Force Multiplier Technology for comfortable, ultra-light-weight ballistic protection

Dyneema® Diamond Technology, which offers increased cut protection and comfort for heavy-duty gloves

Dyneema® Max Technology for mooring offshore floating wind parks and for maximizing deep-water installation crane capacity

Dyneema® Composite Fabric ultralight and high-performance material for outdoor, apparel and leather in consumer and professional markets
Besides benefiting from continuing strong uptake for Dyneema® Force Multiplier Technology and Dyneema® UD (Uni-Directional laminate), we enjoyed strong demand for Dyneema® fiber during 2019.
In 2019, we expanded our manufacturing capabilities with a new Dyneema® UD line in Heerlen (Netherlands). Increased production capacity of next-generation UD technology was also made available in Greenville (North Carolina, USA). The expansion at both locations will help to meet the growing demand from law enforcement and first responders.
We also took important new steps in the field of sustainability. In alignment with DSM's overall purpose, we launched our additional sustainability ambitions, which focus on reducing the use of scarce resources and increasing circularity across our production processes. By 2030, at least 60% of the Dyneema® fiber feedstock will be sourced from bio-based raw material. This will enable our customers to easily shift to a more sustainable product and solution, without compromising on fiber performance. By 2020, we will also establish an industry coalition consisting of customers, waste processors, and recycling companies to address the recycling of end products made with Dyneema® fiber. As a first step, a DSM Dyneema Circularity Summit with key partners and recyclers took place in Brussels in November 2019. The participants jointly created and committed to the coalition structure.
DSM Resins & Functional Materials
Highlights 2019
Business conditions stabilizing and anticipation of upcoming investments in 5G network

Continued expansion of bio-based Decovery® technology in the decorative market

Acquisition of founders' shares in DSM-NIAGA, gaining 100% ownership
DSM Resins & Functional Materials reported sales of € 1,002 million in 2019 compared to € 1,053 million in 2018, with organic growth down by 6%. Business conditions in coating resins stabilized versus previous year: while the European end-markets remained weak, the business experienced a small uptick in the Chinese building & construction sector. Functional Materials saw its sales of specialty coatings for glass fiber optic cables decline in the second half of the year. The 4G network investments started to tail off in anticipation of the upcoming infrastructure investments for the 5G networks, which led to temporarily lower sales.
At DSM Resins & Functional Materials, together with our customers and value chain partners, we are driving the resins and functional material industries forward by developing solutions that offer reduced impact on the environment and people's health. In 2019, we kept up our efforts to enable a more circular economy by offering resin solutions that improve the recyclability of packaging and reduce single-use consumption of materials. We remain the world's number one supplier of fiber-optic coating solutions.
In the decorative market, we continued to leverage our bio-based Decovery® technology platform. We launched a ground-breaking self-matting resin that enables better coating processing and higher performance for ultra-matt coatings. Together with the Chinese paint manufacturer Chenyang, we launched a new eco-friendly paint solution based on our Decovery® technology in 2019, and continued to work on improving indoor and outdoor air quality.
For the furniture market, we further developed our offering to address growing consumer demand for furniture made from sustainable and healthy materials. Our improved powder coating, waterborne and UV-cured technologies enable the sustainable production of furniture with low levels of volatile organic compounds (VOCs), for example.
In the telecommunications market, we are continuing to build our innovation pipeline to meet the growing demand for greater connectivity and network reliability. We are doing this by driving forward with our 5G coating. This coating enables the use of LED lamps in the curing process rather than traditional higher-energy-consuming light sources. By comparison with the mainstream alternative, this UV LED-cured coating enables an 80% reduction in energy consumption combined with higher functional performance.
DSM Coating Resins launched an ambitious set of sustainability commitments underlining DSM's purpose. For example, the acceleration of the phase-out of all chemicals of high concern from our finished products by 2025 and the commitment that at least 30% of our sourced raw materials will be bio-based and/or recycled-based by 2030. Chemsec — an independent, non-profit organization committed to the development of sustainable chemicals — described these targets as a 'major earthquake' for the chemicals sector. 
Niaga®
We acquired 100% ownership of DSM-NIAGA, purchasing the shares held by the founders of DSM-NIAGA. DSM-NIAGA is the developer of a VOC-free adhesive and a proprietary production technology for fully recyclable carpets. Mohawk Industries in the US was one of the first industry players to use Niaga® technology. Some European carpet manufacturers have since adopted the technology too.
DSM-NIAGA's philosophy is now being applied to other product categories, including mattresses and laminated panels for furniture manufacture. We are producing the latter together with our partner ECOR. In 2019, together with ECOR, we started a consortium of leading furniture manufacturers to explore the use of circular panels in their furniture. The commitment of these industry innovators enables DSM-NIAGA and ECOR to scale up the production of Niaga®ECOR® panels as a sustainable alternative to traditional furniture panels.
Additive Manufacturing
Following the establishment of Additive Manufacturing as a separate business unit in 2018, we maintained our focus on selected market segments during 2019. These included the healthcare, transportation, sports and lifestyle, and electronics sectors.
We deploy our materials science and application expertise to meet the needs of end-users, developing new business models to accelerate the adoption of 3D printing, and help customers to benefit from the potential of this innovative technology. To achieve this, we are working with a range of partners to create a complete additive manufacturing ecosystem. An example is the creation of a digital platform together with start-ups and mature software companies that provides customers different additive manufacturing scenarios, enabling them to select the best option across performance, cost and sustainability.
Our key partners include Stratasys, Fortify and Origin. Through new partnerships with Twikit and Ultimaker we have supported the development of improved orthotic braces for children, with enhanced speed of delivery, personalization, and overall quality. In addition, and with the support of DSM Venturing, we invested in partnerships with Voxel8, Adaptive3D, AMT and Inkbit in 2019.