How we create value for our stakeholders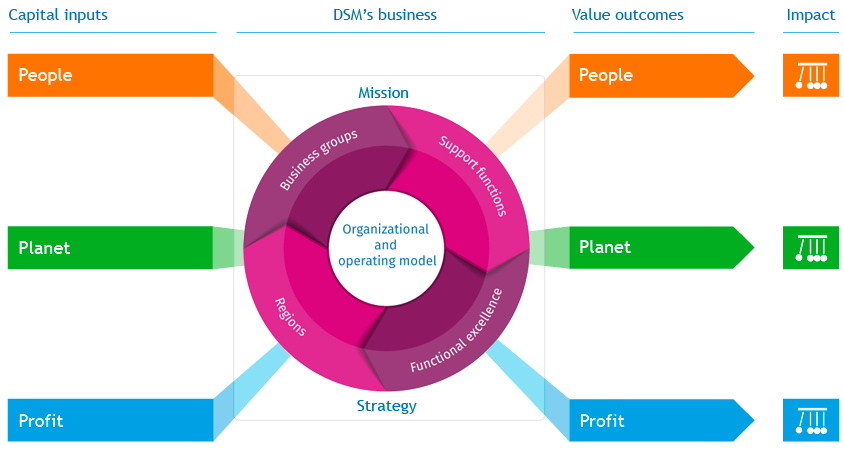 Human capital
We employ skilled and talented people from diverse backgrounds. We strive to provide employees with a safe and inspiring workplace, as well as with the tools and training they need to be effective and to develop their abilities. We reward employees with competitive benefit packages.
Societal & relationship capital
We engage with our various stakeholders to ensure close alignment between our aims and societal needs. We generate value for stakeholders outside our direct value chains of employees, suppliers, customers and end-users; these include employees' families, governments, local communities and civil society.
Natural capital
We recognize that the world is an interconnected system of resources. For us, this represents a responsibility and a business opportunity. We aim to improve the environmental impact of our supply chain, operations and products and services, while developing innovative solutions that deliver sustainability benefits to customers and beyond.
Financial capital
Providers of capital — shareholders and bondholders, banks and the financial markets — supply funds that we use in our business to create value, driving growth and delivering sustainable returns.
Intellectual capital
We manufacture and distribute high-quality products and services safely, efficiently and responsibly and strive to develop valuable, collaborative and long-term relationships with customers and suppliers. We pursue open innovation, connecting and collaborating with partners and investing in start-ups.
Manufactured capital
We have unique competences in life sciences and materials sciences and connect these to deliver innovative solutions that nourish, protect and improve performance.
This diagram is based on the International Integrated Reporting Council's Integrated Reporting <IR> framework and gives an overview of how we create value for our stakeholders based on six capital inputs:
Human capital

Societal & relationship capital

Natural capital

Financial capital

Intellectual capital

Manufactured capital
Since 2002, we have reported on our performance in terms of People, Planet and Profit, and so the six capitals shown here continue to be clustered accordingly.
Our organizational and operating model is made up of market-facing business groups focused on the primary business functions (Innovation and R&D, Direct Sourcing, Manufacturing & Operations, and Marketing & Sales), global support and functional excellence departments, and regional organizations.
We seek to minimize risk and take advantage of the opportunities around megatrends, thereby transforming the capital inputs into value and positive impact. A key part of our strategy, aside from our financial targets, is to continue to strengthen our commitment to sustainability. We especially try to have a positive impact through our engagement in relation to the Sustainable Development Goals (SDGs). We engage with all 17 SDGs, especially on the five shown in this figure. For more information, see 'DSM and the Sustainable Development Goals' and throughout this Report.