The damaging effects of mycotoxins
Mycotoxins are a group of more than 700 toxic compounds produced by naturally occurring fungi. These toxic compounds can contaminate a wide range of staple commodities and feed raw materials. Failure to protect livestock against mycotoxins may compromise animal welfare, reduce animal performance, and impair the quality of animal byproducts (e.g., horn and hide).
Exposure of livestock to mycotoxins intensifies the usage of natural resources and causes an increase in greenhouse gas emissions associated with reduced animal performance. Once mycotoxins are present in the feed, the animal redirects the energy that should be used to achieve the maximum protein deposition in its body, milk or eggs to combating these toxic compounds. This affects the sustainability and profitability of the entire value chain.
Mycotoxins can have diverse biological modes of action within an animal organism. Even a low level of contamination can negatively influence the health status of livestock. The presence of more than one mycotoxin in a feed source multiplies the damage that these compounds may cause. These include impairment of liver functionality, impairment of gut functionality (leading to reduced absorption of nutrients), and a consequent increase in susceptibility to disease. The presence of mycotoxins can also trigger fertility problems (in animals of both sexes), reduce uniformity within herds and flocks, and impair the efficacy of vaccines.
Exposure to mycotoxins poses a threat not just to animals, but to humans, too. Consumption of mycotoxins found in a wide range of plant- or animal-sourced foodstuffs can induce conditions such as liver, kidney and esophageal cancer, gastrointestinal disturbances, and irritation of the skin.
A constant concern
Worldwide institutions such as the European Food Safety Authority (EFSA) and the World Health Organization (WHO) recognize mycotoxins as harmful contaminants for both animals and humans, recommending that they should be monitored and prevented in feed and food alike.
The warming of the climate encourages the development of mycotoxins. The combination of high temperatures and rainfall encourages the occurrence of fungi, making the presence of mycotoxins in grains and raw materials a constant concern.
Our solutions
For more than three decades, Biomin, acquired as part of our acquisition of Erber in 2020, has had a leading position in the biotransformation of various mycotoxins — i.e., the process of rendering them biologically harmless. Biomin provides high-quality global services to analyze mycotoxins, tools to interpret the risk of mycotoxin exposure, and solutions to mitigate losses in the food value chain caused by mycotoxins.
Mycofix® is the DSM brand for Mycotoxin Risk Management solutions. The result of decades of specialist research and development, the Mycofix® product line offers innovative solutions to better protect farm animals from mycotoxins and help support sustainable business for livestock farmers. The feed additive ZENzyme®, which targets the mycotoxin zearalenone, is one example from this portfolio.
Zearalenone is a mycotoxin that occurs in more than 60% of feed. It mainly affects the reproductive system, impairing the fertility of breeder animals and their offspring. In 2021, we launched ZENzyme®, the first and only purified enzyme that degrades zearalenone rapidly and completely. This innovation is the result of many years of research in the field of mycotoxin enzymology and guarantees the complete biotransformation of zearalenone into non-toxic compounds. The use of ZENzyme® ensures protection against zearalenone and enables breeding animals, as well as their offspring, to achieve their full genetic potential.
Do you know?
Mycotoxins are a large group of toxic compounds produced by naturally occurring fungi. How large is this group of toxic compounds?
Our impact
The Mycofix® portfolio from DSM represents the most state-of-the-art solution for protecting the health of livestock by deactivating mycotoxins that contaminate feed. The safety and efficacy of Mycofix® are proven by seven EU authorizations for substances that deactivate mycotoxins.
Stronger together
Vestjyllands Andel Pig Feed Cooperative is the third largest feed mill in Denmark, producing 500,000 tons of feed and premix per year. Vestjyllands Andel has been using Mycofix® Plus since 2016, starting with an order of 10 tons and increasing this volume to 144 tons by the end of 2021.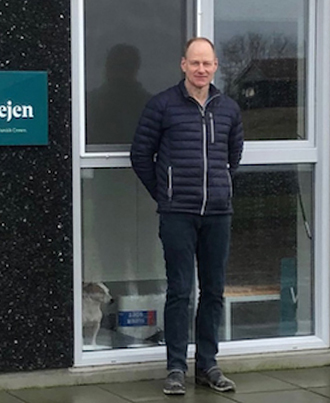 "Using Mycofix® Plus in the feed all year round helps swine farmers to avoid health issues caused by the presence of mycotoxins."Karsten Jørgensen
How we support the SDGs
Our mycotoxin solutions support the attainment of UN Sustainable Development Goals 2, 3 and 12.
2
2 –
End hunger, achieve food security and improved nutrition and promote sustainable agriculture
By combating the spread of mycotoxins in a warming climate, Mycofix® enables the production of more animal protein with the same resources. It therefore contributes to the achievement of SDG 2.4, "By 2030, ensure sustainable food production systems and implement resilient agricultural practices that increase productivity and production, that help maintain ecosystems, that strengthen capacity for adaptation to climate change, extreme weather, drought, flooding and other disasters and that progressively improve land and soil quality."
3
3 –
Ensure healthy lives and promote well-being for all at all ages
Mycofix® helps reduce the presence of harmful mycotoxins in animal-source foods consumed by humans, thus helping to ensure healthy lives and promote well-being.
12
12 –
Ensure sustainable consumption and production patterns
Mycofix® contributes to sustainable consumption patterns by reducing food losses, supporting specifically the achievement of SDG 12.3, "By 2030, halve per capita global food waste at the retail and consumer levels and reduce food losses along production and supply chains, including post-harvest losses."