Co-CEO letter
Dear Reader,
What a journey it has been since we started as Co-CEOs in February ! Never could we have imagined such a first year in our new role, but looking back we are very grateful and proud of how everyone at DSM stepped up to the challenge of coping with the COVID-19 pandemic. Despite this worldwide crisis, we stood by our customers at all times, delivered solid financial results and made important steps on our strategic journey. Yet what stands out most, and will help us going forward, is how vividly we all experienced the importance of our long-standing company culture, our values anchored in our Triple-P bottom line ambition (People, Planet, Profit) and being a purpose-led, performance-driven company. This is what gave us courage, across DSM, to act quickly and do the right things in these most unusual of circumstances.
Dimitri de Vreeze & Geraldine Matchett
Co-CEOs Royal DSM
Swift response to COVID-19 pandemic
The safety, health and well-being of our employees and partners is always our first priority. So when COVID-19 first emerged, we responded swiftly with a range of measures including preemptive travel restrictions, working from home where possible, digitalizing internal and external meetings, and intensifying hygiene and safety protocols. We ensured that our people and partners were safe, we kept our facilities and supply chains running, and we continued to serve our customers, reacting decisively in the spirit of 'One DSM'. These efforts have not gone unnoticed: our overall Net Promoter Score (NPS), which we use to track customer satisfaction, has reached an all-time high of +50.
For our Materials businesses that were most impacted by the lockdowns, swift actions were taken to manage down costs. At the same time, true to our spirit as a purpose-led company, DSM teams applied their scientific know-how, innovation capabilities and resources to help fight COVID-19 through various global and local initiatives. We learned how to produce viral testing equipment such as nose swabs, face masks and disinfectant to help address local shortages, and distributed immunity-optimizing dietary supplements to all our employees, their families, local front-line workers and local communities.
"We remained determined to keep delivering for our customers, something that would not have been possible without the passion, resourcefulness and commitment of our exceptional colleagues."

Solid 2020 financial performance
We delivered a solid full year financial performance in a challenging COVID-19 environment, led by good results in Nutrition and a strong recovery in Materials in the fourth quarter of the year. On a continuing operations basis, our group sales were up 1% and Adjusted EBITDA was down 1%. Nutrition sales were up 6%, and Adjusted EBITDA was up 7% despite significant negative foreign exchange effects. Materials saw a decline in sales and Adjusted EBITDA of 13% and 27% respectively. And we realized an Adjusted Net Operating Free Cash Flow from continuing and discontinued operations of €955 million, up 19%.
Overall, COVID-19 had a slightly negative effect on our sales (including Resins) as Materials saw a negative sales impact of around 10% on volumes in the year, due to reduced global demand in the second and third quarter. Nutrition saw an overall slightly positive sales impact from COVID-19, mainly due to very strong demand in Human Nutrition for immunity optimizing products.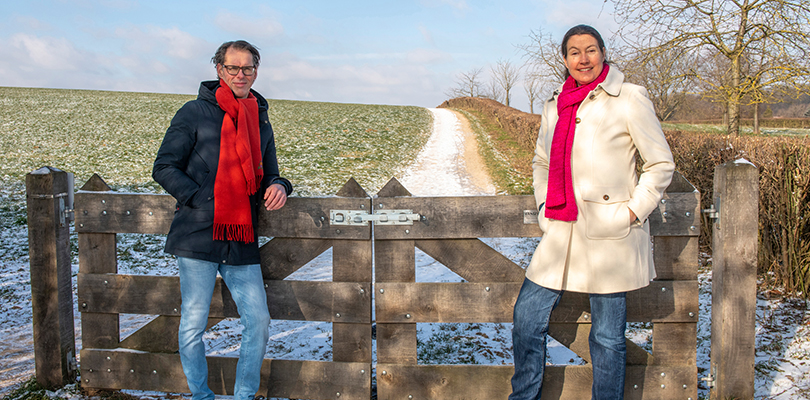 Progress on People and Planet targets
On People, we saw a further improvement in the Frequency Index of DSM Recordable Injuries to 0.24 from 0.28 in 2019, achieving our target level of 0.25. We continue to strive to make our company fully incident- and injury-free. It was also encouraging to see that in such a challenging year we had a notable increase in Employee Engagement results (from 74% to 76%). And with regard to Inclusion & Diversity, the Executive Committee is now 57% female, the Supervisory Board is 42% female, and progress was made on improving the representation of women (21% female executives) and under-represented nationalities on executive level (30%). In order to increase further our focus on creating a work environment that works for all and drives our success, much was done in 2020, including crafting a new People & Organization Strategy, launching our Culture Compass, introducing a broader Inclusion & Diversity agenda including pillars on generations, disability and LGBTQ+, supported by several Employee Resource Groups, and encouraging a dialogue on hybrid workplaces post-pandemic as well as piloting new technology for career development.
On Planet, we are well on track with respect to our greenhouse gas (GHG) reduction, energy efficiency and purchased renewable electricity targets. We signed two new renewable energy Power Purchase Agreements (PPAs), covering approximately 25% of our current total annual electricity consumption and putting us firmly on course to achieve our target of 75% electricity from renewable resources. This progress supports our commitment to a long-term pathway to work toward net-zero GHG emissions across our operations and value chains by 2050. We are also proud to have received an A rating for our climate change strategy and an A- for our water stewardship from CDP, the non-profit global environmental disclosure platform.
In 2020, 63% of our sales (including Resins), came from products that have a better environmental and/or social impact than mainstream solutions. We call these our Brighter Living Solutions. Delivering value in all respects, including environmental and social positive impact, remains at the core of our innovation pipeline and is well aligned with customer aspirations.
"We continued to make good progress on the execution of our long-term strategic plan and delivering against our purpose-led sustainability ambitions in People and Planet."

Maintaining our growth strategy focused on Nutrition, Health and Sustainable Living
Our long-term strategic focus remains on Nutrition, Health and Sustainable Living. Our strategy aligns our unique competences and our purpose ('creating brighter lives for all') with our ambitions to address specific megatrends and targeted Sustainable Development Goals (SDGs). The world faces increasing challenges, and COVID-19 has demonstrated more than ever the importance of addressing these through the power of science and innovation. Our expertise is in the science of how nutritional ingredients can ensure better general health for people and animals ('Health through nutrition') as well as in how to enhance the health of the planet through sustainably produced food along with more circular and bio-based materials.
During 2020, we made good progress on our long-term strategic plan. We executed two change programs, 'Agility to Grow' and 'Fit for Growth', to support profitable growth through process simplification and improved alignment with market needs. We also enhanced our platform-based approach to driving innovation, resulting in a healthy pipeline of exciting new products and solutions such as Bovaer®, our feed additive proven to cut ruminant methane emissions by 30%, Veramaris® our algal-based omega-3, and fermentative Stevia through our Avansya partnership with Cargill. We completed three important acquisitions, namely CSK in Food Specialties, Glycom in Early Life Nutrition and the Erber businesses Biomin and Romer Labs in Animal and Human Nutrition, for a combined value of €1.7 billion. And in September, we announced the divestment of our Resins & Functional Materials business and associated business to Covestro AG, a transaction we expect to close in the first half of 2021.
We are committed to deliver against current performance expectations while at the same time building the company for the future. So going forward, while ensuring the effective integration of recent acquisitions and the scaling of innovations, we will also start expanding our capabilities in Nutrition in the areas of Precision & Personalization, especially through enhanced digital and biosciences competencies. And to support these developments we will also make further adjustments to our organization, including having the right organizational culture to embrace this next phase.
Our culture guided us through the storm
When nothing is 'as usual' and new answers are needed fast, the true culture of an organization comes to life, and this unprecedented year 2020 showed us the strength of our DSM culture. Anchored in our long history as a purpose-led company and our Triple P bottom line ambitions dating back to 2002, our values enabled everyone in the company to take responsibility and act fast, with safety as the top priority, living out a caring, courageous and collaborative spirit that quickly picked up the internal hashtag '#Together we stand strong'.
Thank you
We are incredibly grateful for the great company and purpose-led cultural legacy that we inherited from our predecessor Feike Sijbesma, a legacy linked to his amazing 30-year career in DSM, and in particular his 13-year tenure as CEO. And our final words are: Thank you! To our colleagues, thank you for your courage, your collaboration and your caring, which have been without measure through this incredibly challenging year, and you can be proud of how we held our course, all together. To our customers, suppliers and all those that trusted us to deliver even in the toughest of circumstances. And to our shareholders, for their ongoing trust and loyalty.
Stay safe and stay healthy!
Geraldine Matchett & Dimitri de Vreeze
Co-CEOs Royal DSM
Biosciences
Biosciences are any of the sciences that deal with living organisms.
Brighter Living Solutions
Brighter Living Solutions (BLS) is DSM's program for the development of sustainable, innovative solutions with environmental and/or social benefits, creating shared value for our stakeholders. Brighter Living Solutions are products, services and technologies that, considered over their life cycle, offer a superior environmental impact (ECO+) and/or a superior social impact (People+) when compared to the mainstream alternative for the same application. The impact of Brighter Living Solutions can be realized at any stage of the product life cycle, from raw materials through the manufacturing process to potential re-use and end-of-life disposal.
Within the program, DSM conducts an annual 'Product Category Sustainability Review' for all product categories. This review identifies environmental and social impact differentiators and risks for each of our product categories and confirms the mainstream reference solution. To substantiate the identified differentiators DSM uses comparative Life Cycle Assessments (LCAs) and/or expert opinions to determine whether a product has a superior performance and can be identified as a Brighter Living Solution.
CDP
The new name for the Carbon Disclosure Project
Energy
Primary energy is energy that has not yet been subjected to a human engineered conversion process. It is the energy contained in unprocessed fuels.
Final (consumed) energy is the energy that is consumed by end-users. The difference between primary energy and final consumed energy is caused by the conversion process between the two as well as any transmission losses.
Frequency Index (FI)
The Frequency Index is a way to measure safety performance. The number of accidents of a particular category per 100 employees per year.