Supervision and advice
The Supervisory Board performs its duties of supervising and advising the Managing Board with respect both to recurring standard agenda items for Supervisory Board meetings and to specific topics that become relevant at any given point in time.
The most prominent regular agenda item is an update on business performance, financials, treasury and investor relations topics. As part of this agenda item, the Supervisory Board tracks the company's financial performance, approves the annual Finance and Capital Expenditure Plan, is updated on capital markets expectations and deliberates on any additional treasury topics as needed. In this COVID-19 year time was also spent on business continuity, as different scenarios and their capital and liquidity impact were modeled to be fully prepared for the economic impact of COVID-19. In 2020, the Supervisory Board also discussed and approved the usual share buy-back programs to cover commitments under share-based compensation plans and the stock dividend. In addition, the funding plan for the acquisition of the Erber Group was discussed and approved. Furthermore, restructuring programs were discussed and approved.
In line with our overall strategy, the Supervisory Board regularly discusses our M&A strategy and relevant developments within our sectors. The Supervisory Board was actively involved in the process of reviewing several potential M&A targets. This eventually led in 2020 to the expansion of our share in Zhejiang DSM Zhongken Biotechnology Co., Ltd. from 60% to 100%, and the acquisition of Glycom and the Erber Group, and finally the intended divestment of our Resins & Functional Materials and associated businesses. The Supervisory Board also discussed and approved a write down on our solar assets following the aforementioned divestment, as well as two impairments in DSM Bio-based Products & Services. One following the decision to mothball the second-generation bio-ethanol plant in Emmetsburg (Iowa, USA) ('Project Liberty') (in the second quarter) and one owing to an expected subdued market for biofuels (in the fourth quarter).
Strategy is a key topic on the Supervisory Board's agenda, and in 2020 the Board dedicated most of its meeting time to reviewing DSM's strategy. The outcome of these reviews was presented during our Investor Event in November 2020. This includes expanding our specialty activities in Nutrition. This will be done by adding a third dimension to our Nutrition business model, which is currently built on the axes of Global Products and Local Solutions. This third dimension is Precision & Personalization, an evolving field that is powered by developments in biosciences and digital technologies. This growth strategy is accelerated by our recent acquisitions. It also includes transforming our innovation methodology from a project-based approach to a platform-based one. As part of these strategic reviews, the Supervisory Board was in particular updated on the strategies of our various businesses. Topics included a deep dive into the subject of sustainable animal farming; an innovation review that included an update on our large innovation projects such as Project Clean Cow, Veramaris®, and Avansya®; Digital+; and our People & Organization strategy.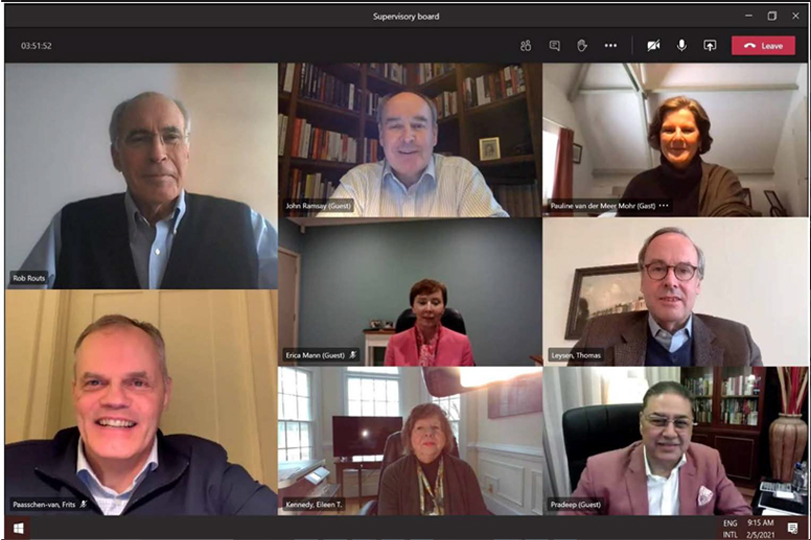 Site visits
Every year, the Supervisory Board visits DSM sites in a particular region. This fosters interaction with employees across different areas of the company and provides Supervisory Board members with opportunities for continuing education. This year's visit centered on Blair (Nebraska, USA) where our Avansya® and Veramaris® products are manufactured. Due to the COVID-19 related restrictions visiting in person was not possible. Instead a fully virtual site tour was organized in October 2020.
Biosciences
Biosciences are any of the sciences that deal with living organisms.
Capital expenditure
This includes all investments in intangible assets and property, plant and equipment.