Bringing together our complementary competences in Nutrition and Materials, we helped professional cycling team Team Sunweb (as of January 2021: Team DSM) to take it to the next level in 2020 by ensuring health through nutrition on the inside and protection on the outside. The Team won multiple stages of the Tour de France and dominated the podium of the Giro d'Italia in 2020, and is one of the top-ranked and most exciting young teams in professional road cycling.
Do you know?
What is the average number of crashes per stage during the Tour de France?
1.5 crashes
Challenges in world cycling
While professional sport must be exciting and showcase the athletic abilities of its participants, it must also be as safe as possible for people and the environment. Although not a contact sport, professional cycling – with its high-speed crashes and limited possibilities for bodily protection – can place riders in considerable danger. According to ProCyclingStats, the Tour de France averaged 1.5 crashes per stage, while crashes in the one-day classics are even higher.
This demanding endurance sport places other stresses on the body, too, with riders exposed to all types of weather, including long periods of potentially harmful sunlight. Advanced protective riding apparel in combination with optimal nutrition can support performance in these conditions, and can also support immunity and recovery following injury.
Our solutions
Protective Dyneema® in cycling jerseys
Challenged to develop a fabric that delivers maximum protection without reducing comfort or adding weight and thus compromising performance, we created a Dyneema® fabric for the Team's cycling jersey and baselayer. Team Sunweb's partner in 2020, sportswear manufacturer Craft, developed a solution that provides effective protection against abrasions sustained at speeds of up to 60 km/h. Even at speeds higher than 60 km/h, the Dyneema® fibers help reduce the severity of any open wounds that may occur, shortening recovery times for injured riders.
Lightweight, breathable rain jacket
We also introduced a lightweight, breathable rain jacket with an environmentally friendly Arnitel® membrane. This polyester-based membrane is 100% fluorine-free, lowering its environmental impact by 70% compared to polytetrafluoroethylene (PTFE) membranes. It offers excellent protection from the rain and wind that often accompany cold weather.
Nutritional supplements supporting health and immunity
The Team's riders were provided with several DSM nutritional supplements supplied via their nutritional partner NAMEDSPORT> during 2020.
Veg-Omega 3 fueled with our plant-based Life's™OMEGA is 85% more potent than fish oil; it improves muscle and nerve functions, protects against cardiovascular disease, and supports wound recovery
To support gut health and immune response, the riders are also using Probiotics Sport by NAMEDSPORT>, incorporating lactic acid bacteria produced by DSM BioCare Copenhagen; one daily serving contains more than a dozen different strains of lactic acid bacteria
NAMEDSPORT> supplies the team with soft vision gums fueled by FloraGLO® lutein and OPTISHARP® zeaxanthin from DSM; these nutritional supplements help protect the riders' eyes against blue light rays emitted by sunlight, to which they are extensively exposed when riding, while the use of vision gums improves riders' reaction time, which is a crucial consideration in cycling
Sun protection
Last but not least, the Team's riders benefited from using Millennials' sunscreen essence SPF 30 formula containing our PARSOL® SLX and PARSOL® Shield to protect them from exposure to the sun during their long hours in the saddle.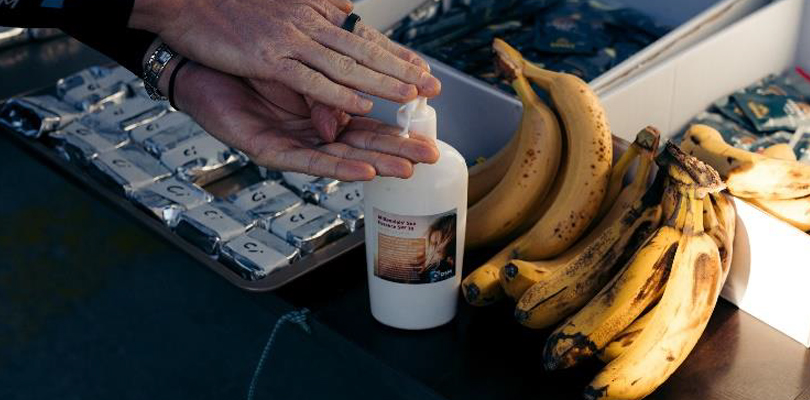 Read more about how we support Team DSM here.
Our impact
So successful was our strategic partnership with Team Sunweb in 2020 that in December we announced we were taking it to a new level and that Team Sunweb would become Team DSM as of 1 January 2021. Team DSM will benefit from the full innovation power of DSM, with the latest breakthroughs in nutritional and material sciences enabling the riders to be the best that they can be, inside and out. We will gain direct insights and feedback from some of the most demanding customers in the world – professional athletes – in order to better develop sustainable solutions that can help others remain healthy and strong and keep them performing safely for longer.
Building on half a decade of innovation collaboration, our partnership extends beyond the exchange of products and expertise alone. By becoming synonymous with such a young, successful, principled team, we hope to trigger wider action for more sustainable living and health through nutrition. This will help further our purpose to create brighter lives for all through our scientific and innovation power.
Working together will help deliver better health outcomes for people and for the planet, with our nutrition and sustainable living solutions benefiting Team DSM, our customers, and society as a whole.
Stronger together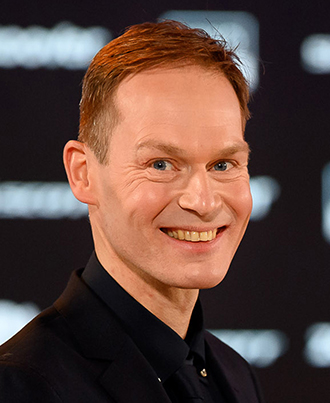 "This is truly a dream. The involvement of DSM at this scale will definitely help us set new standards with the best nutrition and materials giving us a competitive edge inside and out. We have so much in common with DSM; a passion for innovation and sustainability, high ethical values and much more. The bike is a beautiful symbol of sustainable health and we are very keen to support DSM in ensuring more people recognize there are solutions to some of the world's biggest challenges. For a sports team like ours, having the chance to elevate our relevance from sporting excitement to contributing to big global themes is something we are very, very proud of and is definitely an ambition for all of us."Iwan Spekenbrink
How we support the SDGs
3
3 – Ensure healthy lives and promote well-being at all ages
The insights from this partnership with professional athletes will guide our development of sustainable solutions that have the potential to help others remain strong, healthy and performing safely for longer.
12
12 – Ensure sustainable consumption and production patterns
The Arnitel® rain jacket is based in a polyester-based membrane that is 100% fluorine-free, lowering its environmental impact by 70% compared to polytetrafluoroethylene (PTFE) membranes. Moving forward, we will also work with BioRacer and Team DSM to integrate bio-based Dyneema® fibers into the cycling jersey fabric – contributing to a circular and low-carbon economy with reduced consumption of natural resources and lower environmental impact.
14
14 – Life Below Water
The omega-3 for our plant-based Life's™OMEGA are derived from algae and not fish, which means no depletion of the oceans' fish supply.